The immigration war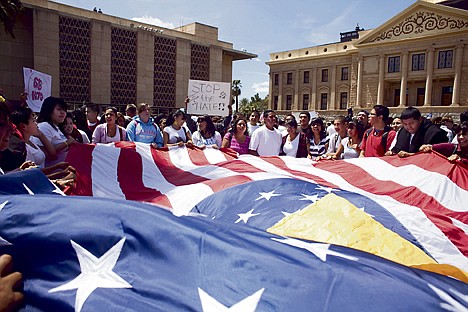 by
Tom Hasslinger
|
April 24, 2010 9:00 PM
COEUR d'ALENE - It's an Arizona law that one Idaho senator wants to copy.
Arizona Gov. Jan Brewer signed into law the nation's toughest legislation against illegal immigration Friday, a measure that supporters said would take handcuffs off police but which opponents said could violate people's civil rights.
Among the bill's proponents is Sen. Mike Jorgenson, who has worked with the bill's sponsor, Arizona Sen. Russell Pearce, on immigration legislation for Idaho.
The Hayden Lake Republican has unsuccessfully pitched local immigration legislation but said Arizona's law could create enough momentum to push those proposals through next year.
"I'm just tickled to death with what they're doing," Jorgenson said. "One of these days I think Idaho's going to look back and say 'I wish this had happened sooner.'"
The Arizona bill would make it a crime to be in the country illegally, and require police officers to question people about their immigration status if there is reason to suspect they are illegal immigrants.
In Coeur d'Alene, business owner Manuel Arceo said he would worry about the consequences of Idaho adopting the law.
"They could use it as threatening to dark-skinned people, but another would be the consequence it has on labor. Where are those immigrants going to go? Mexico? I don't think so. They're just going to spread out."
That shifting workforce would be harder for states to replace, he said, and instead of helping the economy, businesses - especially agriculture and large factories - would suffer.
Those jobs could be harder to fill than what the country realizes.
"It's a hard topic," Arceo said. "It's never going to end, and I understand (Arizona's) point, but on the other hand, we're shooting ourselves in the foot. Things could get more expensive, with companies leaving the country for cheaper labor, or shutting down."
Jorgenson's proposals have been to implement the first step in Idaho - E-Verify for employers. Now that Arizona is moving farther with the process, Jorgenson said Idaho should look at picking up the bills.
"Call me an eternal optimist," Jorgenson added. "I expect sometime in the future it will be passed in Idaho."
But opponents say giving police that power could lead to racial profiling.
Employers check for people coming to them for work, whereas police could potentially use it on anyone, at any time.
"I'm a big supporter of the Fourth Amendment," said Rep. George Sayler, D- Coeur d'Alene, on the measure which constitutionally protects people against unreasonable searches and seizures. "I would be opposed to the law (in Idaho). I don't think our situation is that serious to do something that drastic."
Instead, immigration reform should be left to the federal government, he said.
In his push to get E-Verify on the books, Jorgenson said illegal immigration costs Idaho $200,000 annually and 67,000 jobs.
He called the law "attrition through enforcement," meaning police wouldn't necessarily weed illegal immigrants out, rather they would leave on their own knowing they must prove their status to both employers and officers.
"It could be a political hot potato," Jorgenson said, referring to potential civil rights violations under the law, but likening it more to producing identification when making a major purchase with a credit card. "It might lead to those things, but the Obama Administration is reluctant to enforce anything."
Recent Headlines
---