Under the sea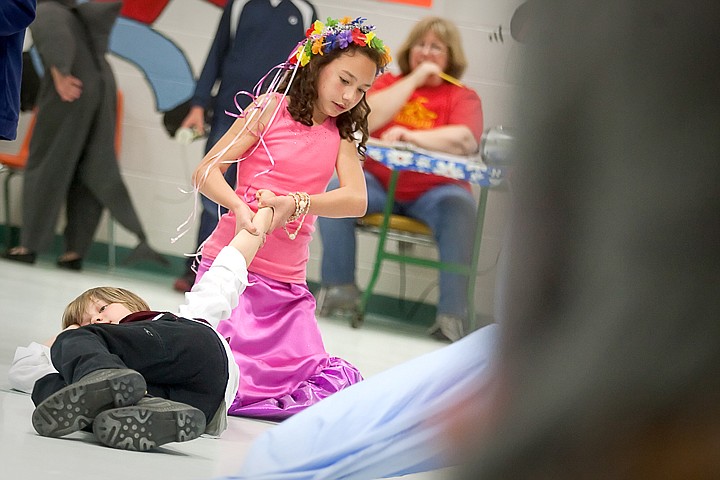 <p>Alyssa Romero, The Little Mermaid, rescues Devin Kelly, Prince, from the ocean during a rehearsal of The Little Mermaid Thursday afternoon at Bryan Elementary School.</p>
by
MAUREEN DOLAN
Staff Writer
|
April 23, 2010 9:00 PM
COEUR d'ALENE - A pair of gray sharks sipped from juice boxes Thursday as they walked across the floor of the all-purpose room at Bryan Elementary School.
Wearing fabric fins and pointy white teeth, they waited among other costumed kids - a colorful collection of fish, mermaids, mollusks and sea witches - for the dress rehearsal of "The Little Mermaid" to begin.
The 28 Bryan students performing in the play will hit the big stage Saturday at Coeur d'Alene High School with shows at 11 a.m. and 2 p.m. The performances are open to the public. Tickets are $2 per person or $5 per family.
"This is the first show I've wanted to repeat, because I love the different characters," said director Treece Bashaw.
It's the eighth children's play Bashaw has directed at Bryan.
"The kids are always wonderfully entertaining to watch," she said.
The kids participate for free, parents help with costumes and props, and the proceeds collected at the door are saved for the next production at the school.
Bashaw, who works at Runge Furniture, started running after-school play programs at Bryan when her own children were students there.
"Theater was always my passion, and it was my way to do it and share it with my kids," Bashaw said.
She hasn't had a child at Bryan for two years now, but she can't tear herself away from coordinating the play productions.
Parent Jessica Russell waited to watch the dress rehearsal.
"My girls are the sharks," Russell said. "Treece is amazing. She works at Runge all day, and then comes here to do this. The kids really look forward to it. They just love it."
Recent Headlines
---