Twice is Nice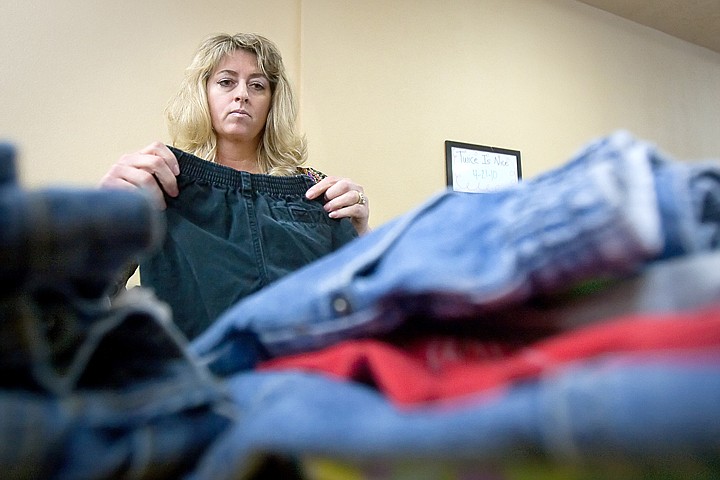 <p>Julie Bealer, owner of Twice is Nice, sorts clothes Wednesday afternoon in Coeur d'Alene.</p>
by
Rick Thomas
|
April 23, 2010 9:00 PM
COEUR d'ALENE - Julie Bealer saw the signs of how changes in the economy would mean changes for her, and got a step ahead.
The social worker who works in the guardianship and care of the elderly and under contract to the Coeur d'Alene School District is staying with the career in which she earned her master's degree, but also saw an opportunity in the retail marketplace.
Scouring closeout sales and her family's own closets, she pulled together enough merchandise to open Twice is Nice, a clothing and accessory store for men, women and children.
"The timing was right," she said. "It was something I always wanted to do."
The store in the Fairgrounds Center at 4055 Government Way, across from the Kootenai County Fairgrounds, buys, sells and trades "new and like new" name brand clothing discounted 50 percent to 80 percent from retail.
"We are at a point that people need to watch their budget," Bealer said.
Though she worked in retail while in high school and has been involved in her professional career since graduating from college, the daughter of Parker Toyota owner Doug Parker is no stranger to commerce.
Guessing that cuts in school budgets would mean no renewal of her prior two-year contract, Bealer went shopping.
"I love shopping," she said. "Getting paid for it is a bonus."
With a husband, Norm, who helps in the store, and five kids ages 11 to 15, the family closets were first raided, along with those of other family members and friends. Seeking name-brand products such as Hollister, Abercrombie and American Eagle, she started accumulating goods from closeout sales.
About 30 percent of the inventory is new, including men's casual lines such as Nautica, Dockers, Nike and Polo. Twice is Nice also has items for kids and teens, plus maternity wear.
Stock will consist of items purchased outright, exchanged, or in the case of more expensive items, consigned. Shoes, purses and other accessories will also be available.
"We have a little bit of everything," Bealer said. "Everybody from young to in their 80s has been coming in."
On the way is a collection of Western wear, as she experiments to see what will prove to be good sellers.
It's a good neighborhood for her business, with other similar stores nearby, and a hair salon, beauty supply store and other shops popular with women nearby.
Men are not forgotten, and are provided with a waiting area.
The store also has dressing rooms so shoppers won't have to guess if an item is a good fit.
The kids also help out in the store, including with the remodeling as they prepared for the opening, something that could work well for them as older workers remain in the workforce.
"At least they'll have jobs," Bealer said.
She continues to work as a social worker in care management on her day off, when the store is closed. Hours are 10 a.m. to 6 p.m. weekdays, 10 a.m. to 5 p.m. Saturday and 11 a.m. to 4 p.m. Sunday.
So far the change has been a good one.
"I'm happy," Bealer said. "I like it. I like the interaction. Every day is different. You never know what will come in the door."
Information: 765-3339
Recent Headlines
---