Wandering wood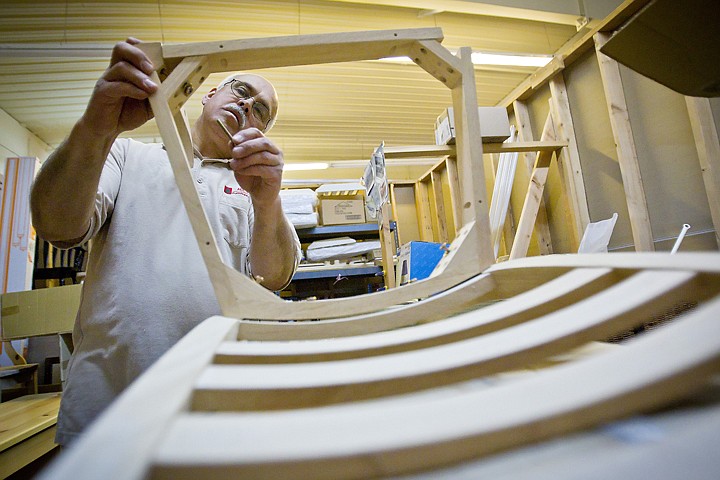 <p>Wayne Christensen, co-owner of All Wood Furniture, assembles a chair Wednesday in the back room of a new storefront in Post Falls. The furniture business moved to the new space at 1600 Seltice Way at the beginning of April from their Coeur d'Alene location on Dalton Avenue and U.S. 95.</p>
by
Rick Thomas
|
April 22, 2010 9:00 PM
POST FALLS - Downsizing. It's happening all over, and retailers are definitely not immune.
A little more than two years after Wayne Christensen went to work for All Wood Furniture Company, and a year and a half after he and wife Delores bought the company, they reduced the inventory and the size of the store, and even moved to a smaller town.
"We are doing a lot more custom orders," Wayne said. "We didn't need that big showroom."
The couple moved from the 15,000-square-foot store near the busy intersection of Pioneer Way and U.S. 95 in Coeur d'Alene to a 3,200-square-foot store in the Harbor Ridge Center at 1600 E. Seltice Way in Post Falls. They also eliminated two employees, and now run the store themselves.
Well, almost. Shop dog Willie, a cockapoo now 3 years old, is still around to greet visitors.
And there have been plenty, Wayne said.
"It is a growing area, and this is good exposure," he said. "We get our fair share of the market."
The couple chose Post Falls in part because that is where they live, and because the strip mall store only needed a little bit of paint to make it ready.
And speaking of paint, the store's finishing room is off-site, and All Wood also has a warehouse with additional inventory. The Christensens order only solid wood products from the U.S., and still offer custom finishing.
"The customers can get anything they want - paint, stain, clear coat," Wayne said. The store also stocks a selection of finishing products, along with advice on application. About 30 percent of the furniture sold is finished by the purchaser, but for some the time and knowledge to do so is limited.
"We help them as much as we can," Wayne said.
Oak, pine, alder, maple, bamboo and parawood, better known as the rubbertree, are among the materials used in the chairs, tables, desks, end tables, bedroom furniture and other solid wood items on sale. All Wood does not carry upholstered furniture.
Depending on the manufacturer, custom orders can be delivered in six to 10 weeks.
Weathering the downturn in the economy has not been without challenges, but the Christensens are confident the future is bright.
"We have had our ups and downs," Wayne said. "The economy is going to come back."
Store hours are 9 a.m. to 5 p.m. Monday through Saturday.
Information: 457-9474 or www.allwoodfurniturellc.com
Recent Headlines
---