Giving until it feels good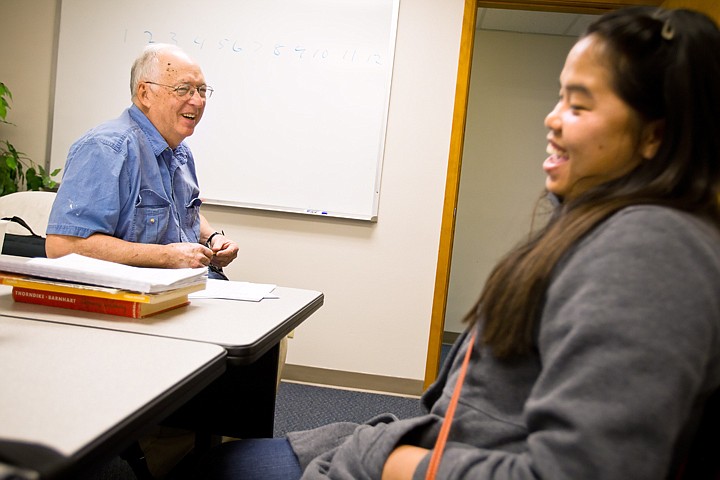 <p>Volunteer Mark Greene, helps Nongnuch Wilson with multiplication tables Wednesday at the North Idaho College Adult Basic Education Center in Coeur d'Alene.</p>
COEUR d'ALENE - National Volunteer Week finds the spirit of service alive and well in Kootenai County.
Although jobs are still hard to come by and money is tight, more citizens than ever are rolling their sleeves up to assist local charities.
"I think people recognize what's going on in our community, and they want to help," said Jeff Conroy, director of St. Vincent de Paul. "They don't have a lot of money. They've already cleaned out their closets and donated to the thrift store, so they're volunteering their time, and it's been extraordinary."
And there's always room for more helping hands, Conroy said.
The week-long national celebration of volunteer service was established by executive order in 1974 by President Richard Nixon, and has been supported by each subsequent president.
At Fresh Start, a nonprofit homeless outreach center in Coeur d'Alene, director Howard Martinson said an abundance of volunteers made it possible this year for the organization to extend its hours by nearly 50 percent during the colder winter months.
"We have hot breakfast provided every Saturday morning by different volunteer groups, and there are different church groups that bring in hot dishes almost every day," Martinson said. "That's up considerably over a year ago as well."
According to the latest U.S. Bureau of Labor statistics, 31.5 percent of Kootenai County residents are volunteers.
The Corporation for National and Community Service, the federal agency that oversees AmeriCorps and other programs, reports that 33.1 percent of Gem State residents volunteered between 2006 and 2008, ranking Idaho 14th in the nation.
But Idaho volunteers put in more time individually, ranking the state third nationally with 60.3 million hours of service, the equivalent of 53.6 hours per resident.
Jenni Hughes, a Coeur d'Alene mom whose family is active in volunteering, said helping others has its own rewards.
"It's something that I wish everyone would get the chance to do. It makes you feel better if you help somebody," Hughes said.
It's also a way to meet new people, she said. With no elderly family members living nearby, volunteering for the nonprofit Elderhelp allows her kids to interact with community members who are older.
Hughes traveled in February to Orlando, Fla., with husband Laine and children Branigan and Landen, to attend Disney Parks' Celebration of Family Volunteerism. The trip was all expenses paid and given to the family in recognition of their service in the community. They were one of 50 families honored by Disney and the Hands On Network, an arm of the Points of Light Institute.
"Volunteering helps you to realize that no matter what your background is, we're all just people," Hughes said. "It helps me feel more connected to humanity."
Caryl Johnston, director of United Way of Kootenai County, said her agency is grateful for the people who step up to help others.
"Volunteers are the heart and soul of many organizations in our community," Johnston said. "They are ordinary people doing extraordinary things and helping to change lives and better our community."
Through its Volunteer Action Center, including an online searchable database, United Way matches area volunteers with local service opportunities.
"Everyone in the community has valuable skills to offer," said Jessica Godderz, coordinator of the volunteer center.
Since the electronic board went up a year ago, 415 volunteer connections have been made. Another 360 volunteers have participated in one-time events.
"It's a place for people who know they want to help, but don't know what to do," Johnston said. "They can find something that's a great fit for them. Somebody might want to read to children, and somebody else might want to build a Habitat (for Humanity) house."
There were 67 volunteer opportunities listed Wednesday on the Web site, www.kootenaiunitedway.org.
Recent Headlines
---