Economic summit draws 300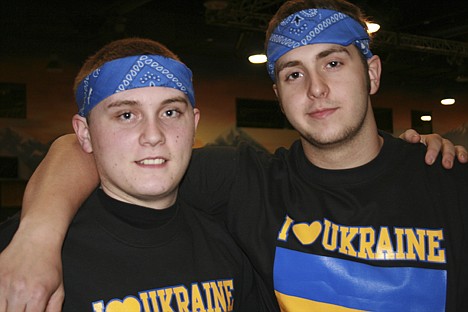 <p>Lake City High School Seniors Brad Dugan and Gavin Schell represented the Ukraine at the International Economic Summit in Worley on Tuesday. Participating students research their assigned country extensively in the weeks before the summit, then participate in a global trading exercise.</p>
WORLEY - Sixty-four countries were represented by Idaho students at the International Economic Summit in Worley on Tuesday.
The summit, sponsored by University of Idaho, the Northwest Council for Computer Education and the Idaho Council on Economic Education, brought 300 students from throughout North Idaho to the Coeur d'Alene Casino and Event Center. The students strive to better the economic situations in their countries, and learn valuable lessons along the way.
"You are definitely learning about dealing with other countries, and about the way we trade things to get what we need," said Brad Dugan, a senior at Lake City High School who participated in the event. "You also learn a lot about how to communicate with other people."
Kali Kurdy, master of ceremonies at the summit, created the simulation in 1990 to help students at Boise's Borah High School understand the mechanisms of the global economy.
There are guidelines in place for grading each team's efforts, from their informational posters to their table decor. Students are required to follow a 10-page guideline of summit rules and procedures.
They come to the summit well versed in the economic, social and environmental issues facing their assigned country.
"They've done the research, so they know what needs to happen," said Kurdy. "You have to negotiate with other countries to make your country better.
"It's quite something when it gets going," she added, surveying the 300 students, most of whom had donned costumes from the country they represent. "We're hoping everybody will have a little fun, and learn a little bit."
The students start the trading with five cards, but the only way to make it to the podium is to get six cards, Kurdy said. "That requires true negotiation," she added.
The summit may also teach a lesson in gratitude, suggested Mike Riedle, a Lewiston High School teacher attending the summit.
"It sure makes them more aware of how lucky they are economically," he said. "It's a great experience for them."
Recent Headlines
---