Carroll's edge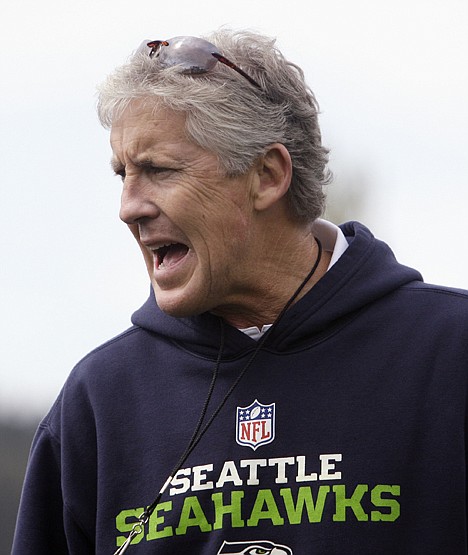 by
Gregg Bell
|
April 22, 2010 9:00 PM
RENTON, Wash. — Pete Carroll walked into Oklahoma's pro day recently to watch prized quarterback Sam Bradford and top tackle Trent Williams.
The new coach of the Seattle Seahawks got swarmed with hugs and fist-bumps from the Sooners.
Same thing happened at Florida. At Texas. At Notre Dame.
This spring, more than for any draft in team history, the Seahawks have an ace card that trumps a scout's secondhand assessment of a player's character and background.
Sure, Carroll has been out of the NFL for 11 years. Yet this draft is one league event in which he has an edge over Bill Belichick, Jerry Jones, Bill Parcells and every other team builder.
Other draft boards have estimations and anecdotes. Because of his time spent as the cultivator of the nation's top football talent at USC, Carroll has firsthand knowledge of many of the draft prospects' upbringing, their family — heck, their Twitter accounts.
After all, the coach who restored a dynasty at USC has known Jimmy Clausen since he was 13.
He's known Taylor Mays, a former USC player who is one of the most highly regarded safeties in the draft, since he was eight.
"Here you are in with a guy, he has been in these guys' homes," Seahawks general manager John Schneider said. "I mean Jimmy Clausen — he has known their family since he was in like eighth grade, you know what I mean? It's amazing. ... They recruited so many guys."
But will familiarity breed draft success in this turning point in Seattle's franchise history?
The Seahawks own the sixth and 14th overall picks; the only other team with two picks in the first round is San Francisco. Carroll admits he has to have "big hits" to rebuild a team that is starting over after going 9-23 the last two seasons.
Seattle owns nine picks in the seven rounds from today through Saturday. Barring a trade, that is.
Schneider said he's open to trading down. "Two players for one. Your odds are higher," said Schneider. "And we do have needs."
Seattle needs a left tackle to replace the soon-to-be-retired Walter Jones. They need a dynamic running back. A pass rusher. A defensive tackle. Offensive linemen.
A lot has changed since 1999 when Carroll was last preparing for a draft as an NFL coach.
Scrutiny of and information on prospects have grown exponentially because of the Internet and round-the-clock television coverage. Social networking was something you did at a bar when the 58-year-old Carroll was last a pro coach.
Yet Carroll said he will draft players for the Seahawks the same way he recruited them to USC: Immediately get the ones he thinks can play for his team. Leave long-term development for the losers.
"Perspective-wise, I am much different than I was (before) as an NFL coach," he said. "John is pumped because he knows that I look at guys coming into this program as guys that should play right away and should be directed to get on the field immediately. That is what we are attempting to do. It is exactly how we did it down south.
"Every guy that we bring in, we are looking at them like he is playing for us until he can't. It's a little different way of looking at it (from) before."
Carroll said this draft and its opportunities for the Seahawks were key factors in his decision to leave USC in January, to return to the pros and have final say on all of Seattle's personnel matters.
"There are a lot of names — a lot of names — we have recruited and played against. And some of the guys, we know them intimately," Carroll said, referring to the draft pool. "And I'm not talking about the guys from SC. This is from other schools because we competed so hard in recruiting some of the really best guys in the country."
"We certainly feel comfortable with a number of them," he said. "Hopefully we can cash in on that."
Recent Headlines
---