Painful cuts begin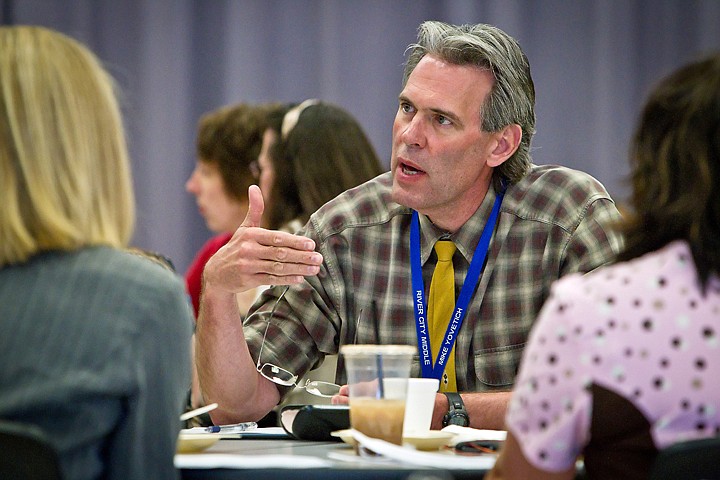 <p>Mike Yovetich, principal at River City Middle School, discusses budgetary concerns and his school's priorities with parents and other Post Falls School District employees during a meeting Tuesday to discuss district budgetary shortfalls.</p>
by
Brian Walker
|
April 21, 2010 9:00 PM
POST FALLS - Protecting student learning and jobs remain the highest priorities as the Post Falls School District ponders a budget reduction of $2.1 million for the next fiscal year.
Staff, parents and administrators huddled during a budget workshop at Post Falls High on Tuesday over what can give when the district is facing across-the-board cuts for the second straight year.
"To get to $2 million, everything we do will be impacted," Superintendent Jerry Keane told the group. "There isn't anything we do in the district that won't face a reduction."
Although the district has about a month to tweak its budget, using most of the district's fund balance of $800,000, not replacing six retirees, salary cuts and furlough days were workshop themes.
"If you cut jobs, that doesn't help the economy," said Prairie View Elementary Principal Colleen Kelsey. "If you make cuts to the classroom, that's why we're here."
The district's funding for salaries and benefits will be $750,000 - 4 percent - less. District finance director Sid Armstrong said it remains to be seen whether that will translate into a 4 percent cut to employees, pending the district's talks with the teachers' union, but salary cuts of some sort are likely.
Several participants said furlough days, those in which employees would not get paid for days such as in-service days, would be a good way to reduce the budget. The district estimates it would save about $100,000 per day that way.
Another theme was limiting as much cuts to classified personnel as possible. Kelsey was among those concerned about the district's rough estimate of cutting that area by $150,000 to $200,000. She said more help is actually needed for students who need special attention.
Kelsey said if hours of classified employees continue to be cut, it may put them out of benefits and may no longer be worth their time to stay employed in the district.
Attendees agreed that now is the time to use about $700,000 of the district's fund balance.
"You have that balance for a rainy day, and this is a rainy day," Armstrong said.
Mullan Trail Elementary Principal Katrina Kelly said partnering with programs such as the Boys and Girls Club and Parks and Recreation may be a way to limit extra-curricular cuts.
"Activities are why some students even get up," she said.
JoAnn Curtis, the special education director, said her table discussed offering credits to high school students to clean after school, using technology more for meetings and communication and tapping retired teachers to assist with extra-curricular activities.
Ed Adamchak said the maintenance department is exploring more ways of "going green" through reuse and recycling to save money.
Reducing benefits was also offered as a way to trim the budget.
Funding for field trips, textbooks and teacher supplies has been eliminated.
The district will again receive about $700,000 in federal stimulus funding for title programs to bring students up to speed, but that funding will not be available after the next fiscal year.
Keane said most of the district's proposed budget-cutting decisions will be made by May 25.
A public hearing on the budget will be held on June 14.
Recent Headlines
---