Earth Day theme: 'Simplify your life'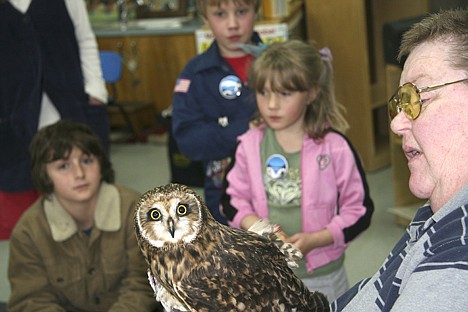 <p>Volunteer Deb Gardiner of Kingston shows off a short-eared owl to, from left, Cody Emery, 10, of Post Falls; and Grant Wood, 8, and Zoe Wood, 6, both of Coeur d'Alene, during Earth Day Coeur d'Alene Saturday at the Harding Family Center.</p>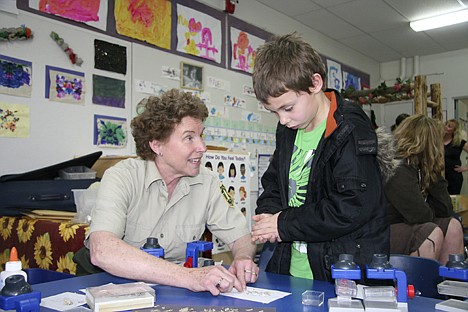 <p>Bridger Stevens, 6, of Coeur d'Alene, gets help from volunteer Beth Paragamian of Coeur d'Alene, identifying the bones of a mouse using a skeleton chart during the Earth Day Coeur d'Alene Saturday. The bones, from the entire skeleton, were pulled from a ball coughed up by an owl.</p>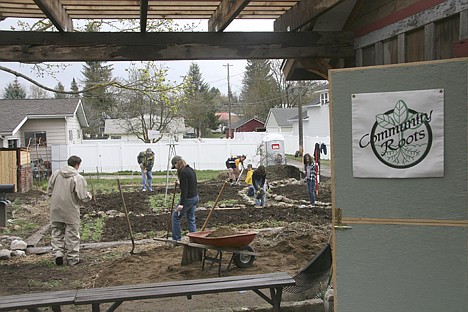 <p>Volunteers get the Community Roots bed at the Shared Harvest Community Garden ready for spring planting. Produce from the bed is donated to a number of food assistance facilities in the Coeur d'Alene area.</p>
Previous
Next
by
David Cole
|
April 18, 2010 9:00 PM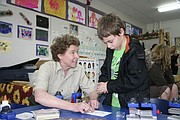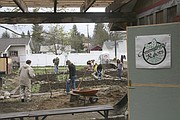 COEUR d'ALENE - The 10th annual Earth Day Coeur d'Alene saw about 400 people turn out, and the warm spring weather on Saturday created excitement about the summer to come.
People took in live music, attended classes on subjects like food preservation and composting and bee keeping, gathered information at the more than 20 different vendor booths, and kids worked on crafts, said Anissa Duwaik, event coordinator.
"The theme this year was simplify your life," Duwaik said. "We're hoping to get a message out that there are ways to look into our life and remove the excess."
She said the event, at the Harding Family Center at 411 N. 15th St., also offered information to promote "locavorism," or eating locally.
Earth Day Coeur d'Alene also provided people with an opportunity to interact with others in their community.
Some of the event vendors included the Idaho Department of Environmental Quality, the Panhandle Health District, Kootenai Environmental Alliance, Ice Age Floods Institute, and the Coeur d'Alene Tribe, which also provided drum music.
Other musical performances were provided by Coeurly Q's Square Dancing, and an African drum group called Makena, made up of fourth-, fifth- and sixth-grade students from Sorenson Magnet School of Arts and Humanities in Coeur d'Alene.
Blocks away from the Earth Day Coeur d'Alene events and Makena's powerful drum rhythms, at 10th Street and Foster Avenue at the Shared Harvest Community Garden, a big spring cleanup for the coming growing season was under way.
Kim Normand, president and founder of Shared Harvest Community Garden, said there are more than 50 plots in the garden, which cost $25 per year, with the money going back into the garden.
It's the garden's second season, she said.
"They're turning their beds, and we're adding manure, and getting the plots ready to plant," Normand said. "Last year we had a ribbon cutting ceremony with the mayor. But this year we're just cleaning up."
All the plots for now are taken up, but those who want to can add their name to the waiting list, she said.
The garden is looking great for the upcoming season, she said, and she expected all types of vegetables to be grown there this year.
"Last year somebody had a salsa bed, everything you'd need to make salsa," Normand said. "One bed had okra last summer."
People from surrounding communities like Hayden, Post Falls, and Athol have plots. Gardeners there have a variety experience, and come from all age groups. Five of the plots are being used by elementary school youngsters, she said.
"This is open to anyone," Normand said.
Much of the produce grown in the garden is donated to food assistance facilities in the area.
Jessica Levy, 32, of Coeur d'Alene, was there working with her husband Lex, and daughter Hayden, 7, and son, Ben, 3. They were plot owners last year, too, growing herbs, tomatoes and other veggies, she said.
"This is our only shot," she said, explaining they have too much shade in their yard at home.
She said she also wants to use the plot to teach her kids a sense of community. "We donated quite a bit of it" last year, she said.
Recent Headlines
---