Daughter, son-in-law ride to honor father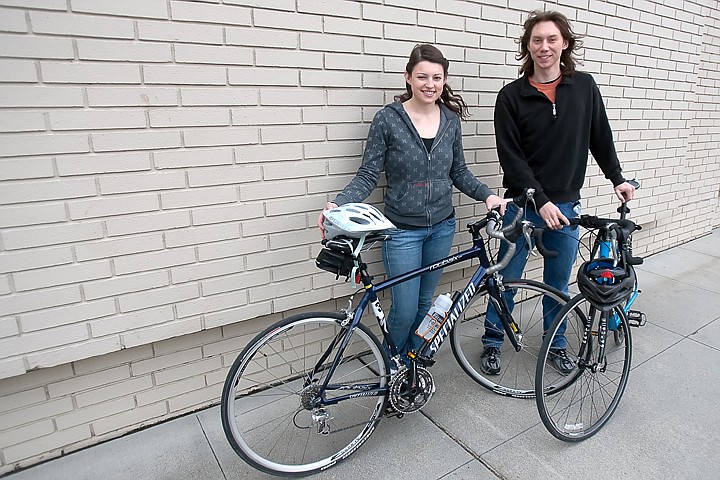 <p>Autumn and Caleb Kristovich are planning a cross-country memorial bike ride next month in honor of Autumn's father, Jeffrey Dunn.</p>
by
BILL BULEY
Staff Writer
|
April 14, 2010 9:00 PM
COEUR d'ALENE - Caleb and Autumn Kristovich are not North Idaho's version of Lance Armstrong on their bicycles.
They're not out there in any and all conditions pedaling furiously to become their absolute best.
But they are committed to setting out on two bikes from Seattle on May 23 and heading to Chesapeake Bay, Md. They will likely fight traffic, wind, rain, flat tires, stuck gears, hunger and thirst along the way.
Still, they have no doubts about their 2,100-mile mission.
"I really wanted to do something in honor of my dad," Autumn said.
Her father, Jeffrey Dunn, died Jan. 1, 2010, after a six-year battle with a brain tumor. He was 38.
Autumn said her father was a man who loved the outdoors, who loved the beach, who loved to sit by campfires. She has many happy memories of him, including walking her down the aisle on her wedding day, May 30, 2009.
"My dad really embraced life," she said. "He never let himself get down."
That was evidenced shortly after he was diagnosed with the tumor and underwent long sessions of chemotherapy that left him drained and weak.
Yet, he would tell his wife, April, to take him with the kids to the beach, rather than stay home.
"He didn't want to ruin our summer," said Autumn, one of four children in her family. "He was always like that. He just kept going."
The Jeffrey Dunn Memorial Fund was created to honor the man as well as help fund fun for other families affected by terminal illness.
"I just hope other families embrace life the same way," she said.
Autumn, a 2006 Kellogg High School graduate, and her husband, Caleb, are both students at North Idaho College. They're still finalizing the route of their two-wheeled trip expected to take about 50 days, and are hoping to raise $50,000 to help families or individuals "enjoy their everyday life to its fullest.
"It is not our intent to finance last wishes or so-called 'bucket lists,' but rather to provide for simpler, everyday things that may otherwise be unaffordable to those experiencing a major illness, such as going on a camping trip, out to the movies, dinner at a restaurant,'" she wrote on their Web site, www.jeffreydunnmemorialride.com
For their first cross-country bike ride, the Coeur d'Alene couple are hoping to cover about 85 miles a day. They won't have a support vehicle, so they're planning to pack all their equipment and supplies on their road bikes. Autumn is researching places to stay along the way, and often they'll pitch a tent. Caleb stands ready to make repairs and fix flats. They're hoping to attract a few sponsors to cover costs.
The two 22-year-olds have competed in triathlons, but admit they're not avid bikers. Still, they say they're ready to push through rain, pain, aching muscles and narrow shoulders that may put them closer to the testy drivers they're likely to encounter on some highways.
"I'm sure we'll have plenty of close calls," Caleb said with a smile.
Autumn said it was a difficult time when her father was diagnosed with the tumor, and doctors initially gave him less than a year to live. He defied predictions and hung on for six.
Autumn plans to think of her father's example as she rides: Be grateful for what you have, take joy in the little things and treasure your family and friends.
On the Web site, she wrote this about her dad:
"He chose to embrace every single moment of our uncertain future with hope, humor and optimism and he never allowed the effects of that tumor or its treatment to affect his love for us or his appreciation for life."
Anyone interested in donating to the Jeffrey Dunn Memorial Fund or sponsoring the bike ride is asked to check out their Web site.
Recent Headlines
---