The right to learn and teach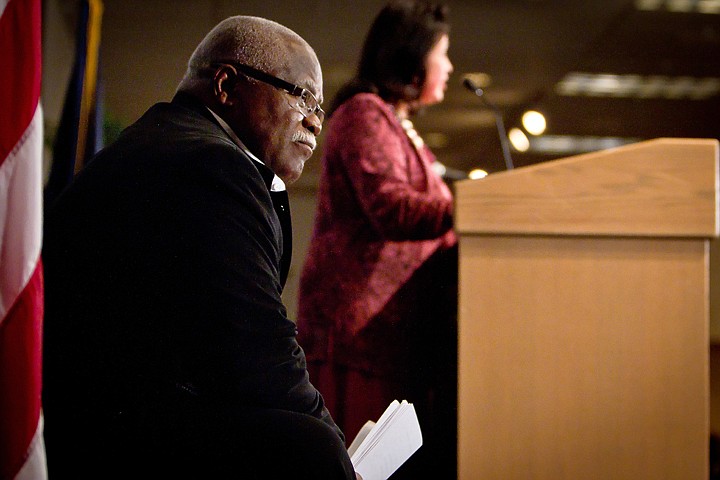 <p>Dr. Reginald Weaver, the vice-president of Education International, Inc., waits to take the podium as he is introduced at the 13th annual Kootenai County Task Force on Human Relations Human Rights Banquet held Monday.</p>
by
MAUREEN DOLAN
Staff Writer
|
April 13, 2010 9:00 PM
COEUR d'ALENE - Reginald Weaver's passion reverberated Monday through a banquet room at the Best Western Coeur d'Alene Inn.
Weaver, one of the vice presidents of Education International, the global federation of teachers, was the keynote speaker at the 13th annual Human Rights Banquet hosted by the Kootenai County Task Force on Human Relations.
"Education is a key component to all human rights issues of our times," Weaver said to the 300 people at the dinner.
A past president of the National Education Association and national media expert on education and human rights, Weaver said he travels throughout the world working to ensure that all children are able to receive an education.
"The one thing that I have seen here as well as abroad, it is so painful, and that is education under attack," Weaver said. "Assassinations, kidnappings, disappearances, illegal imprisonment, torture, mass poisoning, acid attacks, sexual assaults, forced recruitment as soldiers or suicide bombers, rocket and mortar attacks, gunfire, aerial bombings, burning, looting ... All of these have been perpetrated on teachers, students, school support professionals at schools and universities over the past few years."
The attacks and threats all disrupt and deter educators from doing their work, he said, and put them and their students at risk.
Whether people are teaching students in a school, or working to further human rights causes and concerns, Weaver said the common denominator is education.
"A lot of times people think that because you are a union, you are not caring about those things that are important to kids, but I'll tell you this, it makes it much easier for a strong unionist to provide strong services because of the support they have from their union," Weaver said. "That's something many across the world have, and there are many who want that."
He commended the people at the banquet for standing up for what they believe in no matter what, no matter how difficult it becomes.
Weaver said he gets tired sometimes and doesn't know if he'll be able to carry on, but he does.
"I get back up again so that I can continue to fight these suckers with every ounce of breath that I have," Weaver told the group. "You know what folks, that's what you do. You fight these suckers with every ounce of breath you've got."
Longtime area human rights activist and former North Idaho College political science instructor Tony Stewart recognized the diversity represented in the banquet attendees, who stand "united in support of human rights and as a counter force to malicious harassment, hate crimes or other acts of bigotry."
"Tonight's human rights banquet is characterized by women and men who are Republicans, Democrats, third party, independents, conservatives, moderates, and liberals," Stewart said. "In this banquet room tonight, we have individuals from different racial and ethnic origins, different socio-economic backgrounds, different ages, different interests, and different challenges."
Regarding four picketers who stood until sunset on the sidewalk outside the parking lot of the Best Western Coeur d'Alene Inn, Stewart said, "We will never accept their message of hate. Many of your wonderful family members died in World War II, fighting the Nazis, and we will never forget what they did ... They will never, never rise in this country."
Before the end of the evening, former Kootenai County prosecutor Glen Walker, and Coeur d'Alene School District teacher Jo Ann Harvey were honored with awards from the Kootenai County Task Force on Human Relations.
Walker, recipient of the organization's 2009 Civil Rights Award, served as county prosecutor from 1978 to 1988. During his terms, he and his staff worked with the task force to draft and coordinate successful campaigns for the passage of Idaho's anti-hate crime laws.
Walker obtained the first conviction under Idaho's 1983 Anti-Malicious Harassment Act when an African American man was attacked by a racist in a local Coeur d'Alene store.
Educator Harvey received the 2009 Bill Wassmuth Memorial Volunteeer-of-the-Year Award. She is serving her fourth term as president of the Kootenai County Task Force on Human Relations.
Harvey previously served as a member of the National Education Association's Human and Civil Rights Committee and is the former chair of the National Education Association's Native American Committee.
Recent Headlines
---