Prep Roundup April 13, 2010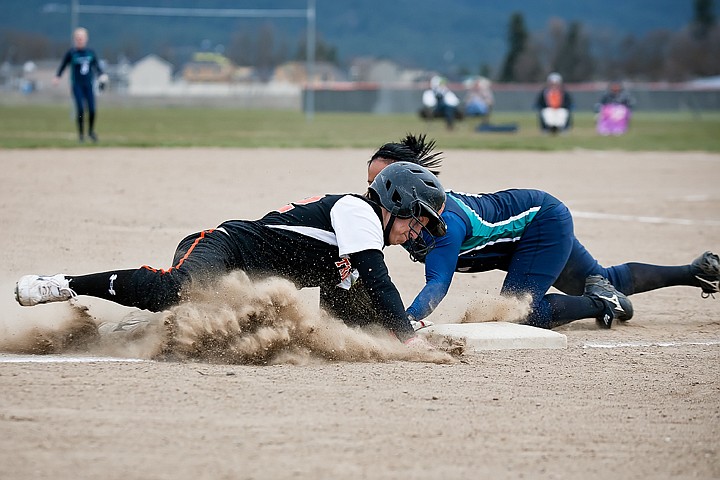 <p>Bri Joseph, of Post Falls High, slides safely into third base Monday, beating the tag from Lake City's Kallie Neal during the third inning in Post Falls.</p>
• SOFTBALL
POST FALLS - Post Falls' Heidi Mueller's RBI single in the fourth provided the game's only run, and Richelle Ashburn struck out 15, including a 3-up, 3-down 7th inning to push her record to 6-1 with a 1-0 win over Lake City in Inland Empire League play on Monday.
"It was a good win for us," Trojans coach Jack Foster said. Lake City had one threat - a runner at third with one out in the sixth and Richelle struck out their No. 2 and 3 hitters."
Ashburn allowed one walk in the game.
Casey Stangel struck out six and Amber Edwards, Becky Short and Kory Kritz had singles for Lake City (8-2, 3-1 IEL), which is back in action Wednesday at Coeur d'Alene High.
Bri Joseph had the other hit for the Trojans (7-3, 2-2), who play at Coeur d'Alene today at 4.
Lake City 000 000 0 - 0 3 1
Post Falls 000 100 x - 1 2 0
Casey Stangel and Avalon Leddy. Richelle Ashburn and Haley Walker. W - Ashbrun (6-1). L - Stengal.
HITS: LC - Edwards, Short, Kritz. PF - Joseph, Mueller.
• BASEBALL
Timberlake at Moscow, ppd., rain: The nonleague game between the Tigers and Bears was called after two innings due to rain. No makeup date had been announced at press time.
• TENNIS
Lewis and Clark 10
Post Falls 4
SPOKANE - Brothers Adam and Andrew Sedgwick won the No. 1 doubles match, and fellow Trojan Ben Payton took wins in both the No. 2 and No. 3 boys doubles.
"Our boys definitely did well, so that is exciting," Post Falls coach Angela Blair said. "We should have some strong doubles teams this year."
Post Falls will play at Lake City on Thursday.
BOYS SINGLES - No. 1, Tyler Wilson, LC, d. Jordan Hernandez, PF, 7-5. No. 2, Kevin Grow, LC, def. Matt Bialy, PF, 8-3. No. 3, Henry Slater, LC, d. Dan Slater, PF, 8-4.
BOYS DOUBLES - No. 1, Adam and Andrew Sedgwick, PF, d. Andrew Nelson and Adam Garcia, LC, 8-3. No. 2, Ben Payton and Ethan Payton, PF, d. Austin Dixon and Mike Bond, LC, 8-4. No. 3, Ben Payton and Adam Sedgwick, PF, d. Grant Oakley and Nels Evenson, LC, 8-4.
GIRLS SINGLES - No. 1, Nina Gerber, LC, d. Marian de Tar, PF, 8-5. No. 2, Sandie Watling, LC, d. Katrina Dillard, PF, 8-1.
GIRLS DOUBLES - No. 1, Holli Williams and Khlu Moua, LC, d. Courtney Harding and Nina Jensen-Edwards, PF, 8-2. No. 2, Chloe Yates and Paige DeAndre, LC, d. Kim Rowe and Jessica Niles, PF, 8-2. No. 3, Laurel Stevens and Emily Clay, LC, d. Alyx Atkinson and Tami Saunders, PF, 8-5.
MIXED DOUBLES - No. 1, Scott Sortley and Hailey Hendricksen, LC, d. Dyllin Cady and Marian De Tar, PF, 7-4. No. 2, Reese Webb and Malea Webb, LC, d. Michael Tucker and Nina Shetler, PF, 8-3.
Recent Headlines
---