Frustration building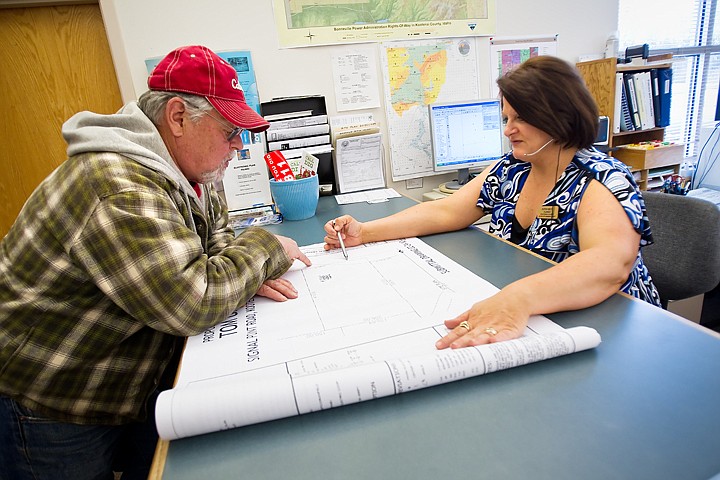 <p>Tom Gravatt, of Post Falls, discusses a building question with Kathi Best, planner with the Kootenai County Building and Planning Department, Friday at the county's office in Coeur d'Alene.</p>
by
Alecia Warren
|
April 11, 2010 9:00 PM
Members of the construction industry across Kootenai County are demanding better service at the county Building and Planning Department, which some say has hampered projects large and small by hamstringing building procedures.
"I've heard from people that 'We've been talking to the commissioners about that for five years, and nothing's happened,'" said Larry Jeffres, on the board of directors for the North Idaho Building Contractors Association.
To hasten action, NIBCA and the Coeur d'Alene Association of Realtors arranged a public forum before the county commissioners last Monday night, which roughly 60 industry members attended.
Builders, developers and landscapers who testified spoke of problems like inconsistent building code enforcement, excessive delays on permit approvals, and strange ordinance interpretations.
"Here's a lot of people who see the building department as an entity of our local government that doesn't seem to want to work with the people," Jeffres said. "Ultimately it really comes down to looking for a building department that looks at the people who walk through the door as customers."
Hang-ups on permit processes can make all the difference in construction work, said Tom Freeman, landscape architect with CTF Landscape.
"(It makes projects) longer, or it makes them not possible," Freeman said.
He described how he's been in design negotiations with the county for six months to obtain a permit for fixing a retaining wall, he said.
"It's a very small project. It would take four days of work to rectify it," he said, adding that he has had to do a good deal of redrafting and rewriting of the wall that is 4 feet high and 20 feet long. "It's taken more money and effort to get the permit than the project's worth."
Bill Johnson with Johnson Custom Homes out of Rathdrum, who has worked with city building departments across the county, said he wishes the county department would better communicate issues about submitted building plans.
"I go into the Post Falls Building Department, and if they have an issue with plans, they will call me up and say 'Hey, we've got an issue. Can you come in and sit down and we'll fix it,'" he said. "In Kootenai County, if they find an issue, they'll write a letter or e-mail, 'You have to make these corrections.' Sometimes they will explain, sometimes they won't."
Asking for help in person hasn't always garnered clear direction, he said.
"I say, 'Well, what will work?' and they say, 'Hey, sorry, I can't design it for you,'" he said. "I've been told that down there."
Two years ago, he felt so frustrated by the staff's conflicts over verbage in his building plans that he ignored them, he said.
"I made the changes on the plans so I could get the permit, and then on the job site I did more than what was on the plans," he said, adding that he exceeded the minimum safety requirements with structure and frame. "The inspector looked at it, saw it, and didn't say anything."
Eric Keck, Post Falls city administrator, said that he has heard comparisons of the city's building department to the county's before, but he couldn't give an opinion of the county's performance.
"We have a philosophy of doing whatever it takes and then some to satisfy constituents and customers and clients, but I don't know what philosophy the county has taken," he said.
Century 21 Realtor Tom Torgerson recalled when the county tagged a Spirit Lake client in 2008 for not obtaining a site disturbance permit for working on a drain field. It was a permit Torgerson knew from past experiences was not necessary for such a project.
"The argument was with this one (drain field), we put the road in lower than we had to. Nonetheless, it (the code) doesn't say where you're allowed to put in a road while installing a drain field," he said. "We decided we could see the county's argument, so we decided to get a permit. That's when the trouble started."
The county denied the permit due to concerns about road access. Solving the issue dragged out for roughly seven months, Torgerson said.
During that time, the unfinished drain field couldn't be touched, despite how its unstable bank left the lake exposed to pollution, Torgerson said.
"To take six or seven months to get a site disturbance permit on something that's a potential endangerment to the watershed -there isn't anybody with Kootenai Environmental Alliance or any developer or landowner that would think that that's a smart decision," he said.
Sandy Young, co-owner of E2 Planning and Design in Post Falls, said she is frustrated by how department staff has given new interpretations to ordinances.
She gave an example of setback limitations on easements that weren't spelled out by ordinance.
"It could render a parcel and has rendered parcels unbuildable," she said. "There are parcels in the county that are so small, when you impose those setback limitations, there's no room to build."
Kootenai County Planning Director Scott Clark said that setbacks he has set are all based on building code. He added that sometimes folks can circumvent setbacks by applying for variances.
"To say unilaterally that a parcel is unbuildable is an overstatement," he said.
He also said that the department issues most permits in a week or two weeks, if applications are in order.
"That's very good service, I believe," he said.
But sometimes delays happen, he said.
"There can be a number of reasons," Clark said, giving the example of an applicant not supplying enough information. "Sometimes we have a project with some difficulties."
After attending the forum, Clark has managed to keep an optimistic outlook.
"I think it's a great opportunity for the board and staff and the development communitiy to get input and feedback," he said. "We're always looking to do better service to the community."
Commissioner Rick Currie said he and the other commissioners will review their notes from the forum and discuss if changes are needed.
"The commissioners have a responsibility not only to the building community but also the citizens as a whole," he said. "So there are some things the construction industry would like us to do, but those are similar to the things the public wants us to keep going. We have responsibility to all parties concerned."
There doesn't appear to be a trend in dissatisfaction. The department saw 12 appeals of administrative director's decisions in 2009, and six in 2008.
In 2005, two years before Clark joined the staff, there were 10.
Clark noted that out of 23 decisions appealed from 2007 to date, 16 have been upheld, one affirmed and five are still being processed. Only one decision was reversed.
"There's a belief that we're doing something wrong or inappropriate with these (ordinance) interpretations, yet this record doesn't reflect that," Clark said.
Not everyone who deals with the department has complaints.
Dan Johnson, a Windemere Realtor who has also consulted privately on large projects like Black Hawk Ranch, has always found the department friendly and efficient, he said.
"They're always willing to set up a meeting to discuss a project," Johnson said. "As long as you submit the paperwork, they'll always take the time to help you look up and find out what you need."
The office comment box usually has a fair share of those comments, Clark said.
"People don't tend to have general meetings about compliments," he said.
Recent Headlines
---