Take a walk on the art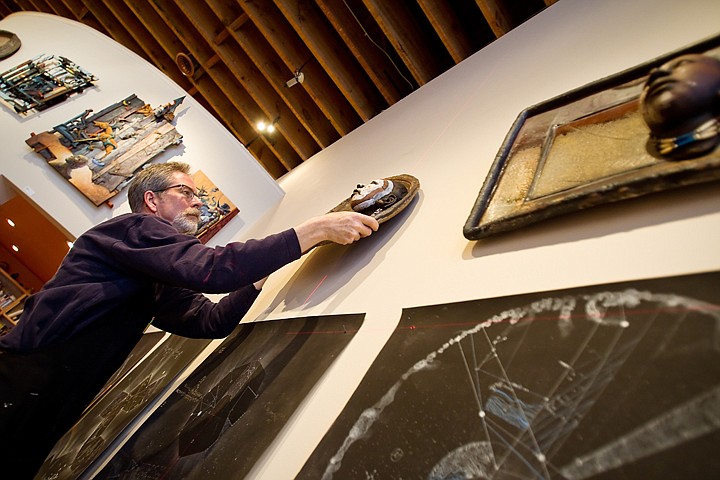 <p>Steve Gibbs, owner of the Art Spirit Gallery, hangs a piece by artist Steve Sauer Monday while preparing for tonight's Artwalk in Coeur d'Alene. The gallery will be presenting new work by a dozen artists as part of the event.</p>
by
BILL BULEY
Staff Writer
|
April 9, 2010 9:00 PM
COEUR d'ALENE - It is show No. 111 for the Art Spirit Gallery of Fine Art, and that means this for Steve Gibbs: Crank up the jazz and blues. It's time to patch and paint. Because when an art show ends at the gallery on 415 Sherman, it leaves holes behind in the bare and white wall. "We spot paint," said the Art Spirit owner "You have h
COEUR d'ALENE - It is show No. 111 for the Art Spirit Gallery of Fine Art, and that means this for Steve Gibbs: Crank up the jazz and blues. It's time to patch and paint.
Because when an art show ends at the gallery on 415 Sherman, it leaves holes behind in the bare and white wall.
"We spot paint," said the Art Spirit owner "You have holes all over, so you have to patch the holes, then you roller over all those areas."
Art Spirit is getting ready for ArtWalk that kicks off the 2010 season tonight from 5-8 p.m. with new work by 12 artists and continues through May 8.
"We always kick off the season in April, which makes for a really fun evening because people have it taken away from them for four months,' he said.
Gibbs pulls out a list of the 12 artists and gives a quick summary of each. There's Harold Balazs, Victoria Brace, George Carlson, Kathleen Cavender, Timothy Ely, Mary Farrell, Viky Garden, Robert Grimes, Maurice Nespor, Brad Rude, Kyle Paliotto and Steve Sauer.
Some produced artwork specifically for the show.
Harold Balazs is a longtime favorite out of Mead, Wash., who works with wood, metal, concrete, enamel and wrought iron.
Victoria Brace was born and trained in Moscow, capital of Russia, and moved to Spokane in the 1990s. Viky Garden is from New Zealand. Del Gish, Gibbs says is an "old master painter out of Medical Lake."
"We're happy to have him," he said.
Kyle Paliotto is "a young painter who's really coming on strong." He moved to Hayden five years ago and began painting full time, and had his first solo show last year. He also won best of show in the C.M. Russell art show in March in Great Falls, Mont.
Brad Rude of Walla Walla is best know for his sculptures and Steve Sauer hails from Port Orchard and works in clay.
"It's going to be a really good lineup," Gibbs said.
But before it begins, he'll spend this week with the jazz and blues blasting as they take down the previous display and prepare for the new one. All told, he'll spend more than 100 hours removing art work, painting, patching and then putting the newest art in just the right places.
That task is much like painting itself, Gibbs said.
"Basically, it's a composition," he said. "You've got a big white wall canvas. You want to keep the interest going throughout the whole thing, keep it balanced."
All the artwork is laid out on the floor and he eyes which wall and where it should go.
"I usually have it pretty well squared away before I start pounding the nails," Gibbs said. "I really put the time in up front to feel comfortable with it. If it isn't working, I keep working on it on the floor before I put it up. I'll be here until 2 or 3 in the morning to make sure I've got it nailed."
He uses a PLS 2 laser level - a gift from employees and artists who bought it for his birthday six years ago - along with an older level taped to a long measuring stick, to ensure each piece is straight and centered.
"It gives it nice continuity across," he said.
And tonight, it's time for Art Walk.
Downtown businesses involved in ArtWalk include:
Coeur d'Alene Galleries
• Coeur d'Alene Resort Lobby
Catch Spring Fever as we feature Northwest Sporting and Wildlife Art. Works on display will include Brett Smith, Daniel Smith, Flick Ford, and David Maass. Appetizers provided by Dockside.
• Summers Glass and Beads featured gallery, 211 Sherman Ave.
Come watch us design a glass guitar! Demonstrations on cutting, foiling, grinding, sawing and soldering will be shown throughout the night.
• Gallery Northwest, 217 E. Sherman Ave.
"Boxes, Bags, and Batiks" is a multi-media show of wood, clay, silk, and recycled materials. Meet the artists.
• The Painter's Chair Gallery, 223 Sherman Ave.
See one of the new local barn scenes from nationally acclaimed artist, Stephen Shortridge, Disney prints by Rodel or works from over 35 artists
• Studio 107, 120 N Fourth St.
New mixed media art by Daris Judd. Browse art and jewelry, enjoy an appetizer.
• Steven A. Scroggins Fine Art, 110 N Fourth St.
Offering abstract and modern original Art by local artist, Steven A. Scroggins.
• Cheryl Burchell Gallery, 413 1/2 Sherman Ave.
Featured artist is Mona Stanton, known for her "Lucky Rabbit" painting which was selected for the 2009 Art on the Green festival's poster in Coeur d'Alene.
• The Art Spirit Gallery, 415 Sherman Ave.
New work by 12 artists: Harold Balazs, Victoria Brace, Kathleen Cavender, Del Gish, Timothy Ely, Mary Farrell, Viky Garden, Robert Grimes, Maurice Nespor, Brad Rule, Kyle Paliotto and Steve Sauer.
• Angel Gallery of Fine Art & Antiques, 423 Sherman Ave.
Award Winning Idaho Printmaker and artist, Gordon Talley, will be demonstrating both monotypes and etchings. Angel Gallery has many new artists and refreshments!
• Northwest Artists, 509 Sherman Ave.
Artisan gallery features the works of local and regional artists for nearly 20 years. New location, new artists.
• The Atrium at Parkside, 601 East Front Ave.
An evening of fine art and refreshments in the Atrium at the Parkside Tower.
If you go
ArtWalk is 5-8 p.m. today in downtown Coeur d'Alene. Galleries host opening receptions with the opportunity to meet the artists, listen to live music and see newly arrived works of art. Participating downtown businesses and restaurants are open extended hours.
Artwalk is every second Friday, from April through December.
Guests are welcome to stroll through downtown Coeur d'Alene and visit participating art galleries, shops and restaurants with your friends and family.
Recent Headlines
---