Problems with payroll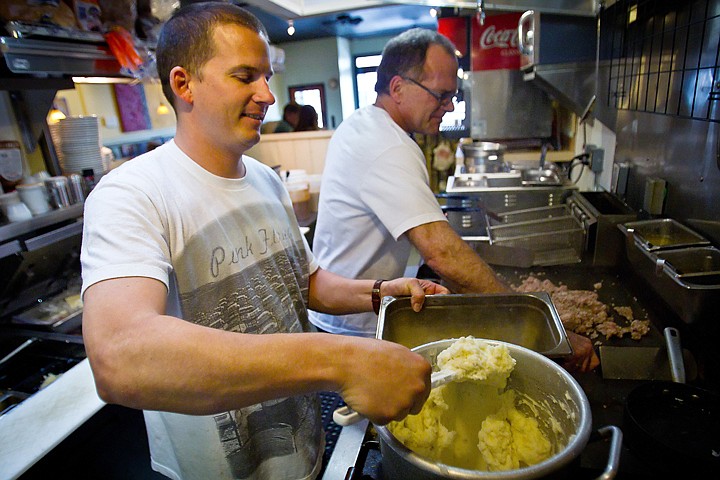 <p>Brian Seibert, a cook at the 4th Street Pantry, works in the kitchen alongside Robert Fowler in Coeur d'Alene restaurant Tuesday.</p>
by
Rick Thomas
|
April 7, 2010 9:00 PM
COEUR d'ALENE - Michael Hanes has been taking classes since December, at the school of hard knocks.
Lesson 1: Being an entrepreneur and a restaurateur can also mean learning to juggle.
Hanes spent seven months getting ready to open 4th St. Pantry at 206 N. Fourth St., and it cost him more than anticipated.
"I opened with zero operating capital," he said on Tuesday.
He also opened the 24-hour operation with the goal of providing not only good food, but good service from day one. That meant a total of 22 employees, and a total payroll of $16,000 every two weeks, or 70 percent of revenues.
"It is not so much the number of employees as the man-hours," Hanes said. "At the start, we had a lot of man-hours, very expensive labor."
Part of the business plan was to look forward, and that meant looking back. The starting wage for cooks was $12 per hour, and $5.40 for wait staff, who Hanes says make good tips.
"That is pretty good for this town," Hanes said. "Some say it's too much."
But two years ago, good restaurant help was hard to find. He expects that to be the situation in another couple of years.
"The labor pool is not shallow now," Hanes said. "I wanted to get the best of the best, and pay them what they are worth."
Retention saves in training costs, and it is paying off, he said, as only a couple of his employees sought jobs at the new Texas Roadhouse, one looking at a second job with plans to remain at the downtown cafe.
And though the business was well received and profitable from the first day, the lack of capital meant that almost from the start there were problems meeting payroll. At first, the checks cleared, because the bank he was working with was paying them even when there were no funds.
Fees quickly added up, into the thousands of dollars, further increasing the stress on the budget.
Hanes did what he hated to do, but knew was essential. He cut four positions.
"Twenty four hours is fiscally a huge challenge," he said. "But every time we considered changing, we would see a guest come in we did that for."
Law enforcement, service workers and taxi drivers were among them.
"How can you take that away, once you have provided it," Hanes asked.
Even as the financial strain grew, he increased the pay of his best employees, and kept the lines of communication open between himself and the workers.
"He has been taking care of me," said Brian Seibert, one of several cooks. Several times, he has had to work with Hanes on the timing of cashing his paycheck.
"He tells me when it's good to go," Seibert said. "He does always come through. He's trying. It's hard to be mad at him."
A former construction worker out of work for three months before starting at 4th St. Pantry, he is glad to be working again, and willing to roll with the punches.
Hanes knows he started top-heavy with employees, and the cutbacks have reduced the twice-monthly payroll to $10,000, and his goal is to get to $8,000, or 34 percent of revenues.
"I need to balance service with cutbacks," he said.
The restaurant is often packed to capacity at its busiest times, so Hanes is taking out some equipment to expand the seating to 40 from about 30. That could help the bottom line, since the menu has been well received.
Neil Weir of Coeur d'Alene said he has eaten at 4th St. Pantry four or five times, with a preference for breakfast and the prime rib sandwich, plus the convenient hours.
"It is pretty good food," he said. "I've never had a bad meal."
Hanes is confident he can turn the tide, but between rushes can sometimes be found out back, pacing and pondering the future of the restaurant he opened with an eye to creating a future for his kids. The stress has already taken a toll on his personal life, as he and his wife of 15 years have been separated for several weeks.
"I took a chance on being an entrepreneur," he said. "The most important thing is, it became bigger than me. I am a little numb right now. What do I do, close down and put 20 people out of work? I can't put that many people out of work. I have to find a resolution."
Recent Headlines
---