Not all stews need long simmers or winter weather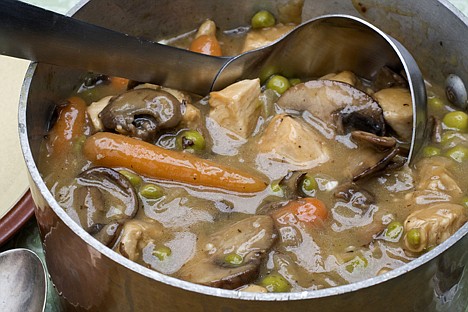 <p>This is a chicken Marsala stew with spring vegetables. Stew, a winter standard, can find a place on a spring dinner table if you make this stew. It avoids a long simmer while still keeping flavor big.</p>
by
Jim Romanoff
|
April 7, 2010 9:00 PM
A stew for spring isn't as counterintuitive as it sounds.
The intermittently cool and rainy then sunny and warm weather is perfect for a simple stew. The difference is the timing. Unlike a stew meant for the dead of winter, a spring stew should be a relatively speedy affair.
This recipe compensates for the flavor typical stews develop during long simmers by drawing on potent ingredients like Marsala wine and balsamic vinegar. It also uses flavor-enhancing techniques, like browning the chicken before adding it to the stew.
The result is a light but flavorful stew perfect for spring. Serve it with a crusty baguette.
Chicken marsala stew with spring vegetables
Start to finish: 45 minutes (30 minutes active)
Servings: 4
2 tablespoons extra-virgin olive oil, divided
1 pound boneless, skinless chicken breast, cut into 1-inch chunks
1/2 teaspoon salt
1/2 teaspoon ground black pepper
8 ounces cremini mushrooms, sliced
8 ounces baby carrots
1 cup frozen baby peas
1 large sweet onion, chopped
3 tablespoons all-purpose flour
2 cloves garlic, finely chopped
1/2 cup Marsala wine
1 1/2 cups chicken broth
1 tablespoon balsamic vinegar
In a large Dutch oven or stock pot, heat 1/2 tablespoon of the oil over medium-high. Add half of the chicken pieces and season with 1/4 teaspoon each of the salt and pepper. Cook, stirring occasionally, until the chicken is browned on all sides, about 5 minutes. Transfer to a plate and repeat with another 1/2 tablespoon of the oil and the remaining chicken, salt and pepper. Set aside.
Add another 1/2 tablespoon of the oil to the pot. Add the mushrooms and saute until they begin to soften and give off liquid, 3 to 5 minutes. Add the carrots and peas, then saute for another 5 minutes. Transfer to a bowl and set aside.
Add the remaining 1/2 tablespoon of the oil to the pot. Add the onions and saute until they soften and start to brown, about 5 minutes. Add the flour and garlic and cook, stirring for 1 minute.
Pour in the Marsala and cook, stirring, for 2 minutes longer. Add the chicken broth and reserved vegetables, then bring to a simmer.
Reduce the heat to low, cover the pan and cook, stirring occasionally, for 15 minutes. Add the reserved chicken and vinegar and simmer until heated through, about 3 minutes.
Nutrition information per serving (values are rounded to the nearest whole number): 382 calories; 87 calories from fat; 10 g fat (2 g saturated; 0 g trans fats); 68 mg cholesterol; 32 g carbohydrate; 34 g protein; 5 g fiber; 557 mg sodium.
Recent Headlines
---