Jorgenson donation helps Brannon post bond for lawsuit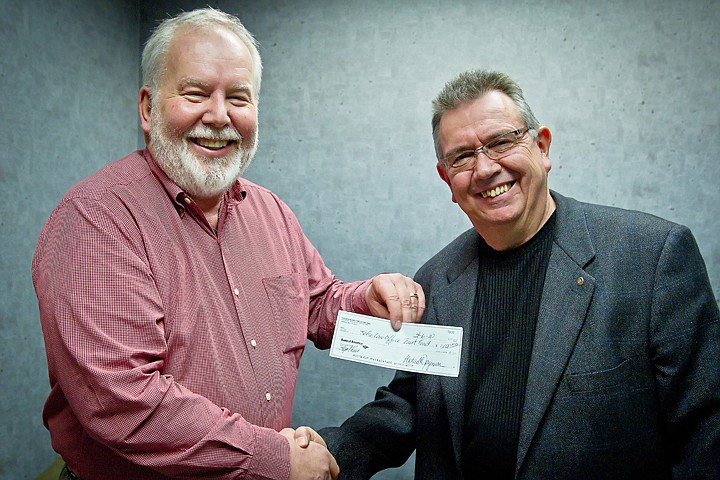 JEROME A. POLLOS/Press Sen. Mike Jorgenson, R-Hayden, presents a $1,000 check Tuesday to the Kelso Law Office Trust Fund which was established to help Jim Brannon pay a bond payment to continue a suit challenging the Nov. 3 general election results for a Coeur d'Alene City Council seat.
by
Staff
|
April 7, 2010 9:00 PM
COEUR d'ALENE — Senator support.
Sen. Mike Jorgenson donated $1,000 Tuesday to Jim Brannon, the Seat 2 challenger contesting the results of Coeur d'Alene's Nov. 3 general election.
The pledge means Brannon, the seat 2 challenger, has surpassed the $5,000 total bond 1st District Judge Benjamin Simpson ordered with the suit, and ensures it will move forward.
Brannon filed the bond Tuesday.
"We've had road block after road block," Brannon said of the effort to get the suit to trial, adding that he believed "there was substantial error that occurred in the election."
Jorgenson's donation helped get it there, since Simpson lowered the original $40,000 bond to $5,000 last week.
"Now we'll let justice preserve itself," said Jorgenson, the Hayden Lake Republican, who visited The Press with Brannon after issuing a press release on the donation. "The resolution has to be brought out in a court of law."
Jorgenson said that although he doesn't represent the city of Coeur d'Alene, the election contest affects all of Kootenai County.
"I do represent Kootenai County and I believe it is the most fundamental requirement of our system of government that absolute transparency exist within our election process," he said in the press release.
Several motions, including reconsidering dismissing the city from the suit and the discovery order and its costs, are scheduled to go before Simpson at 9 a.m. Tuesday.
Recent Headlines
---