Five-car collision causes injuries on Highway 95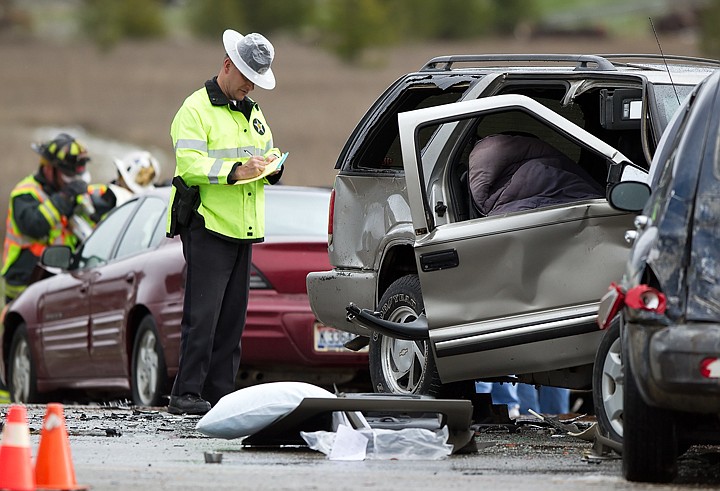 <p>An officer with the Idaho State Police investigates the scene of a head-on crash Tuesday on U.S. 95 at Chilco Road near Garwood. The multiple car pile up shut down two lanes of the highway for a couple of hours in the afternoon.</p>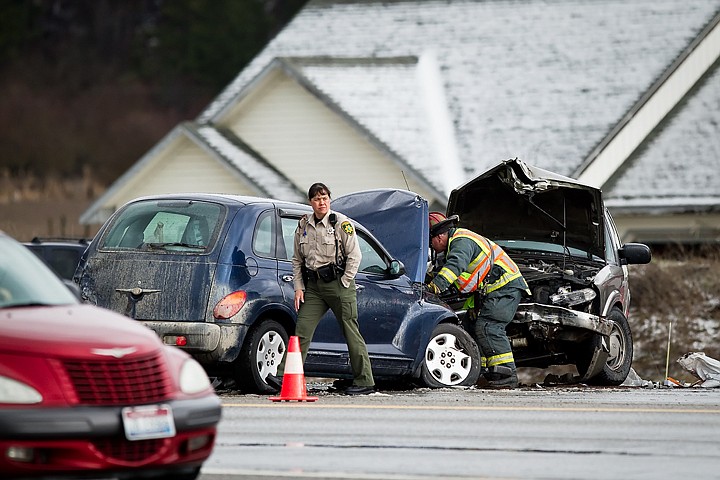 <p>Alana Hunt, Kootenai County Sheriff's Deputy, helps Idaho State Police and Northern Lakes Fire Protection District crews on the scene of Tuesday's multiple vehicle accident on U.S. 95.</p>
Previous
Next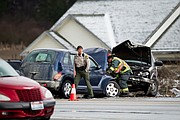 An 88-year-old Spirit Lake man lost control of his SUV Tuesday on U.S. 95 at Chilco Road and was involved in a head-on collision with another car that sent multiple people to the hospital.
Edward L. Spitzer was headed south in his 2000 Chevrolet Blazer on the highway when he lost control of his vehicle and struck a 2003 Chrysler PT Cruiser head on, the Idaho State Police said.
Spitzer struck another vehicle, too, the state police said. Two other vehicles were involved in the five-vehicle accident, police said.
The accident blocked traffic for more than an hour, police said. The cars were blocking the northbound lanes.
Spitzer was cited for driving at speeds too fast for conditions, state police said.
Dawn E. Nolan, 44, of Rathdrum, the driver of the PT Cruiser and Spitzer were taken to Kootenai Medical Center for injuries. Dennis L. Jarchow, 68, of Spokane, was also injured and taken to KMC, police said.
Spitzer was listed in fair condition late Tuesday night, a nursing supervisor said. Nolan and Jarchow, who was driving a 2006 Volkswagon Beetle, were both treated at the hospital and released, she said.
Lisa Fiasa, 33, of Athol, who was driving a 2000 Pontiac GrandAm and Cynthia L. Schorr, 55, of Hope who was driving a 1995 Chevrolet S10 pickup, were also involved in the accident, police said.
Recent Headlines
---