Ex-Indian Ellis beats Mariners in 10th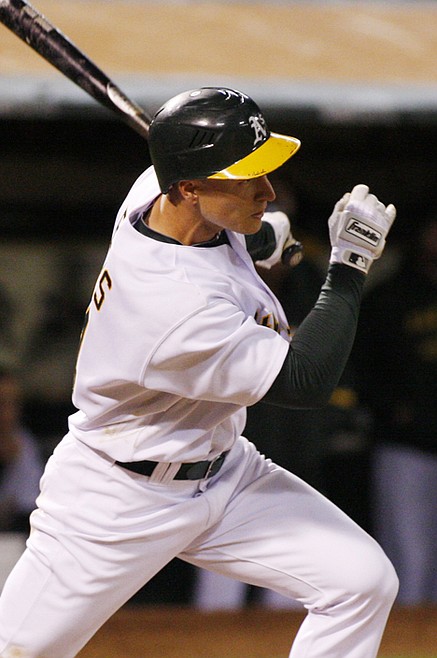 <p>Mark Ellis' hit in the 10th inning lifted the Oakland Athletics past the visiting Seattle Mariners on Tuesday night.</p>
OAKLAND, Calif. (AP) - Mark Ellis hit a game-ending RBI single with two outs in the 10th inning, lifting the Oakland Athletics to a 2-1 victory over the Seattle Mariners on Tuesday night.
Edwar Ramirez (1-0) pitched the 10th to earn his first win since Sept. 3, 2008, when he was with the New York Yankees.
Kanekoa Texeira (0-1) took the loss in his major league debut.
Kevin Kouzmanoff and Kurt Suzuki each singled with one out in the 10th. After Eric Chavez flew out deep to left, Ellis, a former Spokane Indian, singled into the right-center gap to score pinch-runner Eric Patterson.
A's starter Dallas Braden struck out a career-high 10 in seven innings, giving up a run on four hits and a walk. He retired 15 of 16 during one stretch, and picked off Ichiro Suzuki in the first inning.
Mariners starter Ian Snell lasted six innings, giving up one runs and three hits. He walked two and struck out four.
Franklin Gutierrez, who had two hits, doubled with one out in the fourth, was balked to third and scored on a wild pitch to give the Mariners the early lead.
Kurt Suzuki tied the game in the bottom of the fourth with his first home run of the season, hitting a 1-1 pitch into the left field bleachers.
Snell retired eight of nine batters before Suzuki's home run. Chavez and Ellis followed with singles and Cliff Pennington walked to load the bases. Snell retired Rajai Davis on a comebacker to end the rally and set down the final seven batters he faced.
Texeira had a dramatic ninth inning. With one out in the bottom of the ninth, the right-hander gave up a single to Ellis and Travis Buck's double. Pennington was walked intentionally and Texeira struck out Davis and got Daric Barton to fly out to left field after falling behind in the count.
NOTES: Ichiro Suzuki singled to open the game, extending his hitting streak against the A's to 22 games. ... Snell is 3-1 in his last eight road starts. ... Braden has made 47 career starts and has yet to complete a game, the third-longest streak to start a career with Oakland. ... Ellis has six walk-off hits.
Recent Headlines
---