Passport to Preparedness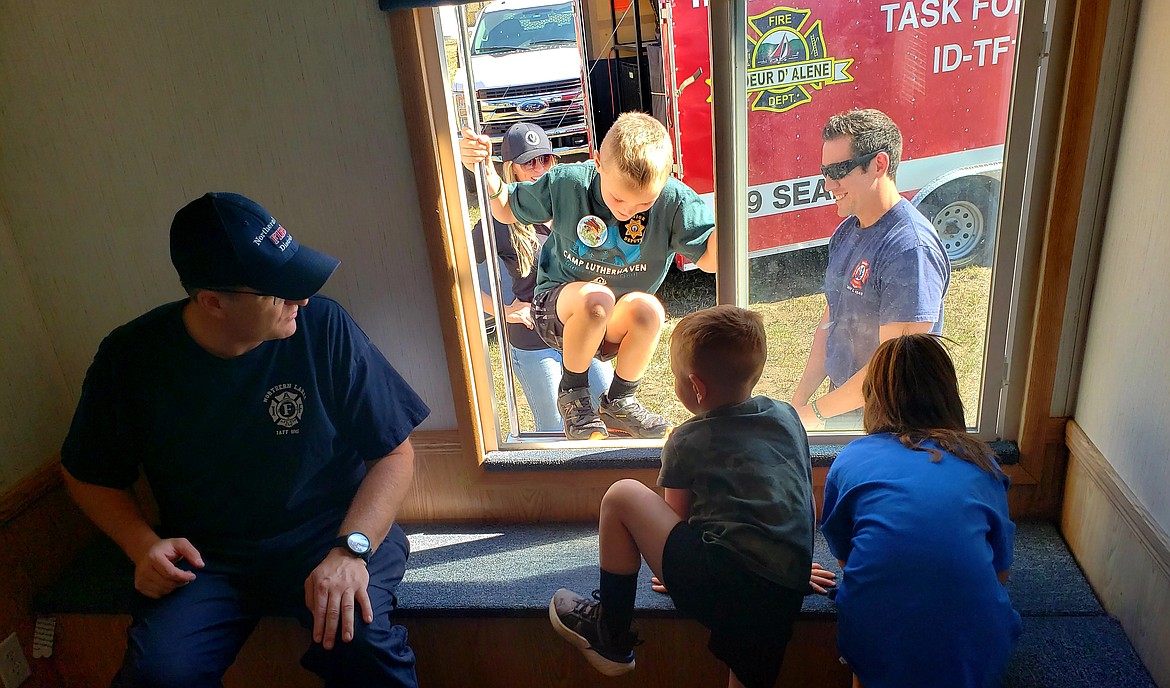 From left, Northern Lakes Fire District public information officer Chris Larson, Nixon and Nash Blinn, and Gwendolyn Hall practice climbing out of a window for fire or disaster readiness Saturday at the Passport to Preparedness event at the Kootenai Office of Emergency Management.
JOSA SNOW/Press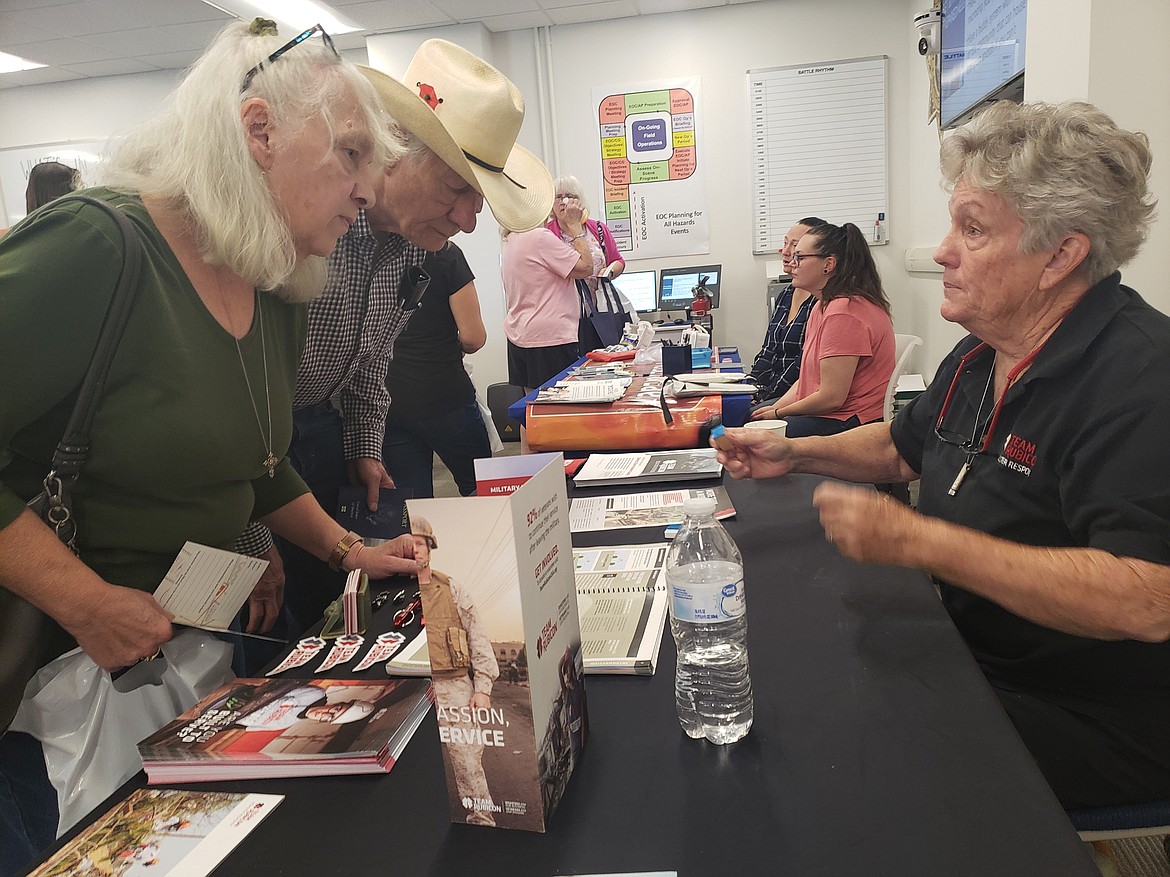 Judy and Chet Wolniakowski learn about the Team Rubicon Disaster Response and how to ready their yard for a disaster from team director C.J. Cribble during the Passport to Preparedness event Saturday at the Kootenai Office of Emergency Management.
Previous
Next
by
JOSA SNOW
Staff Writer
|
September 18, 2023 1:08 AM
Nixon Blinn, 7, dialed 911 from inside a "smokehouse" Saturday while his brothers Nash, 5, and Ford, 3, eagerly waited.
The 911 call didn't go to dispatch but connected directly to a firefighter outside the trailer.
The Northern Lakes Fire District hosted the smokehouse trailer as a training workshop for kids during the Passport to Preparedness event at the Kootenai County Office of Emergency Management.
The trailer had a kitchen where kids could point out fire hazards, like paper towels on the stove, before practicing dialing 911.
Northern Lakes public information officer Chris Larson answered the call from just outside the trailer and asked Nixon his address. Other fire personnel asked where the Blinn family's meeting place was if there was an emergency.
"We have a smoke detector in here and you know what it does, all the time?" Larson asked. "It does something amazing. It smells, all the time."
Larson asked the kids a few questions about what to do in an emergency and told them how to get out of a house safely if the smoke detector went off.
"So if there's a fire and smoke, and the door is hot, which way are we going to go out?" Larson said.
The boys considered a moment.
"Out the window!" they shouted.
Larson told the kids to pretend the door was hot to the touch. Then he activated a smoke machine and the boys crawled across the floor, checked the door and climbed out the window to safety.
The smokehouse wasn't the only activity available for the Passport to Preparedness event. Parents and adults could browse booths for information on defensible space, first aid kits, flashlights, emergency kits and being ready for a disaster.
P1FCU brought brochures for financial planning for an emergency, the University of Idaho had gardening advice with native plants and Team Rubicon Disaster Response introduced themselves and how they help in the aftermath of an emergency.
"What we do is free," Team Rubicon Spokane Logistics Coordinator Jeff Wilcox said. "And when people find out it doesn't cost anything, it changes everything."
Team Rubicon is a veteran-led disaster response organization often called in after an emergency for things like cleanup, falling damaged trees or initial demo work on a damaged home. They recently responded to fires in Lahaina to do repair work in the aftermath of the fire, to hurricanes in Florida or continue recovery work in Malden, Wash., after a fire destroyed the town.
Other vendor booths provided activities and fun games to guide attendees through each booth. Attendees could learn anything from CPR tips to how to find support to prepare their home for a disaster.
Team Rubicon offers support to seniors, veterans and uninsured people in disaster responses. Other agencies provided helpful tools for people to feel safe in their homes and to help them feel prepared for anything.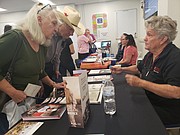 Recent Headlines
---