Rathdrum presents annual awards dinner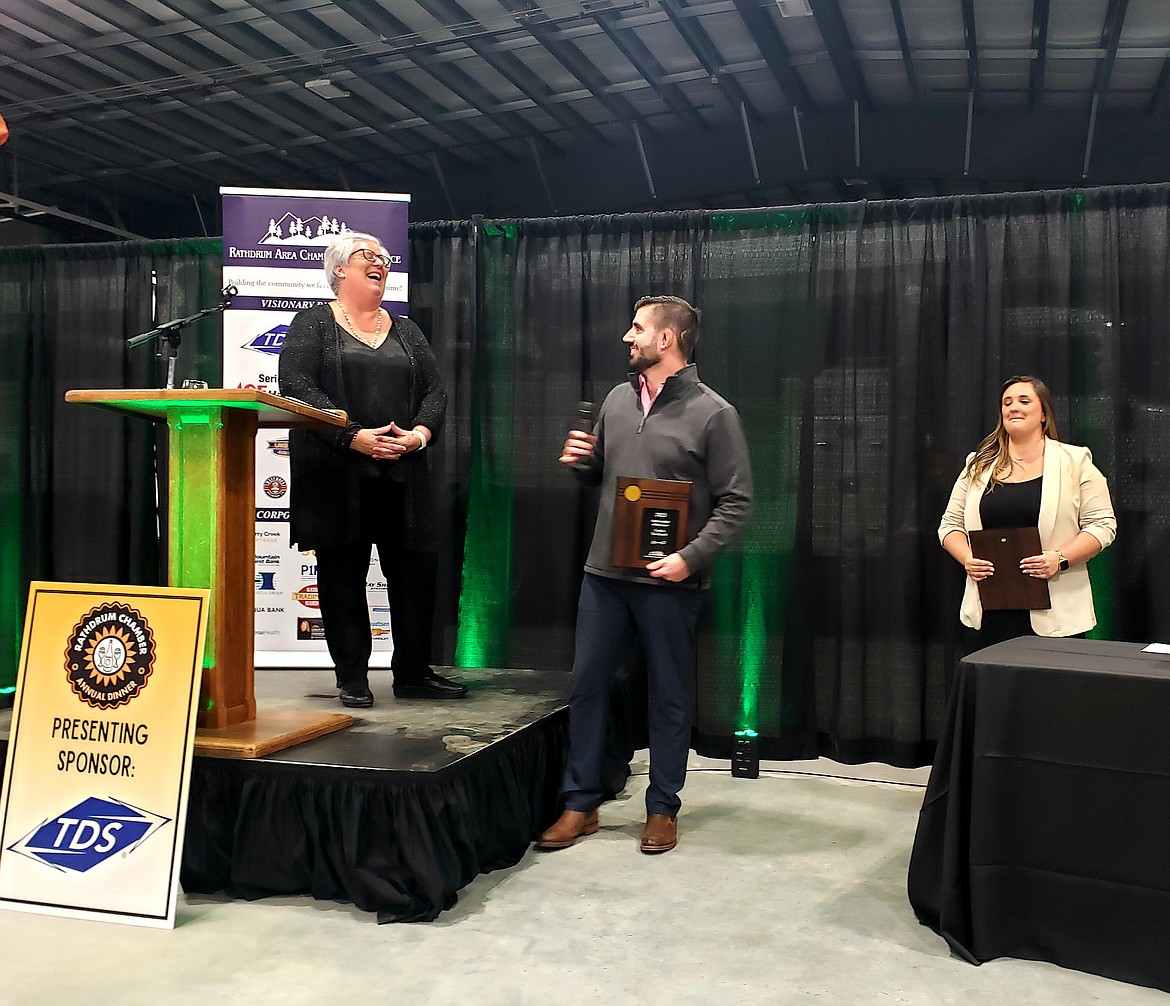 From left, Rathdrum Chamber of Comerce board Vice President Suzanna Spencer laughs as she presents the Ambassador of the Year award to Caylen VanZant, with chamber Executive Director Ashley Cameron presenting his plaque Saturday.
JOSA SNOW/Press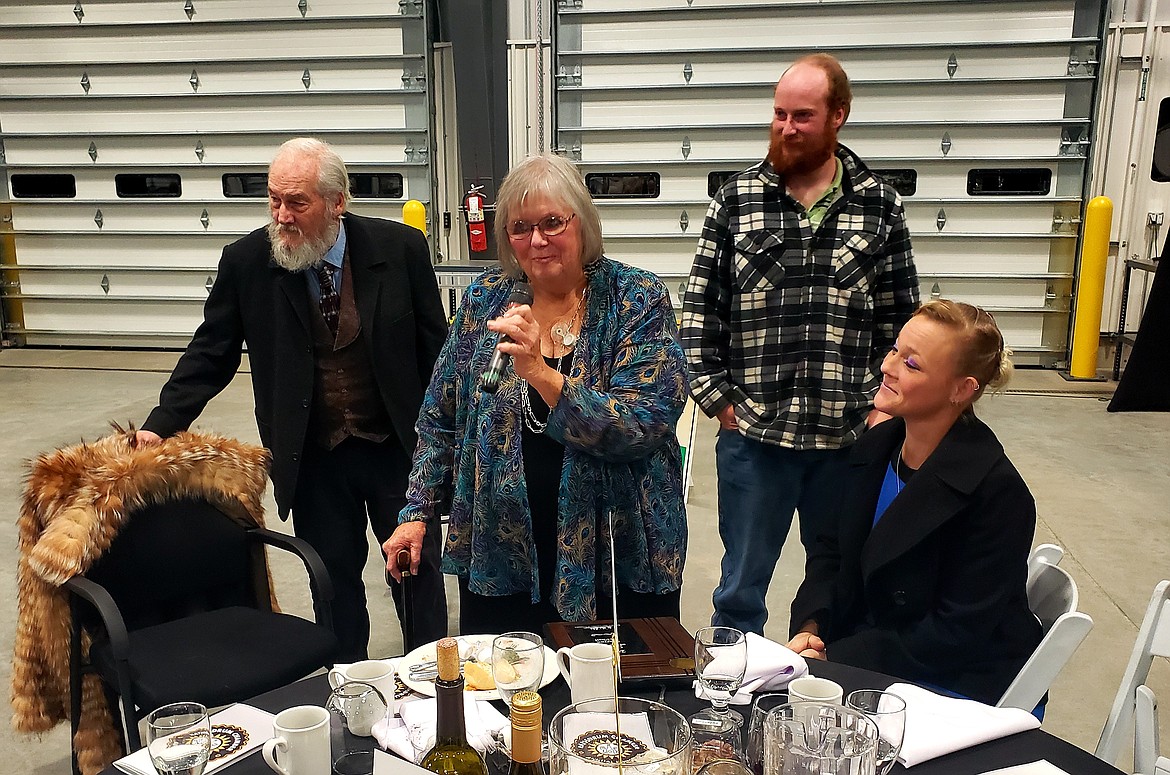 From left, Mike McPhail Sr., Sharon McPhail, Justin McClung and Stephanie McPhail celebrate Sharon as she was awarded Citizen of the Year at the Rathdrum Chamber of Commerce's annual awards dinner.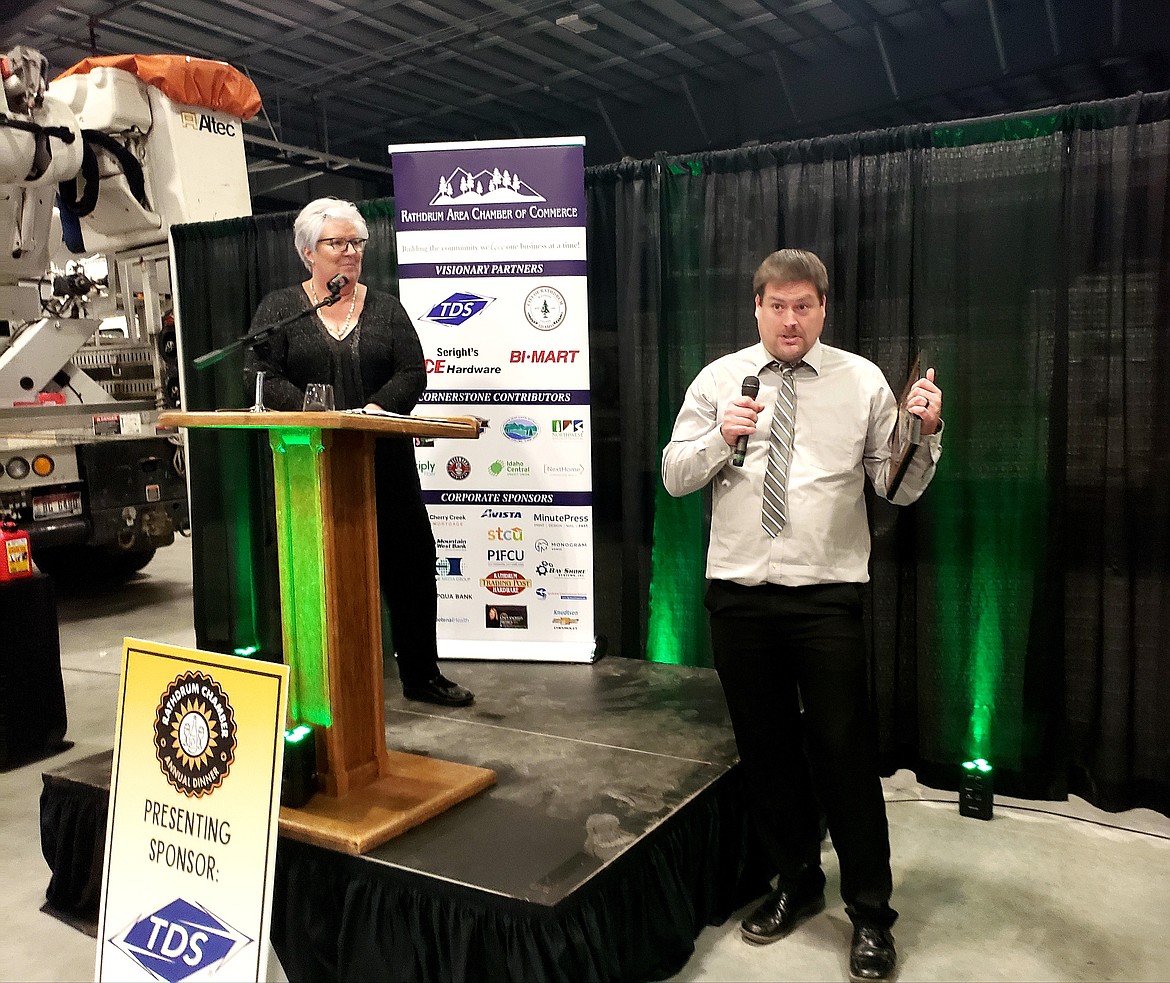 Emcee and Rathdrum Chamber board Vice President Suzanna Spencer presents Business of the Year to Russell Ward of Water Solutions on Saturday at the new Kootenai Electric Cooperative building in Rathdrum.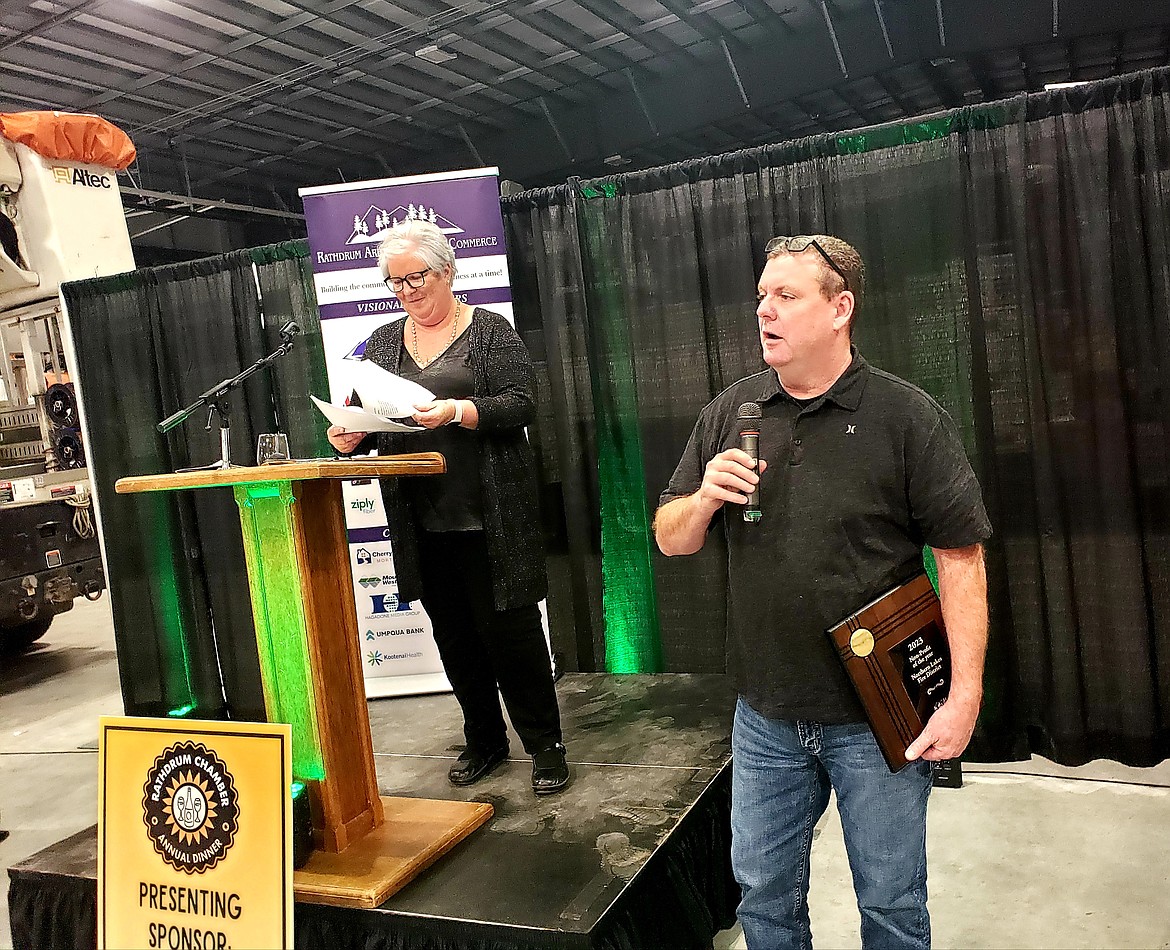 Rathdrum Chamber of Commerce board Vice President Suzanna Spencer presents the Nonprofit of the Year award to Fire Chief Pat Riley for the Northern Lakes Fire District.
Previous
Next
by
JOSA SNOW
Staff Writer
|
November 20, 2023 1:07 AM
The Rathdrum Chamber of Commerce named the brightest and best community contributors at an awards dinner Saturday evening at the new Kootenai Electric Cooperative building.
Among those recognized were some old faces doing new things, like the Northern Lakes Fire District, or new places to celebrate old traditions, like making the newly completed Kootenai Electric Cooperative building the venue. 
"It's great being here, because we really wanted to keep this in Rathdrum, but it's so hard to find a space," Chamber Board Vice President Suzanna Spencer said. 
The building was completed this fall and the dinner presented an opportunity to celebrate the 40-acre site off Lancaster Road. 
The dinner was followed by a live auction and the annual awards ceremony. 
Northern Lakes Fire District Chief Pat Riley gave the opening toast before accepting an award on behalf of the district. 
"Here's to a successful 2023, and a more successful 2024," he said. 
The Northern Lakes Fire District was named nonprofit of the year after a series of major improvements to the district through 2023, Chamber Executive Director Ashley Cameron said.

Northern Lakes added 13 employees, staffed a new station, will finish construction on a Garwood station after Thanksgiving, and the fire protection district is now meeting the National Fire Protection Association response time standards. 
"You may never need their help, but if you do, they'll be there for you," Cameron said. "Their mission is to provide a high level of proficient and competent service to the citizens and guests within their boundaries."
The ambassador of the year, Caylen VanZandt, also has a mind for service, Cameron said. 
"This year's ambassador is a bright light helping connect local businesses with the chamber," Cameron said. "They come with an eager spirit to help and strive to be a part of bettering our community with innovative and thoughtful suggestions."
Cameron presented the Citizen of the Year award to Sharon McPhail, a volunteer with the American Legion, Lions Club and Rathdrum Chamber. 
"She is no stranger to hard work and determination," Cameron said. "Oftentimes, you'll see her volunteering alongside her grandchildren as well."
Finally, the Chamber's Business of the Year award was presented to Water Solutions. 
"As a family-oriented and family-run business for over 20 years, this company takes pride in making customer service their top priority," Cameron said. "They have doubled in size in the last four years and are looking forward to working with the local schools to create an internship program. 
"They love being a part of the community and sponsor youth sports in Rathdrum and enjoy offering free water games at Rathdrum Days." 
People also peppered the night with donations for the auction, led by Matt Griffin, accompanied by his wife and assistant, Christina Griffin, to showcase the prizes, like a chainsaw, a rifle, a date night or a set of golf clubs. 
"Let's eat, drink and be merry," Griffin said. "And don't forget to spend some money."
Overall the night was a fundraiser for the chamber and a celebration of the Rathdrum community. 
"This used to be considered a witch town," Griffin said. "Now look at it. We've done something right, and I'd love to do more right."
Recent Headlines
---