Light it up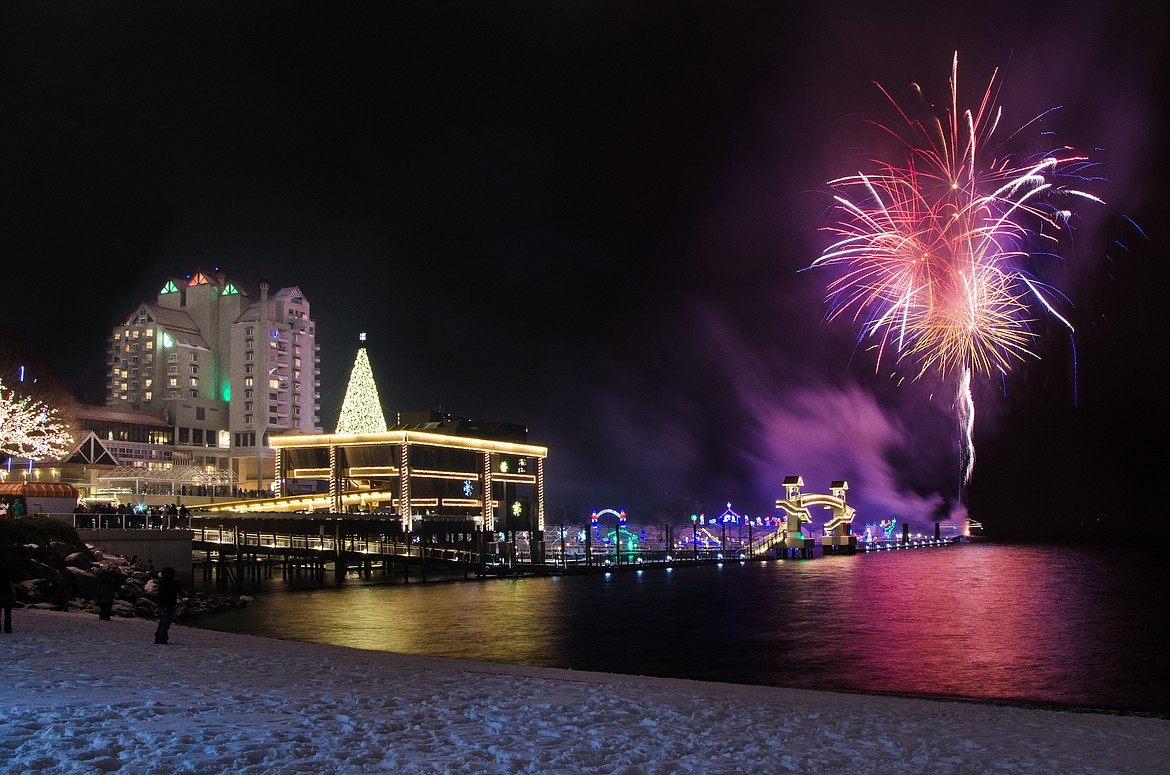 Fireworks explode over Lake Coeur d'Alene in a previous Coeur d'Alene Resort Holiday Light Show. This year's celebration is set for Friday.
Photo courtesy Coeur d'Alene Resort
|
November 19, 2023 1:08 AM
COEUR d'ALENE —  The Coeur d'Alene Resort Holiday Light Show is ready to explode in fireworks and lights over Lake Coeur d'Alene.
This year's grand opening ceremony is set for Friday and the light show runs through Jan. 2.
The annual lighting ceremony starts at 5 p.m. in downtown Coeur d'Alene, with a lighted parade on Sherman Avenue. At 6 p.m., Brad Hagadone, chairman and CEO of the Hagadone Corporation, will open the ceremony and introduce this year's guest of honor, Rick Powers. 
Around 36,000 spectators are expected to gather around the lake shore to sing Christmas carols, light candles, and see what's considered one of the most spectacular fireworks shows in the Pacific Northwest. 
"I could not be more honored to be a part of the 36th annual lighting ceremony," Powers said. 
Powers, director of food and beverage for Hagadone Hospitality, will help lead the crowd in counting down from 10. That is the cue to ignite a 1,500-shell fireworks show over Lake Coeur d'Alene. After the last burst of fireworks, all 1.5 million holiday lights will come on.
Every winter season, Coeur d'Alene transforms into a holiday wonderland. Journey to the North Pole Cruises depart nightly to visit Santa's workshop across the lake.
What began in 1986 by lighting up a fire truck has grown into an international holiday destination with a live appearance on ABC's Good Morning in 2007.
This season, visitors will notice that things are bigger and brighter, said Bill Reagan, president of The Coeur d'Alene Resort.
"Santa has been busy over the summer, and now he has a new home," Reagan said. "It's going to be incredible. And his famous flame-throwing sleigh has been souped up a little more. The dragon family has gotten bigger, with a couple more fire-breathing dragons. And we have a new boat in the fleet, The Shadow, to help deliver more guests to the North Pole."
The Coeur d'Alene Resort Holiday Light Show is built by a team of 15 people who work for more than two months each fall to set up the displays.
"The reward for all our team's hard work is the faces of the kids when Santa calls out their name at The North Pole," Reagan said. "Seeing those faces light up makes it all worthwhile."
Information: cdaresort.com
Recent Headlines
---