John Brown, 95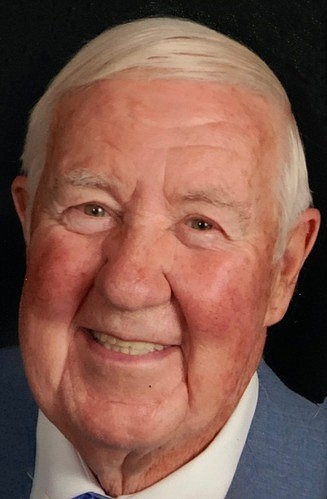 |
November 14, 2023 1:00 AM
John Calvin Brown passed away Nov. 8, 2023, at his home in Post Falls, Idaho. John was born to Selwyn and Emilene Brown on Sept. 30, 1928, in Spokane, Wash. 
He grew up in Spokane and graduated from John Rogers High School. John married June (Dinius) Brown and they had four children they raised in the Post Falls area; they divorced after 23 years of marriage. John served in the U.S. Navy during WWII aboard the USS Collett. John married Greta (Johnson) Felts in 1984. John loved the outdoors and animals, from a young age he raced motorcycles, and snowmobiles and rode in local rodeos. During the summers, he was frequently found on the water in his pontoon boat, water skiing and jet skiing well into his 70s. He had a fondness for Boxer dogs and bred them for show. He was proud to tell most listeners about how he hunted elk in his 80s. John and Greta loved to travel during their retirement years, especially in the SouthWest and Mexico. While traveling John honed his passion for western, Native American and wildlife art. John painted several murals in the local area; one can still be viewed at the pavilion at EWU, in Cheney, Wash. John and Greta traveled to the craft fairs selling his drawings, carvings, paintings and woodwork. John had a unique gift of being able to look at something but see it in a different use and actually produce it as a piece of functional art. John never lost his love for the Catholic faith; he and Greta attended St. George's Catholic Church until their deaths. He was an active member of the Knights of Columbus and could be found frequently serving the church in any capacity needed. 
John was preceded in death by his parents, his wife, Greta, his sons, Terry and Mike, and his daughter, Carolyn Brown. 
John is survived by his daughter Sue (Brown) Burke (Bob), three granddaughters, Crystal Brown, Michelle Geiskopf and Jodi Dayborn, grandson Jared Brown, great-granddaughters Joelle Geiskopf, Rihanna and Violet Jackson, great-grandson Taylor Stevenson, great-great-granddaughter Seraphina Stevenson, stepchildren, Rebeca Graham (Richard), Laurie Felts, Susan Mead and Mark Felts, 11 step-grandchildren and nine step-great-grandchildren.
A Rosary and funeral Mass will be held at St. George's Catholic Church, 2010 N. Lucas St., Post Falls, Idaho, on Wednesday, Nov. 15, 2023, at 10:30 a.m. (Rosary) and 11 a.m. (Mass).  A dessert reception will follow at the church center.
Recent Headlines
---