City, Downtown Association ink Car d'Lane pact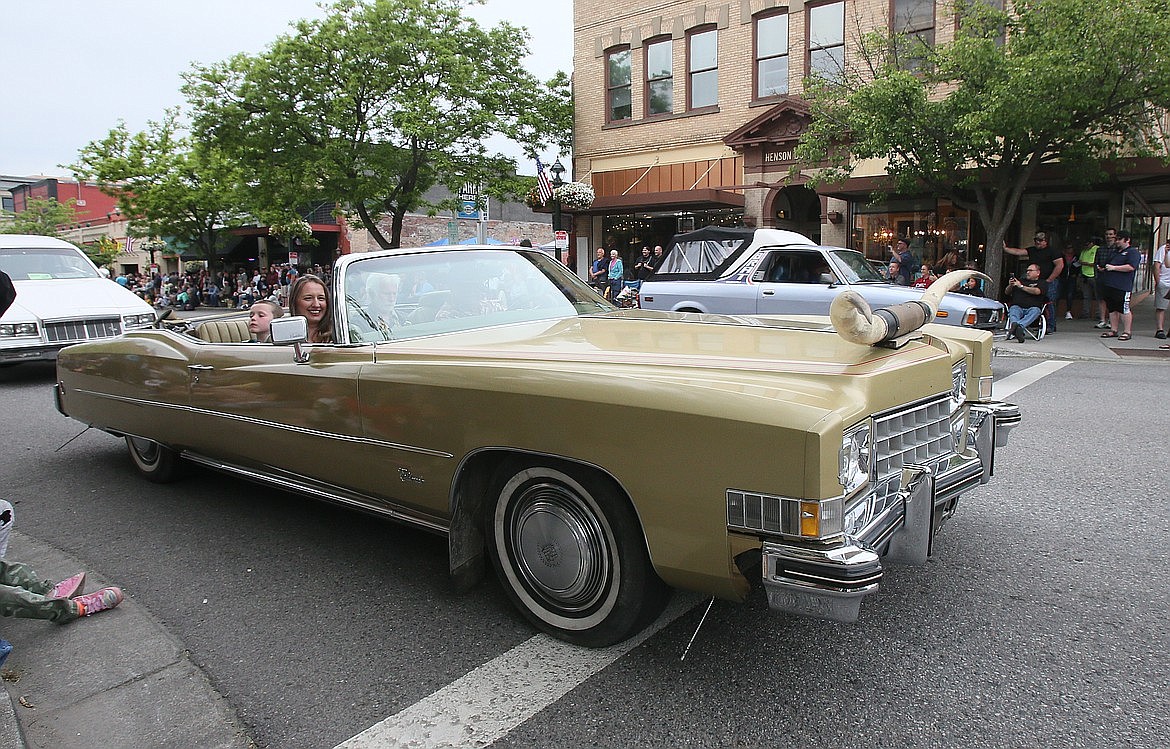 Devin Weeks/Press file photo Longhorns adorn the top of this 1970s Cadillac Eldorado that cruised along the 2022 Car d'Lane route.
by
BILL BULEY
Staff Writer
|
May 31, 2023 1:05 AM
COEUR d'ALENE — As far as Ben Drake is concerned, the city's costs associated with Car d'Lane are well worth it.
The owner of Crown and Thistle Pub on Fourth Street said he sees a 65% to 75% sales increase during the annual June event.
"Which is pretty amazing," Drake told the Coeur d'Alene City Council. "I'm all for it. It definitely helps out my business."
The council recently approved a memorandum of understanding with the Coeur d'Alene Downtown Association outlining roles and responsibilities for each in regard to Car d'Lane, set for June 16 and 17.
"So there aren't any questions the day of the event," said Renata McLeod, city municipal services director.
"Our intent was to spread the duties a little more evenly between the two parties," she said.
Emily Boyd, downtown association executive director, said it's a great partnership.
She said large-scale events like Car d'Lane "take a lot of hands from different departments in the city," including police, fire and streets and engineering.
"We want to make sure we're all doing our part," Boyd said.
Last year, the council requested staff to look at options of entering into agreements for some of the large special events held in the city.
"Agreements allow the city to negotiate with the sponsor to take on additional responsibilities, such as providing volunteers to man non-emergency intersections, placement of no-parking signs, use of certified flaggers and payment, in addition to the general fees," according to a staff report.
As part of the agreement, McLeod said the city negotiated a new route to improve flow and safety as well as a limit on entries.
Last year's route, "was problematic for public safety and for the streets and engineering staff," the staff report said.
The cruise route on June 16 will use Sherman and Lakeside. It will go as far east as 11th Street, as far west as Second Street, as far north as Wallace and and as far south as Mullan Avenue.
The cruise is capped at 800 vehicles and runs 6 to 9 p.m.
The car show June 17 will run from 5 a.m. to 4 p.m.
City costs associated with 2022 Car d'Lane were a little more than $21,000, the majority of that for police.
Council member Dan Gookin asked about the benefits of the event to businesses and whether it was a good use of taxpayer money.
"What are we getting out of this?" he said.
Boyd said she did not have firm numbers, but said restaurant and shop owners have reported a boost in business, some seeing the highest sales of the year.
"It's a ripple effect," she said. "I would say the impact is a thriving downtown, thriving businesses."
The Downtown Association reported expenses associated with Car d'Lane of nearly $15,000. It also estimates volunteer hours are worth $6,355.
The Car d'Lane fee included under the memorandum is $1,050, with a $1,000 security deposit.
Boyd said the association spent about $9,000 on flaggers for traffic control last year.
"Traffic control has been one of our hardest things to navigate," she said.
This year, it hopes to reduce that cost by using more volunteers as flaggers. About 20 locals recently earned their flagger certification, passing a test after completing a four-hour course.
Boyd said events have helped revitalize downtown.
"Events create a sense of place for the community. They foster a healthy economic environment for businesses," she said.
She said the Downtown Association has, over the years, assumed additional duties, such as traffic control and security.
"We certainly don't ignore the fact there are a lot of expenses and work that come out of the city departments," Boyd said.
The memorandum approved by the council outlines 16 points of which the association agrees to take care, 10 for the city and three points for both.
Some points required of DTA include:
To meet with the city at least seven days prior to the date of the event to discuss the traffic control plan.
To maintain a line of direct communication with the police command center throughout the event by a person who has authority to make decisions.
To provide qualified adults ("monitors") and certified flaggers to monitor and oversee the traffic control devices used for the event, in the number and locations as determined by the traffic control plan.
The city is required to:
To provide DTA with "No Parking" signs sufficient to comply with the traffic control plan.
Police will coordinate the towing of vehicles parked in violation of the "No Parking" signs.
Close the relevant streets no later than 4 p.m. Friday, June 16.
Council member Christie Wood supported the MOU and the city's contribution to Car d'Lane.
"I happen to believe it's the right way to go to support our community," she said.
Wood said that, perhaps, a security fee to recoup costs should be considered in the future.
"Not to the point where it would put people out of business. We want this to happen here," she said.
Council member Woody McEvers said he felt the city and the Downtown Association both contributed evenly to Car d'Lane.
"It seems, economically, you are putting in as much as we are," he said to Boyd.
The city is also in talks with the Regional Chamber of Commerce on a similar arrangement for the Fourth of July parade.
Recent Headlines
---