So happy together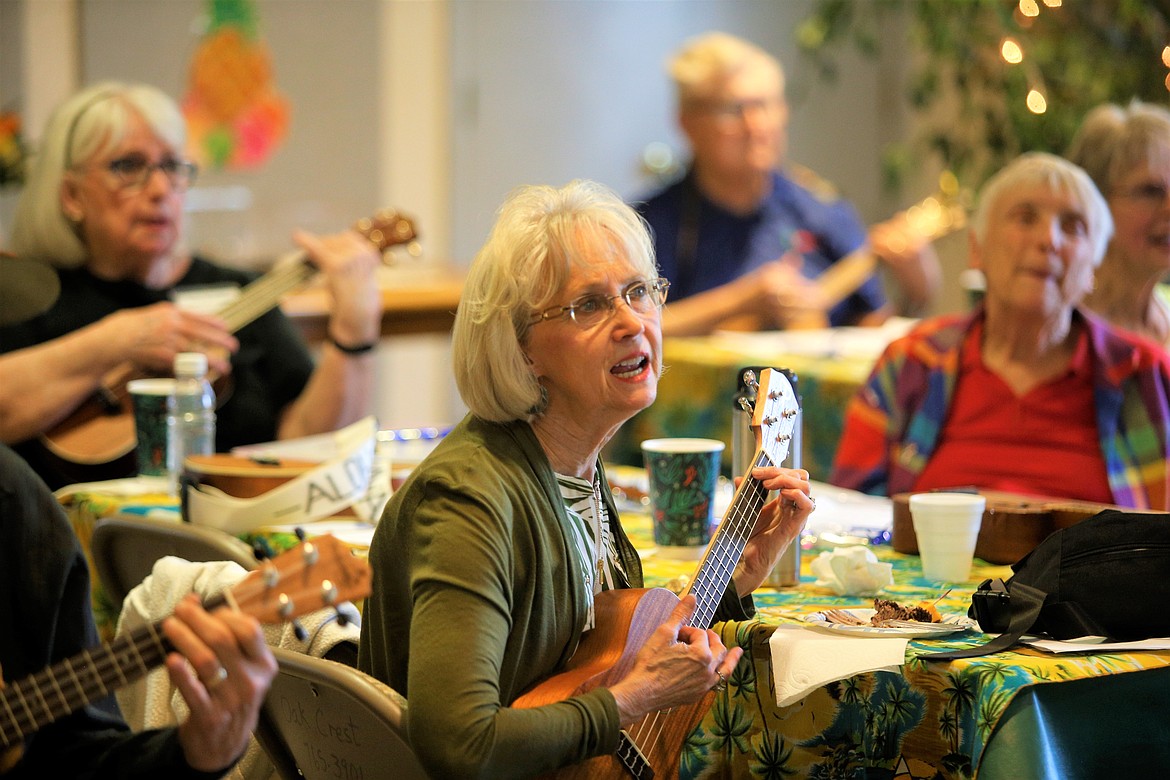 Linda Shane and others perform during the Ukulele Club of Coeur d'Alene's recent gathering at the clubhouse at Oak Crest, a mobile home community.
BILL BULEY/Press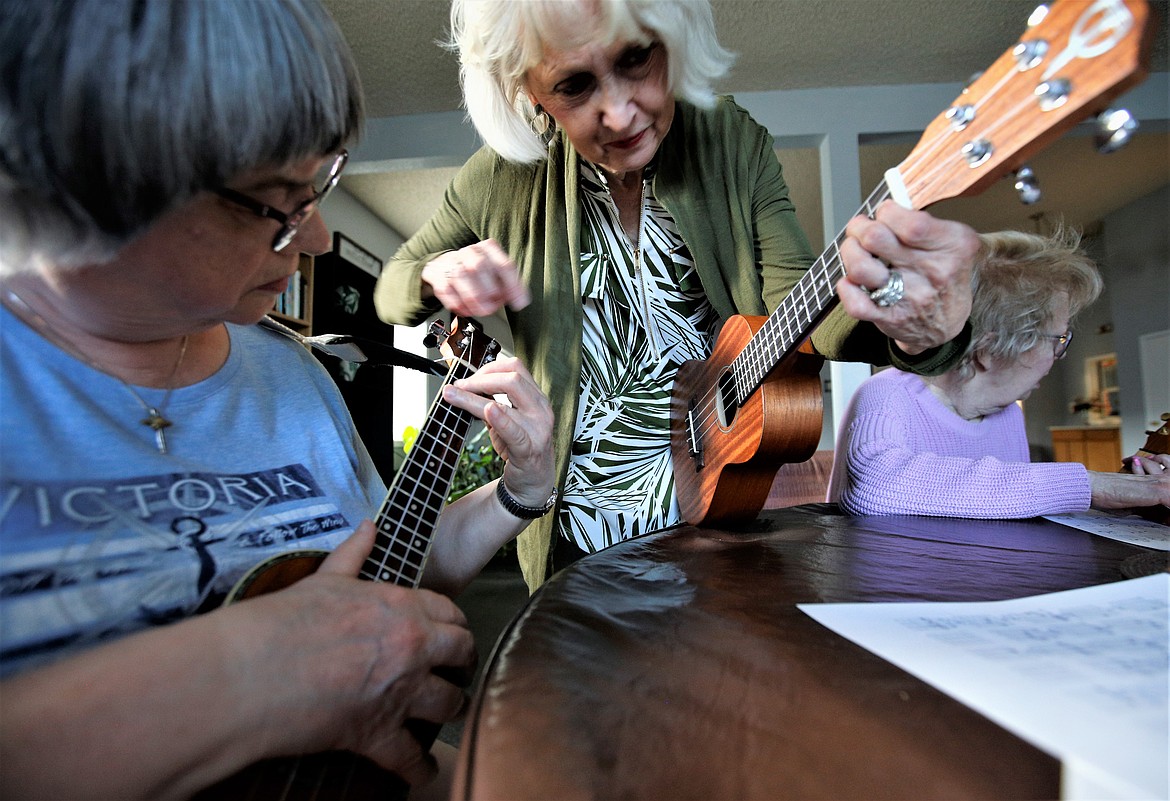 Linda Shane, right, helps Terry Porret learn to play the ukulele.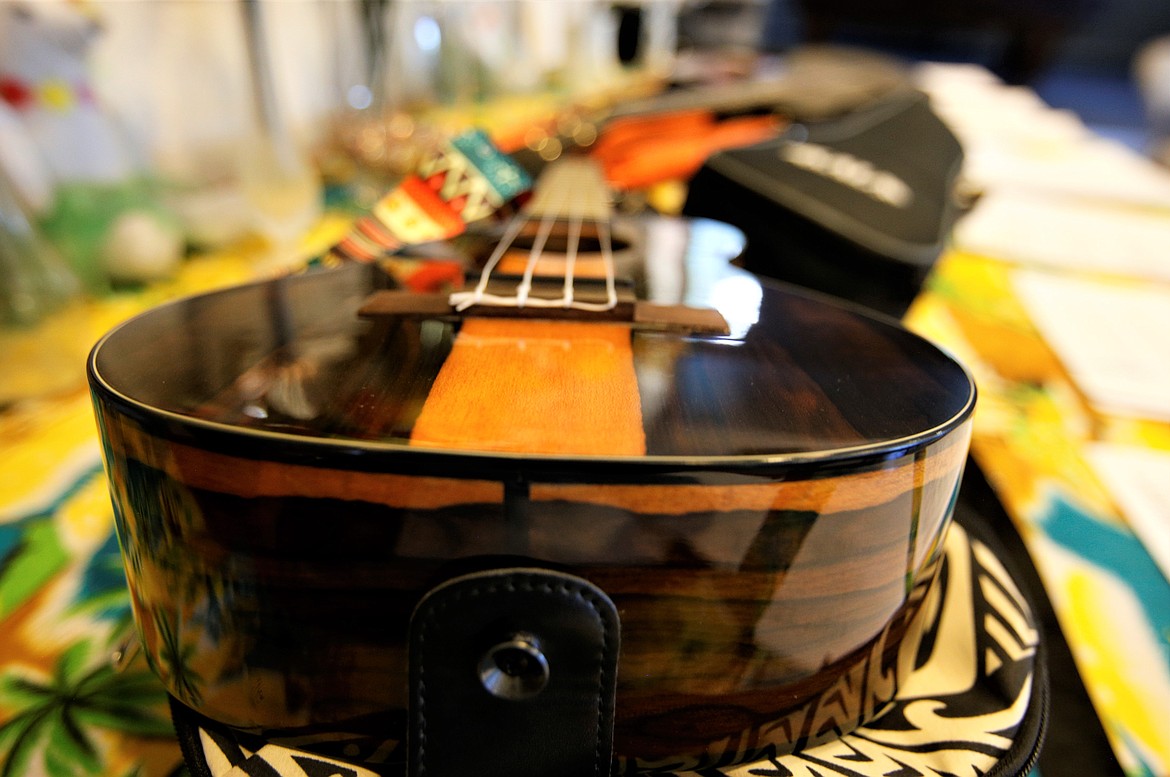 A ukulele is on display at the clubhouse at Oak Crest during a session of the Ukulele Club of Coeur d'Alene.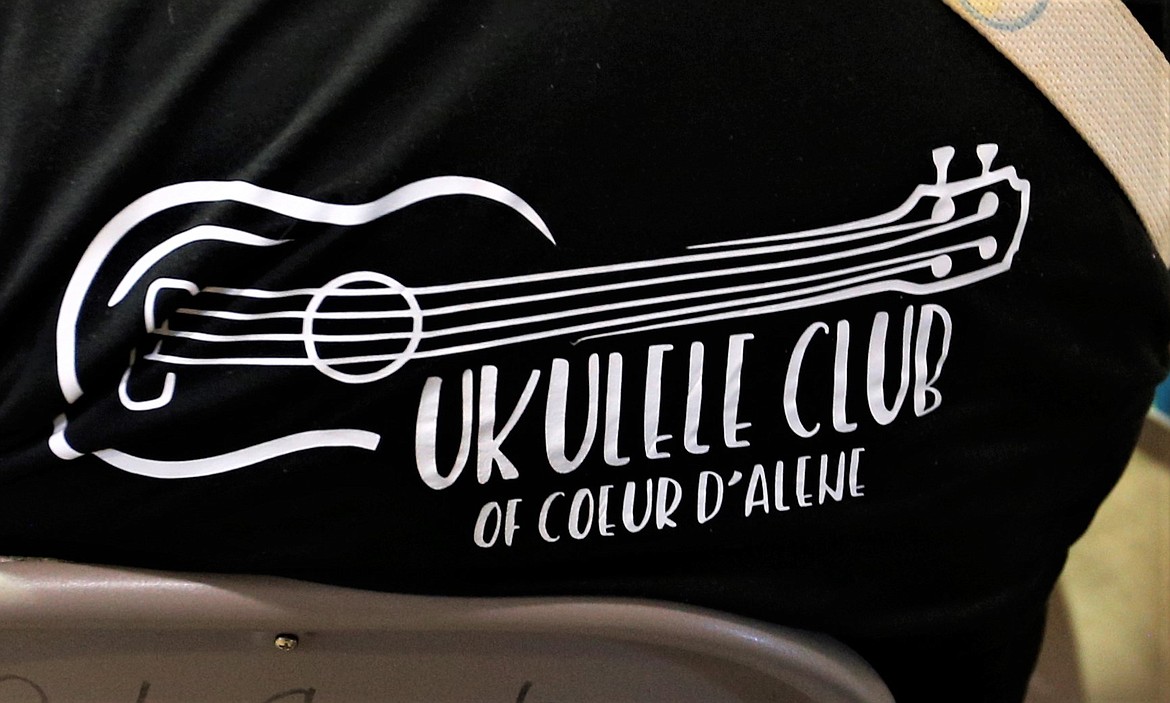 A member wears a T-shirt of the Ukulele Club of Coeur d'Alene.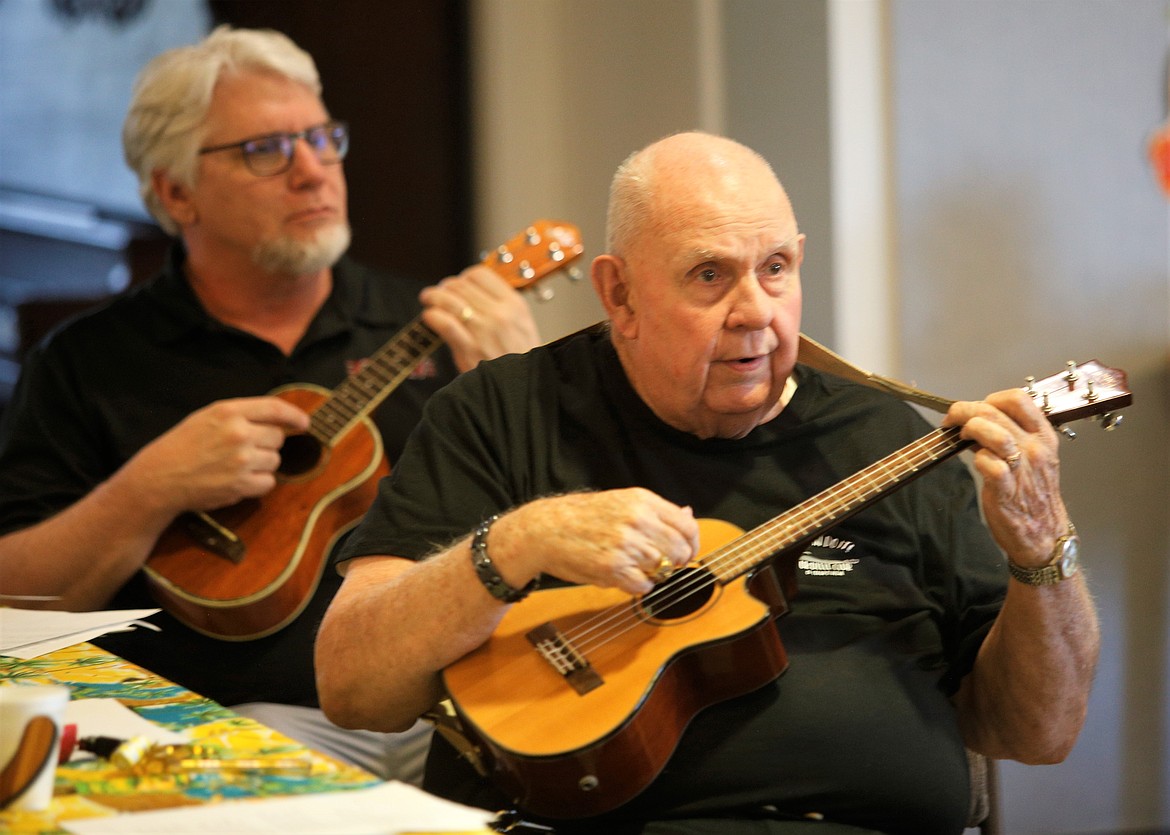 Ed Schiffner joins in as the Ukulele Club of Coeur d'Alene conducts a jam session.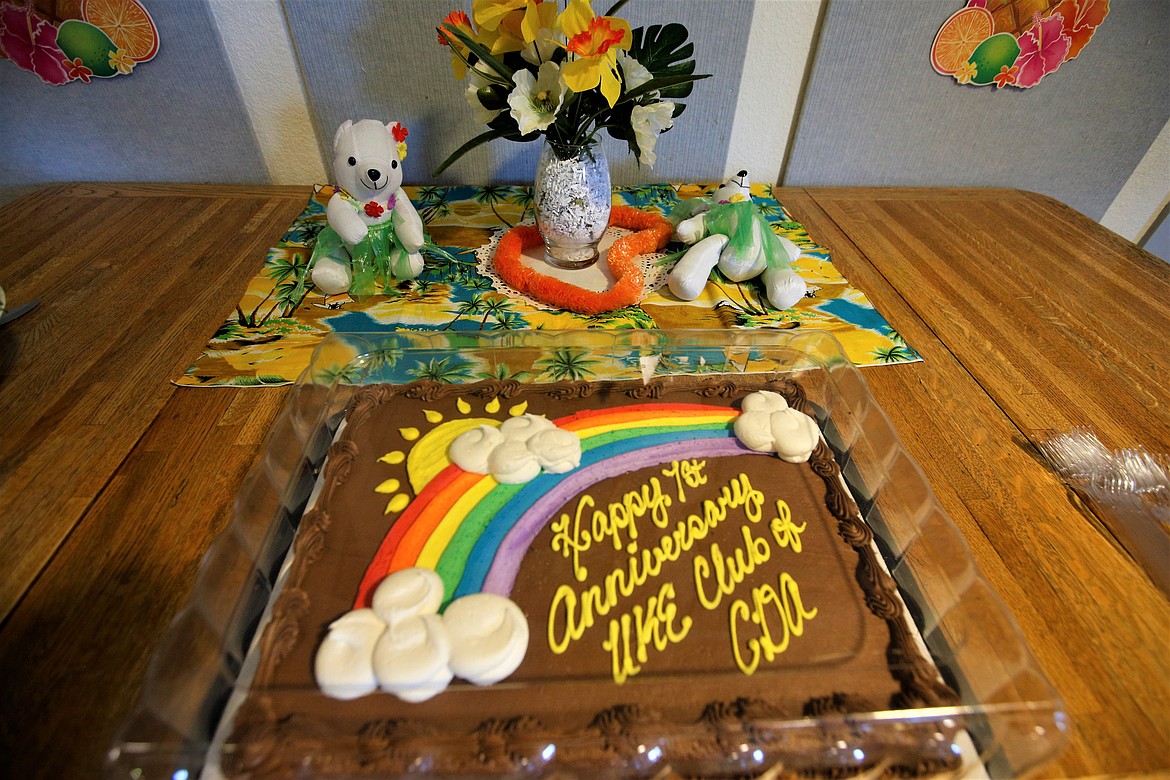 A decorated cake sits on a table at the first-anniversary party of the Ukulele Club of Coeur d'Alene.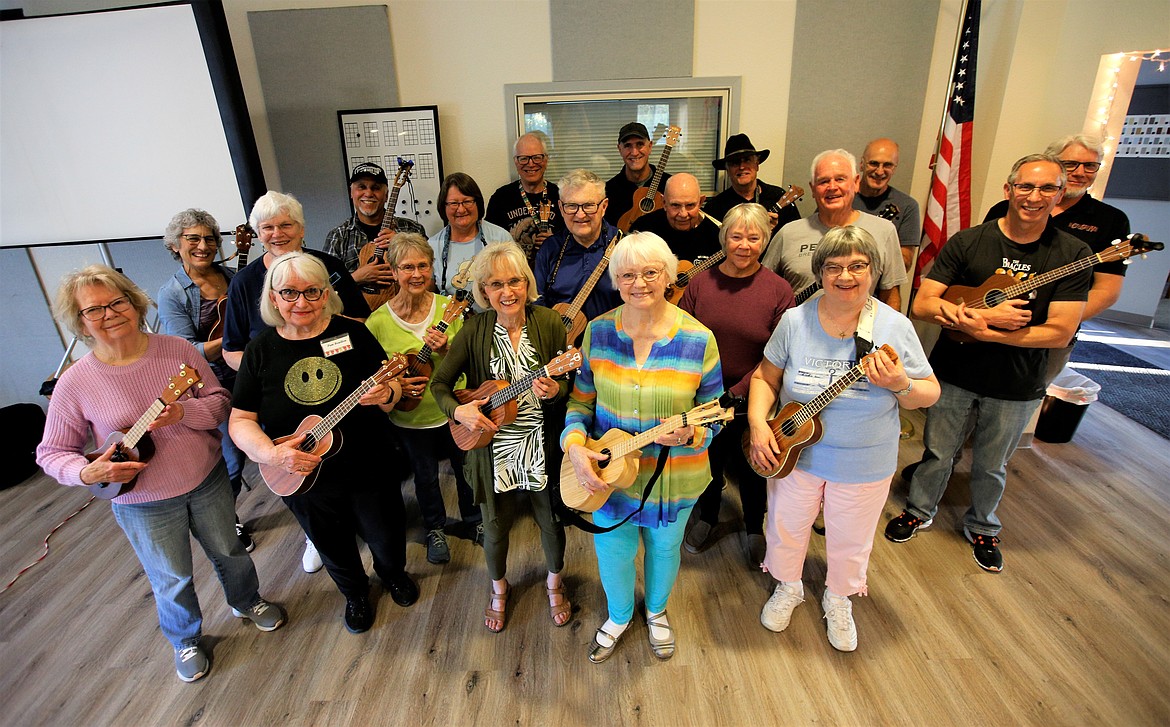 Members of the Ukulele Club of Coeur d'Alene pose for a photo.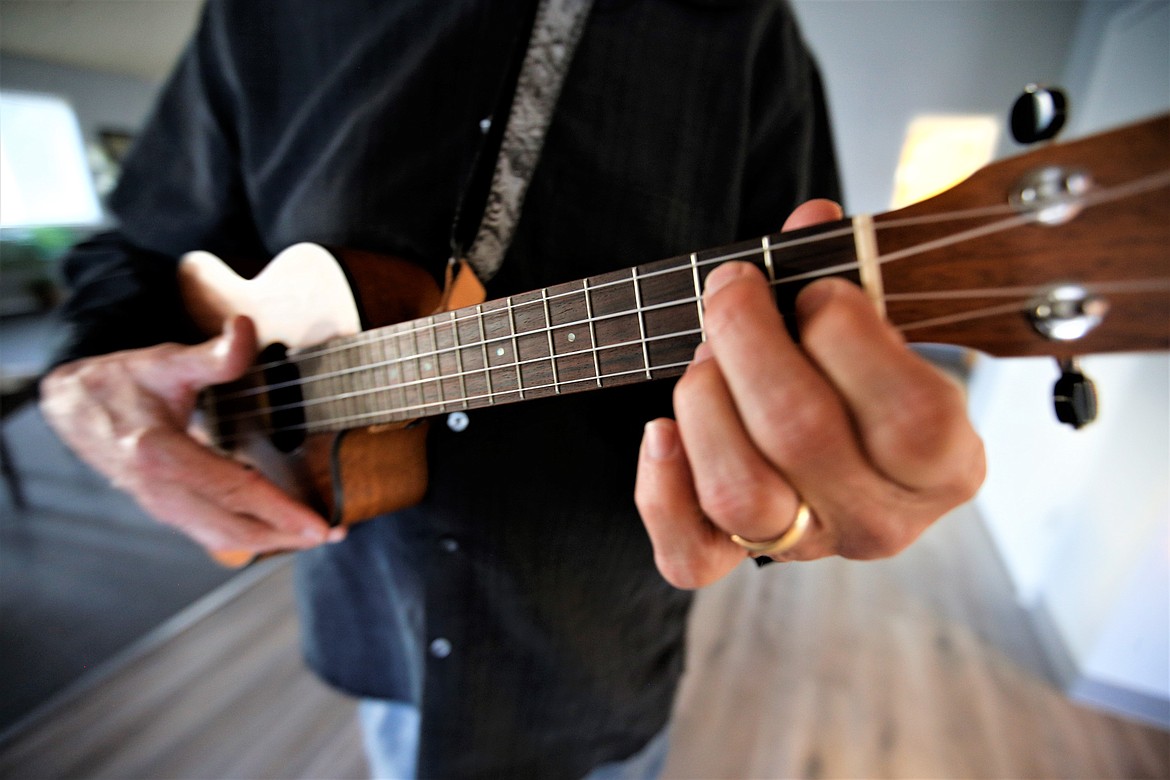 Kevin Lawrence plays a few chords on the ukulele.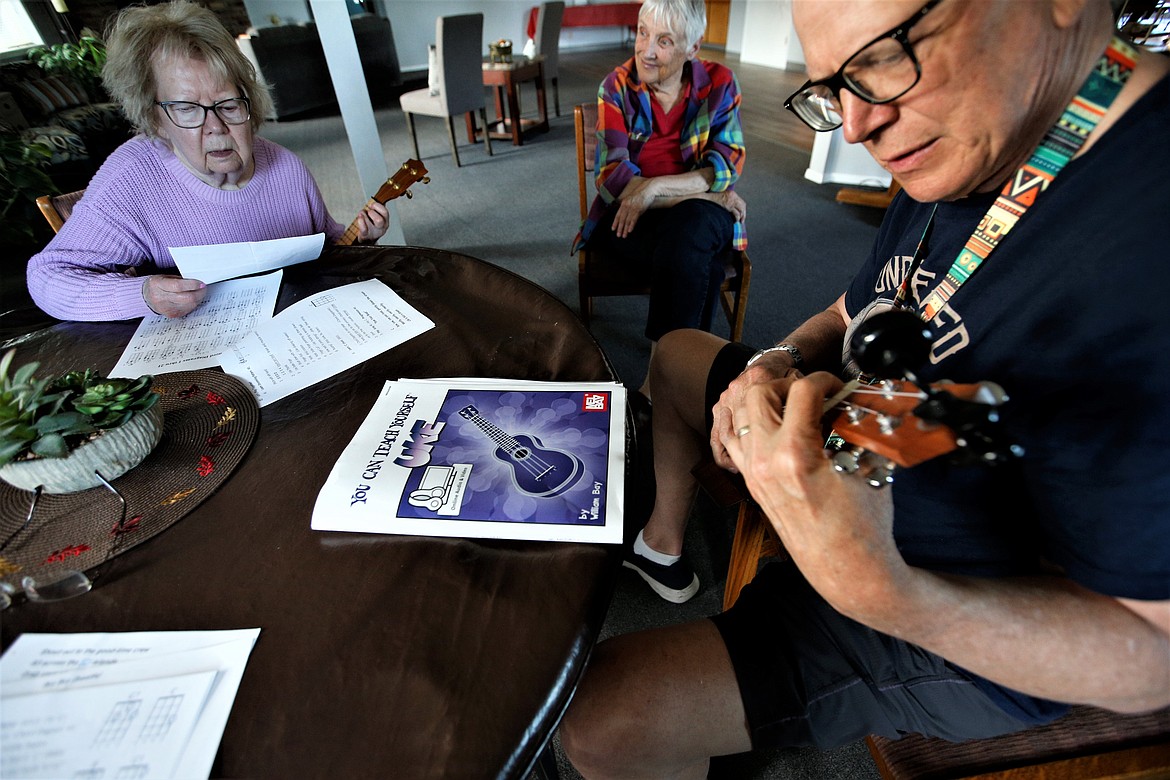 Clay Vreeland plays the ukulele during a lesson with beginners at a meeting of the Ukulele Club of Coeur d'Alene. He is joined by Catharine Owens and Rosalie Barton.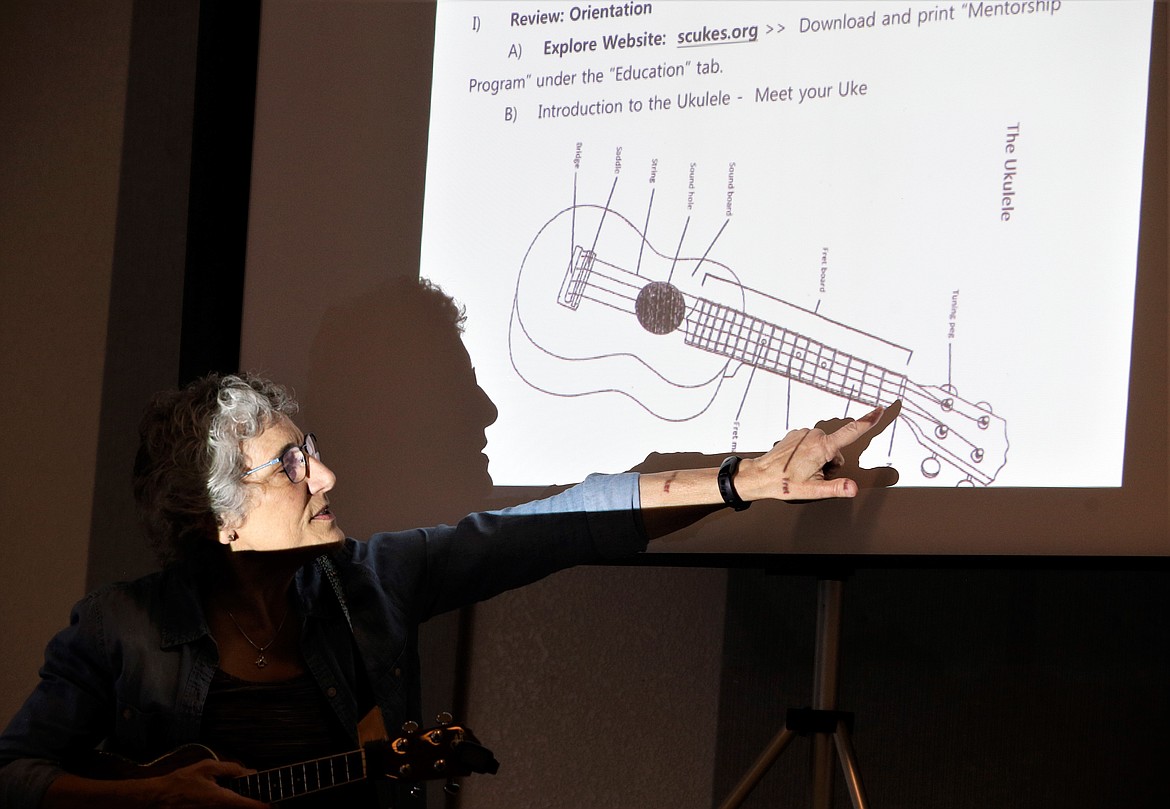 Lynda Arnold talks about the ukulele during a meeting of the Ukulele Club of Coeur d'Alene.
Previous
Next
by
BILL BULEY
Staff Writer
|
May 28, 2023 1:07 AM
COEUR d'ALENE — Ed Schiffner was vacationing in Hawaii when he saw a woman playing a ukulele.
That, in itself, isn't unusual, because if there's one instrument that conjures up the beauty of the Hawaiian Islands, it's the ukulele.
And it wasn't so much the upbeat music that grabbed his attention. Rather, it was the ease in which her fingers produced a sweet sound from those four short strings.
"I always thought that I was missing out by not playing an instrument," Schiffner said.
He asked the woman how long she had been playing, and she said three or four months.
"She said, 'Oh, they're easy. Anybody can learn to play them,'" Schiffner recalled. "And that's true."
The 82-year-old soon bought a ukulele and began practicing. It wasn't long before he was making music similar to what he heard in Hawaii.
Today, he owns four ukuleles and recently joined Ukulele Club of Coeur d'Alene as it marked its first anniversary at the Oak Crest mobile home park clubhouse.
He and about 20 others listened to presentations on chords, hand positioning and ukulele history, then strummed and sang softly in unison.
Hawaiian-themed decorations brightened the room, along with a cake reading, "Happy Anniversary Uke Club of CDA."
The gathering delighted Linda Shane, who founded the club after joining one in Sun City, Ariz., last year.
She said the ukulele was not an instrument she was fond of, nor did she have any musical ability. But when she saw how encouraging the Sun City Ukulele Club was — free lessons, jam sessions and so much laughter and smiles — she was hooked.
"It brings me joy," she said.
Later, she saw Lynda Arnold playing and asked if she would teach and lead songs and she agreed.
Then, experienced musicians Dan Rodriquez and Josh Cohen began leading the jams.
Today, the club has grown into a friendly group, open to all, no matter how musically challenged they might be.
"Everyone is welcome," Shane said.
It meets the second and fourth Thursday of each month from 6 to 8 p.m. The first hour is classes for beginners to intermediates. The next hour is a jam session where newbies are invited to play along.
Anyone can learn the ukulele, Shane said, and the club slogan leaves no doubt: "Uke can do it."
Simply by learning the C, G and F chords, someone can play hundreds of songs, Shane said.
She loves seeing newcomers smile when they find it's true, that the ukulele is for them, too.
"The ukulele can make us happy and make others happy," Shane said.
She recited some ukulele facts to the class.
There are four sizes, starting with soprano. Next is concert, then tenor and the largest is baritone.
The ukulele gained popularity in the 1961 Elvis Presley movie filmed on Kauai, "Blue Hawaii," and again when Tiny Tim played it in his 1968 hit song, "Tiptoe Through the Tulips."
Lynda Arnold is a fan.
She plays at assisted living facilities because she believes its happy sound adds joy to residents' days. And should someone want to learn, even at an older age, they can.
"It's easy to play. It's easy to teach; it's great for the aging brain," Arnold said.
Not everyone mastered it during a recent lesson.
"It's hard. My fingers are too fat," said Terry Porret, who was trying it for the first time.
She smiled and shook her head when asked if she would return.
"Once is enough," Porret said.
Likewise for Catharine Owens, who was at the club's anniversary party at the urging of a friend.
"My fingers are too fat, too," she said.
Owens plays the piano, but said it didn't translate to the ukulele.
"It's totally different," she said.
But for Kevin Lawrence, the ukulele is a trusted friend.
He has been playing for about five years and said ukulele basics are sweet and simple.
"You can learn a song in 15 minutes," he said, strumming a few chords.
He cited a few songs that lend themselves to the ukulele, including "Happy Together" by the Turtles, "I'm Yours" by Jason Mraz and "Hey, Soul Sister" by Train.
All have one thing in common: An uplifting beat.
"Some songs are just meant to be played on the ukulele," Lawrence said.
Info: Linda Shane, 208-691-9524.
Recent Headlines
---