Remember and honor the fallen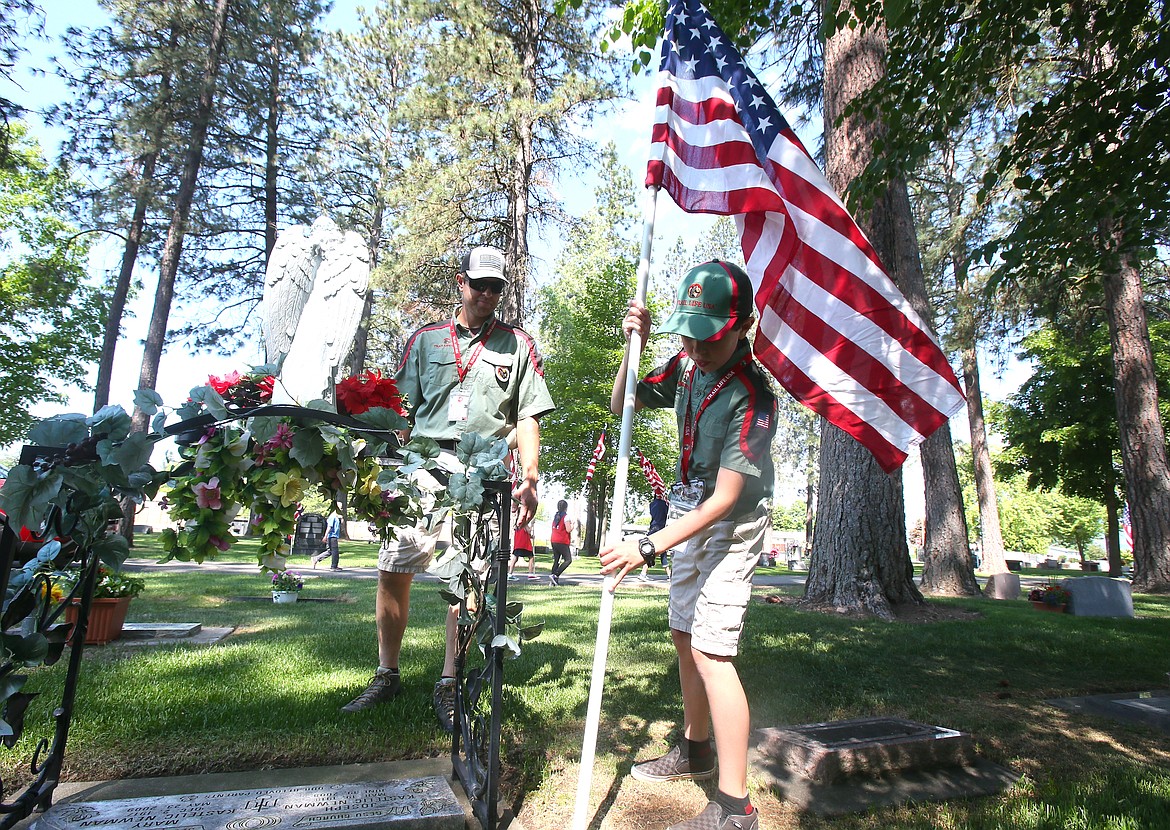 Trail Life USA patrol member Bridger Wilson, 9, secures an American flag at a gravesite Friday as he and his dad, Brent Wilson, help place more than 600 flags in Evergreen Cemetery. The annual flag placement on veteran and military graves ahead of Memorial Day is coordinated by the Post Falls American Legion Post 143. The city of Post Falls and the Legion will host a Memorial Day ceremony in the cemetery at 11 a.m. Monday. Evergreen Cemetery is at 2834 N. Spokane St.
DEVIN WEEKS/Press
Several Memorial Day events and ceremonies will take place throughout Kootenai County on Monday.
Memorial Day, originally called Decoration Day, is a day of remembrance for the heroes who died in service to our country.
The holiday was officially proclaimed in 1868 to honor Union and Confederate soldiers and was expanded after World War I to honor those who died in all wars. It became an official federal holiday in 1971. Today, Memorial Day honors over 1 million men and women who have died in military service since the Civil War began in 1861.
Kootenai County Memorial Day events:
• 9 a.m. Veterans of Foreign Wars Post 889 Memorial Day ceremony — McEuen Park, 420 E. Front St., Coeur d'Alene
• 9:30 a.m. Hayden Veterans Commission and U.S. Submarine Veterans Inc. wreath laying on Hayden Lake — Honeysuckle Beach, 2369 E. Honeysuckle Ave., Hayden
• 11 a.m. Marine Corps League Detachment 966 Memorial Day ceremony — Coeur d'Alene Memorial Gardens, 7315 N. Government Way, Coeur d'Alene
• 11 a.m. American Legion Post 143 Memorial Day ceremony — Evergreen Cemetery, 2834 N. Spokane St., Post Falls
• 11 a.m. Veterans of Foreign Wars Post 889 Memorial Day ceremony — Forest Cemetery, 1001 N. Government Way, Coeur d'Alene
• 11 a.m. Veterans of Foreign Wars Post 3603 Memorial Day ceremony — Pleasant View Cemetery, 1298 S. Goldfinch Road, Post Falls
• 11 a.m. Hayden Veterans Commission Memorial Day ceremony — McIntire Family Park, 8930 N. Government Way, Hayden
• Noon, American Legion Post 154 and the city of Rathdrum Memorial Day ceremony — Pinegrove Cemetery, 6693 W. Highway 53, Rathdrum
• Noon, Veterans of Foreign Wars Post 1473 Memorial Day ceremony — Greenwood Cemetery, 400 10th Ave., Spirit Lake
Recent Headlines
---