Stars and pies in their eyes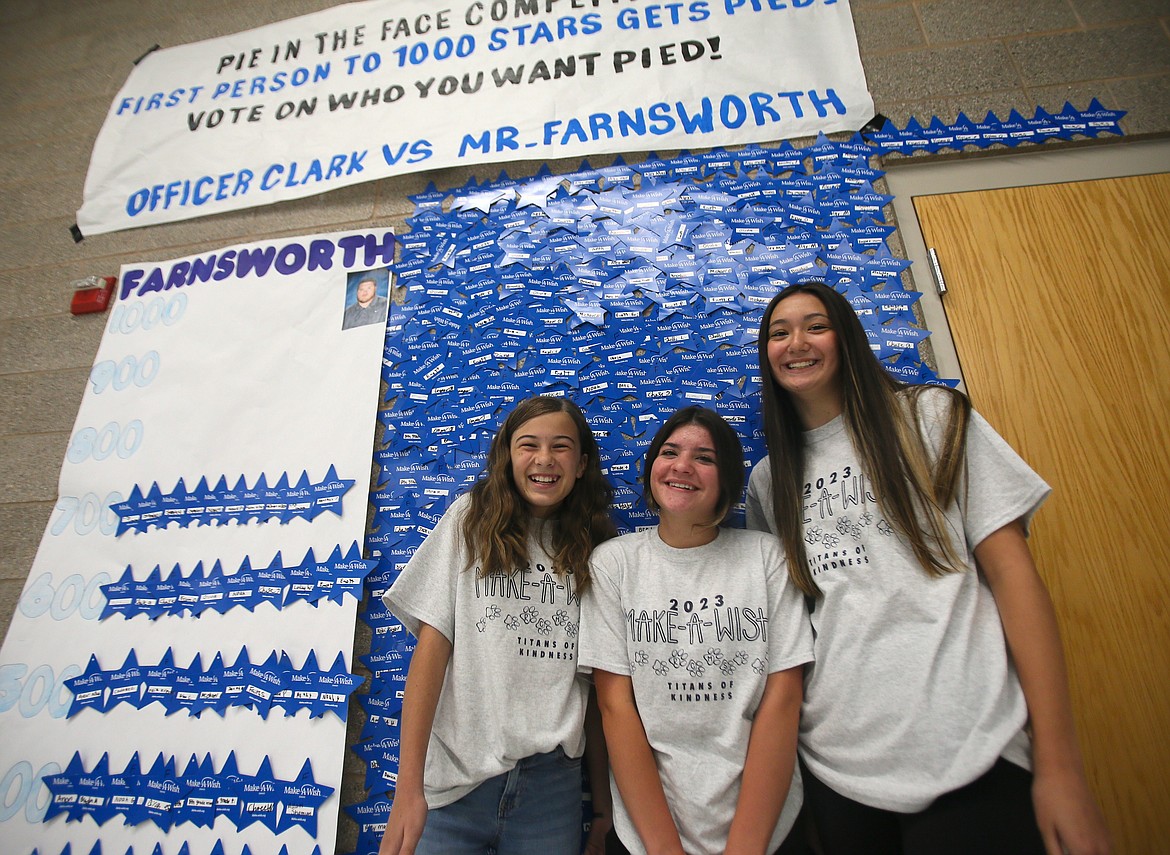 From left, River City Middle School ASB officers Finley Moss, Ella Winston and Malia Uemoto are seen Thursday morning in front of a wall of stars at the school. River City Middle School raised $2,344 for Make-A-Wish Idaho this year.
DEVIN WEEKS/Press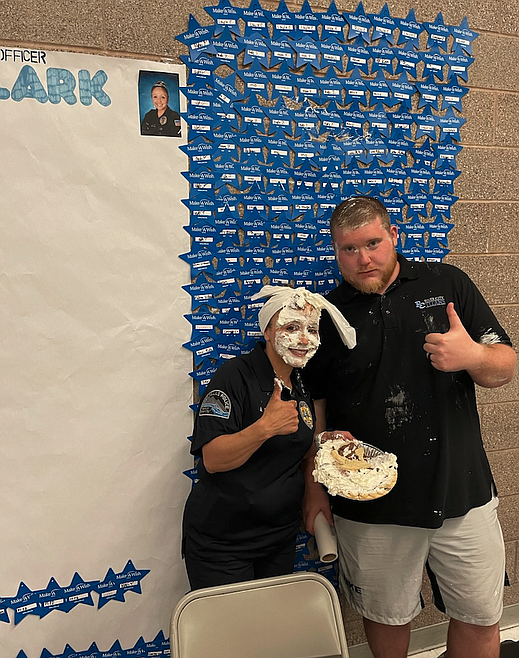 Post Falls Police Officer Annette Clark, who serves as River City Middle School's school resource officer, and River City's Safety Dean Justin Farnsworth are elated to have pie in their faces Wednesday evening after students raised $2,344 for Make-A-Wish Idaho.
Previous
Next
by
DEVIN WEEKS
Staff Writer
|
May 27, 2023 1:05 AM
They brought in pennies, nickels, dimes and quarters.
They rallied their peers.
They reached for the stars, and they sold quite a few in the process.
River City Middle School students raised $2,344 for Make-A-Wish Idaho and tasted sweet victory when they tossed pies into the faces of their school resource officer and safety dean as a reward for achieving their goals.
"It was really funny," seventh grade ASB secretary Finley Moss said with a giggle Thursday morning.
For two weeks, the student government at River City generated excitement around the school's 2023 campaign to support Make-A-Wish Idaho, a nonprofit that makes dreams come true for kids who are experiencing severe illnesses. At least half the school and many parents participated.
This was about the fourth year for River City's Make-A-Wish program. Eighth grade Vice President Ella Winston said she is proud of her classmates for stepping up in such a big way.
"Especially, in two weeks, how much we raised," she said. "I could tell that they really wanted to help out with raising money."
The students sold Make-A-Wish stars for $1 at lunchtime and conducted "penny wars" to encourage students to bring in as much change as possible. They rose to the challenge of raising at least $2,000 to pie Post Falls Police Officer Annette Clark and Safety Dean Justin Farnsworth in the face during a Wednesday evening celebration at the school.
"They both wanted to get pied," Ella said with a grin. "Mr. Farnsworth was going to be the only one because he got the most stars, but I think Ms. Clark was very excited to get pied."
Eighth grade President Malia Uemoto was pleased to raise money for Make-A-Wish Idaho.
"I feel that it is good to give them the support they need," she said.
Clark praised the students for their selflessness.
"Each year, they put in so much work to help the Make-A-Wish campaign be successful," she said. "And they do it knowing its going toward a good cause to help others."
Principal Andy Preiss expressed his appreciation for the students' willingness to help others.
"I'm very proud of them," he said. "I think that this helps us, as a school, recognize that we are so fortunate to have the things that we've got. It's a good perspective for us as a school and community."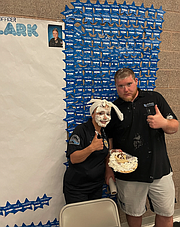 Recent Headlines
---