Aging nation; aging county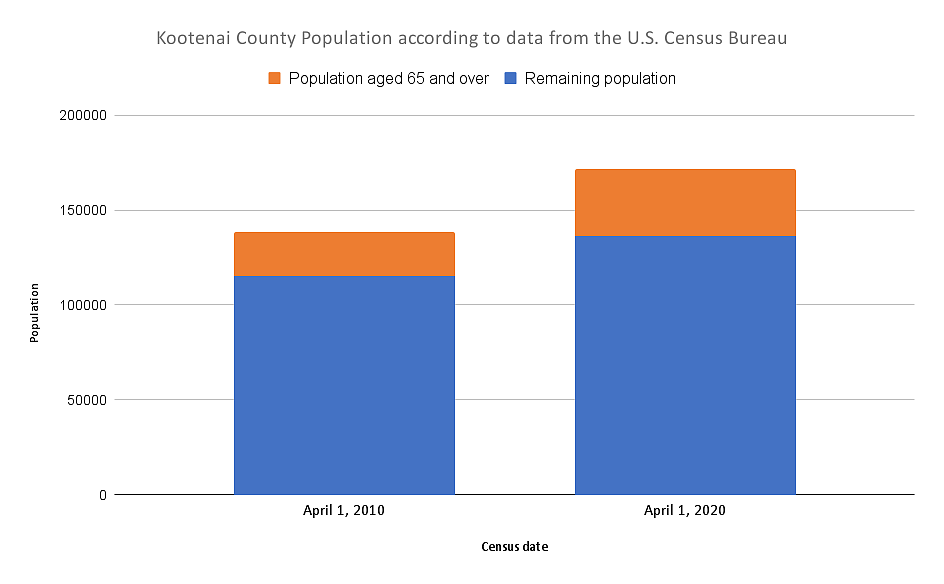 The population of people over 65 in Kootenai County has climbed from just over 16% in 2010 to 20% in 2020, based on newly released demographic details from the U.S. Census Bureau's 2020 census data.
Based on data from U.S. Census Bureau
by
JOSA SNOW
Staff Writer
|
May 27, 2023 1:08 AM
The U.S. Census Bureau released demographic details, Thursday, from data gathered in the 2020 population survey showing a rise in the aging population over decades in Kootenai County and nationally.
The data provides more information about demographics for things like age, race and sex from the 2020 census, and shows concise shifts in population metrics and demographics since 2010.
For example, half of Kootenai County's population is 40.5 years old or older, up from 39.1 in the 2010 census. In the same decade, Idaho's median age has climbed from 34.7 to 36.6.
Those numbers are in line with the national median age in 2020 of 38.8. The national median has increased by more than 10 years over the past five decades.
Baby boomers represent a large portion of the population demographics, and as they age and live longer, the median age is climbing fast across the nation and in Idaho.
In the 2020 census data, 14 states had a median age over 40, twice as many as in 2010.
In 2020, there were 55.8 million people aged 65 and over in the U.S., making up 16.8% of the nation's population. The more than 35,000 Kootenai County residents over 65 comprise roughly 20.5% of the population.
The growth in older populations is consistent with the baby boom cohort of people born between 1946 and 1964.
In 1970, after all the baby boomers had been born, half the national population was younger than 28.1, said the U.S. Census Bureau in a May 25 press release. In 2020, people 45 and over accounted for 42% of the total population, up from 27% in 1940, the census before the baby boom began.
While Idaho didn't have the oldest population in the 2020 census, the state was ranked second in the U.S. for the highest total dependency ratio, which is the number of children under 18 and adults over 65 per 100 working-age adults.
Idaho's dependency ratio in 2020 was 72.4, while the total dependency ration in the U.S. was 63.6.
The working-age population in Idaho was 26.6% in 2020, and 28.5% in Kootenai County.
In 2010, 23% of Kootenai County's population were old-age dependents and 41.1% were child dependents. A decade later, the census bureau found that 32.3% of Kootenai County residents were old-age dependents and 39.2% were child dependents.
That's a leap of more than 10% of the elderly population who are out of the work force and considered dependents in the county.
Recent Headlines
---