The brew from the top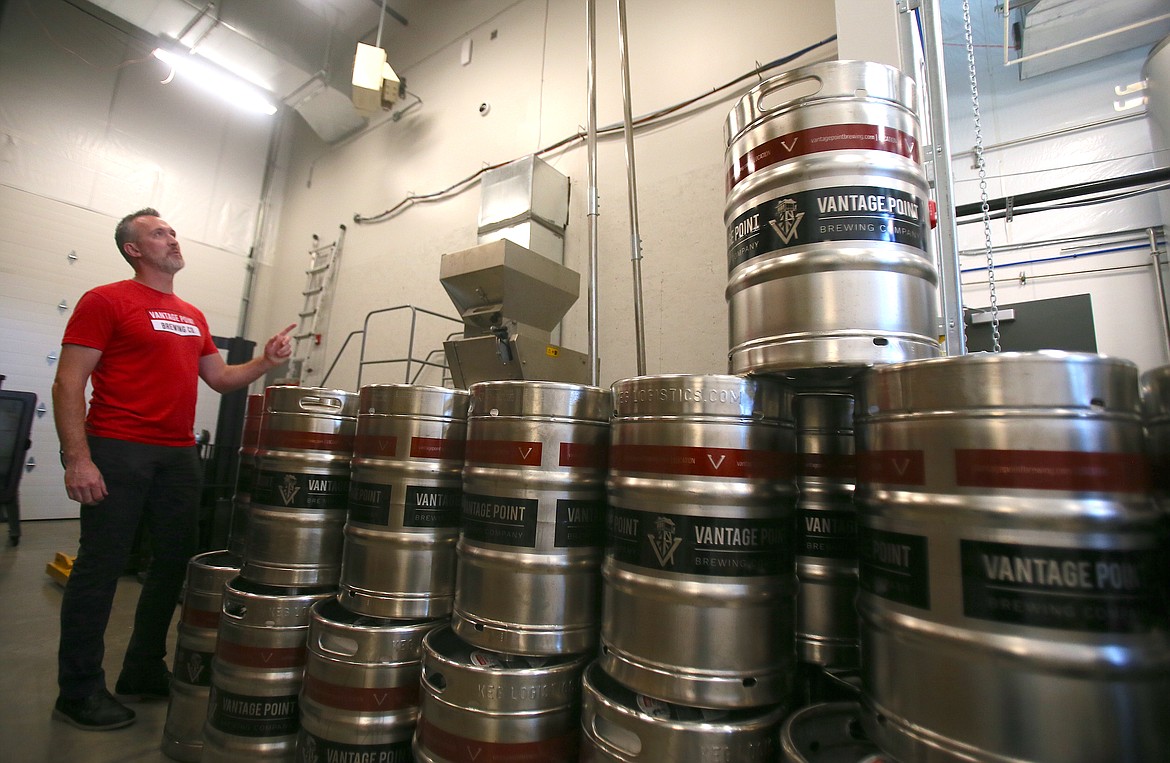 Vantage Point Brewing Co. owner/brewer and former firefighter paramedic Kevan McCrummen discusses his brewing process Tuesday as he stands among kegs in his brewhouse. Vantage Point at 208 E. Coeur d'Alene Lake Drive in Coeur d'Alene just celebrated its three-month anniversary.
DEVIN WEEKS/Press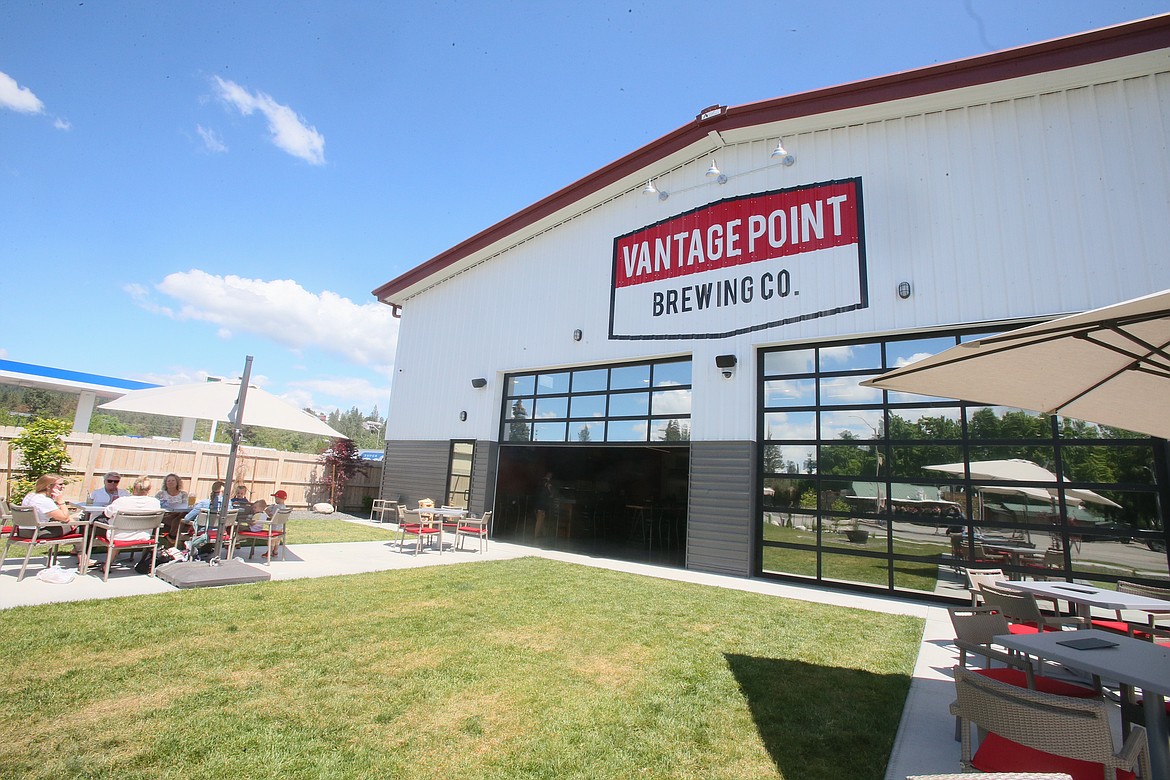 Vantage Point Brewing Co. in Coeur d'Alene offers grassy places and open spaces for customers to enjoy.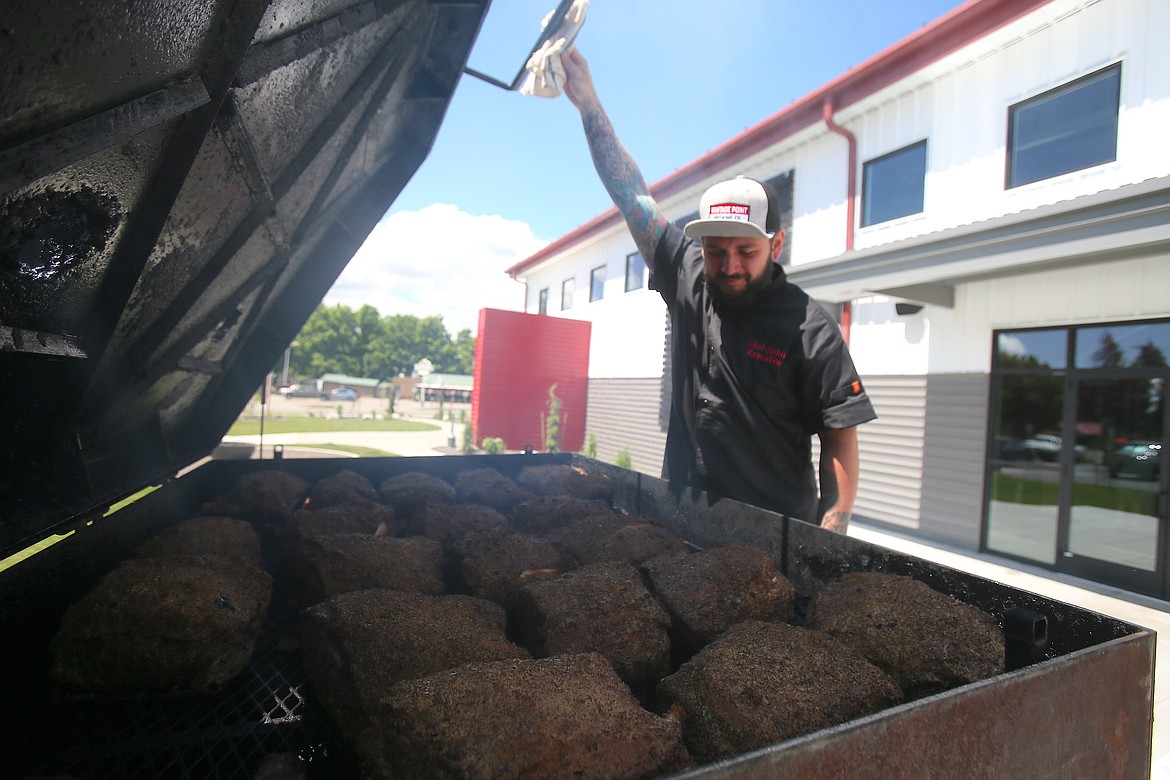 Vantage Point Brewing Co. executive chef Josh Lozano smokes tri-tips Tuesday out on the patio.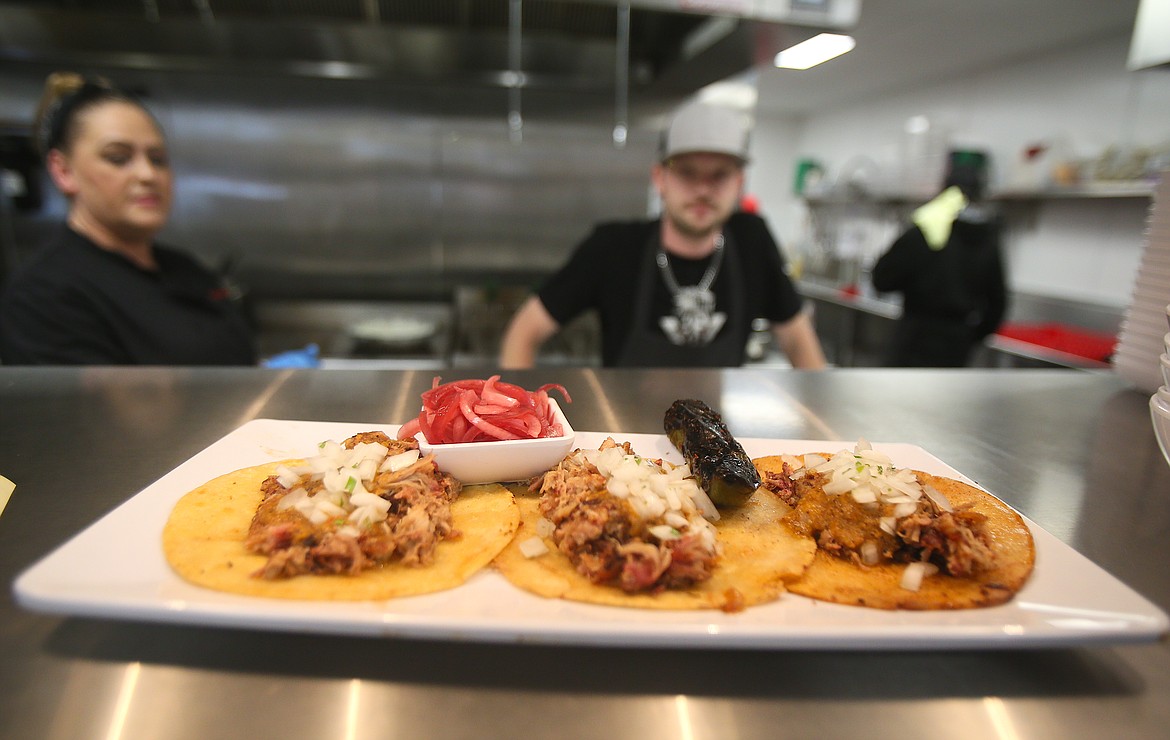 Pork tacos are a fusion of Southern barbecue and Mexican cuisine at Vantage Point Brewing Co. in Coeur d'Alene.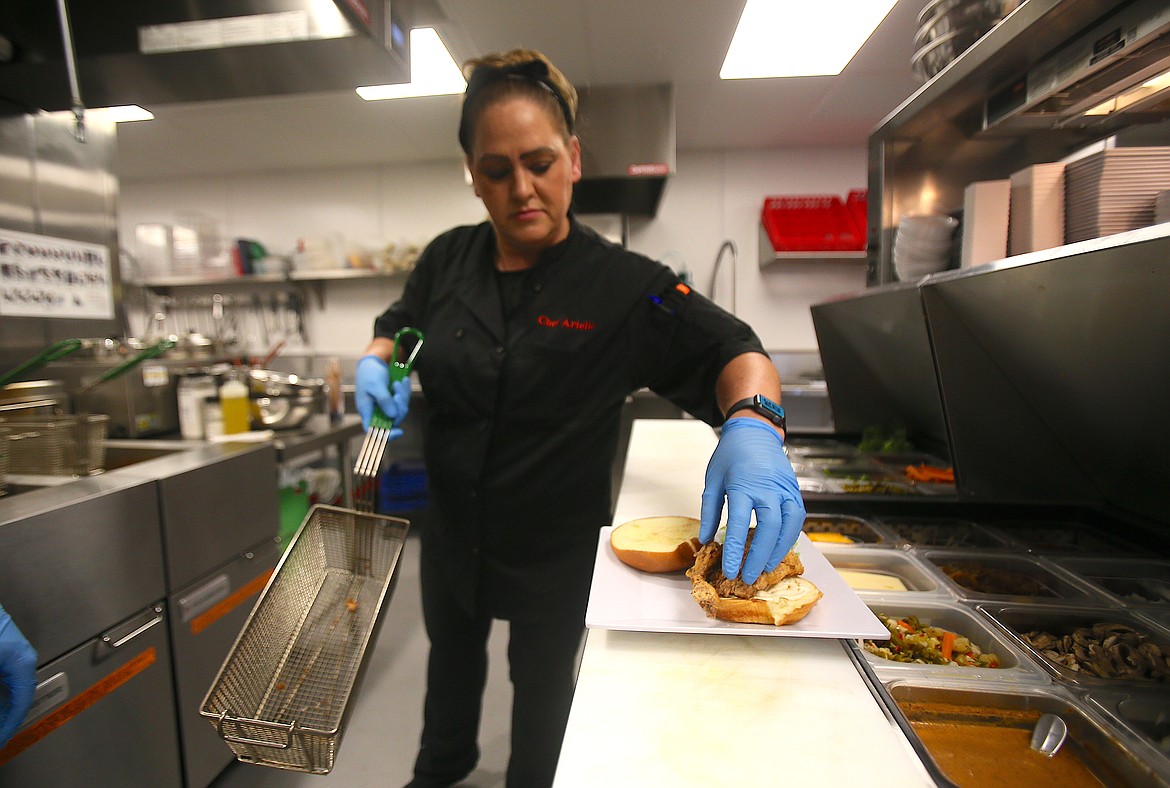 Sous-chef and pastry chef Arielle Padel preps a fried chicken sandwich Tuesday in the kitchen of Vantage Point Brewing Co. in Coeur d'Alene.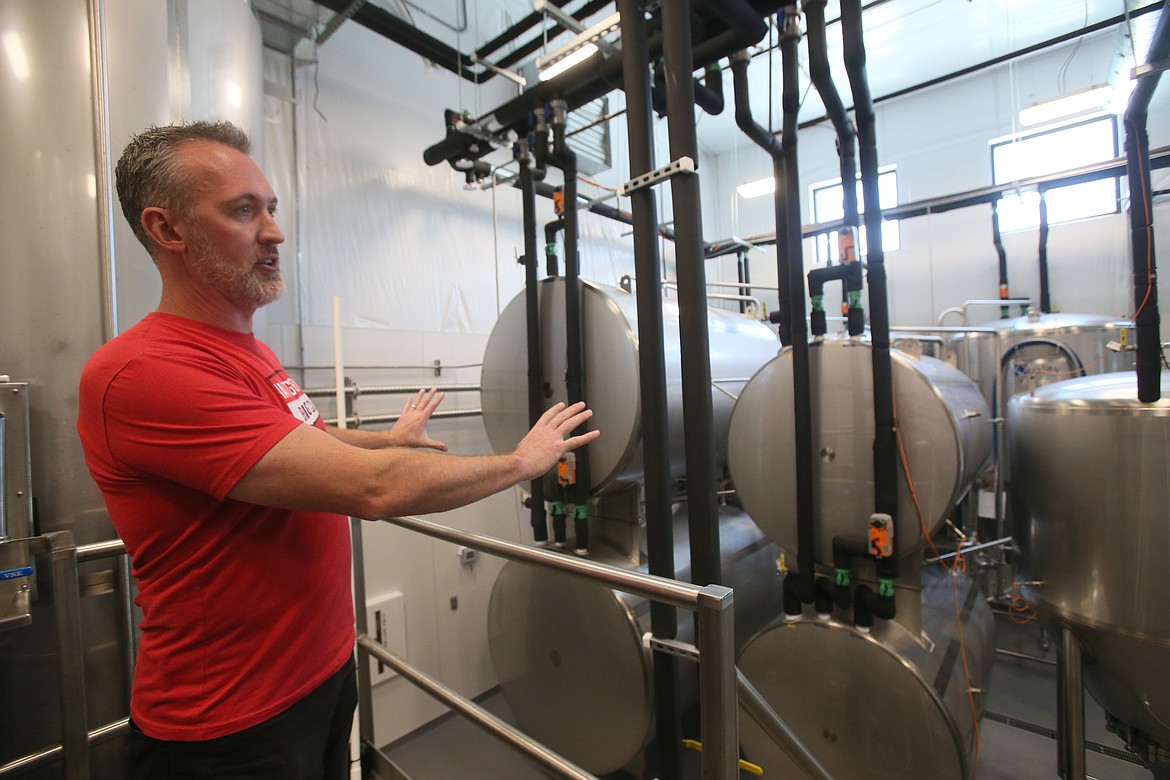 Kevan McCrummen discusses his brewing operation Tuesday at Vantage Point Brewing Co.
Previous
Next
by
DEVIN WEEKS
Staff Writer
|
May 27, 2023 1:07 AM
Former firefighter/paramedic Kevan McCrummen appreciates the view from the top.
A good beer makes it even better.
Vantage Point Brewing Company at 208 E. Coeur d'Alene Lake Drive just celebrated its third month of being open. Its red-and-black theme and fire lookout tower logo complement the burned wood features and airy, open space.
Owner/brewer McCrummen spent more than 10 years on the force. He chose the name Vantage Point for a few reasons.
"I like the duality of meaning," McCrummen said Tuesday, sitting comfortably in the shade of a patio umbrella.
"It's an elevated position," he said. "It's also like, 'I think this, this and this — it's my vantage point.' I like the double use of the different words there."
It's also a nod to his firefighting days.
"It has to do with being on a high vista, like the top of a ski hill, looking down to the valleys below, having a good vantage point above," he said. "Also, fire lookout towers are really good vantage points, so that ties into our theme."
The 7,900-square-foot brewery, including a 2,000-square-foot mezzanine up top, is in a newly constructed building at the east end of Sherman Avenue, between Interstate 90 and the North Idaho Centennial Trail, must-haves for McCrummen's dream site.
He snapped up the property about four years ago, but was unable to build as COVID-19 descended on the world.
"That put the brakes on," he said. "I almost had a bank signing on the line, had good terms and all the things, but COVID was happening that week."
McCrummen holds majority ownership in a pool of 11 others. He chased becoming a brewmaster once he left the force and became a stay-at-home dad and a "trophy husband," as he said, for about 10 years. Originally from Big Fork, Mont., McCrummen and his wife, Dr. Brenna McCrummen, from Wenatchee, Wash., met in the middle and found themselves in Coeur d'Alene 11 years ago.
Kevan first dipped into brewing with his uncle 14 years ago, when he lived in Chicago, where he served as a suburban firefighter.
"I started out with a plastic bucket, fermenting beer that way. Now we're doing this," he said. "I thought, if I ever wasn't a firefighter, maybe I'd be interested in owning a brewery, so the last 10 years I've been working this direction."
An appreciator of science, McCrummen built a brewing lab in his basement, where he worked on recipes, built equipment inventory and learned as much as he could about brewing.
Six years ago, he went to brewing school and received an international diploma from the World Brewing Academy, a partnership between the Siebel Institute — the oldest brewing school in the U.S. — and Doemens Academy in Germany. He then spent two months in Chicago and a month in Germany, learning from people in the industry, receiving a hands-on education from some of the best in the business.
"After going through brewing school, I got a better appreciation than I thought I would for lighter-style lagers," he said.
Vantage Point's brewed offerings take patrons' palates on globe-trotting adventures, from a New Zealand pilsner and a West Coast IPA to a French saison and a Scottish export. McCrummen changes water profiles and uses hops native to a beer's country of origin to give customers authentic experiences.
With executive chef Josh Lozano captaining the kitchen, the food menu is also filled with global dishes: grilled jerk chicken sandwiches, Philly cheesesteaks, classic bratwurst and Bavarian pretzels, to name a few.
"My favorite thing is probably the pulled-pork tacos right now," Lozano said, grinning. "Growing up Hispanic, it's something that I ate weekly. My grandmother made the best pozole. The first time I ever saw an animal bone in a pot of soup I didn't know what to think about it — it freaked me out."
Lozano is somewhat partial to Southern cuisine and often found at the smoker, preparing lamb or tri-tip and other items outdoors, for more-carnivorous appetites.
"If you look at the ingredients with Southern barbecue and Mexican cuisine, there's a lot of similarities — a lot of corn, a lot of chilis," he said, adding how pork tacos are a fusion of North Carolina barbecue cooked Mexican carnitas-style.
"It's an interesting hybrid," he said.
Sous chef and pastry chef Arielle Padel hits the sweet spot with her dessert menu, which includes fried ice cream, cheesecake, brownie à la mode and a gluten-free treat made with Vantage Point's honey-lavender cider.
"And we do a banana trifle," she said. "We take our honey-lavender cider, cook it down into a caramel and layer it with our own handmade whipped cream. Then I make a banana pastry cream. It's really good."
Vantage Point boasts a sprawling green lawn and a small gated children's area inside, welcoming families with little ones. The bike racks are also inviting to cyclists on their way up or down the hill.
Although the doors have only been open three months, Vantage Point has been busy.
"It's been like drinking out of a fire hose," Lozano said with a smile.
Info: vantagepointbrewing.com
Recent Headlines
---