More than 2,000 expected for CDA marathon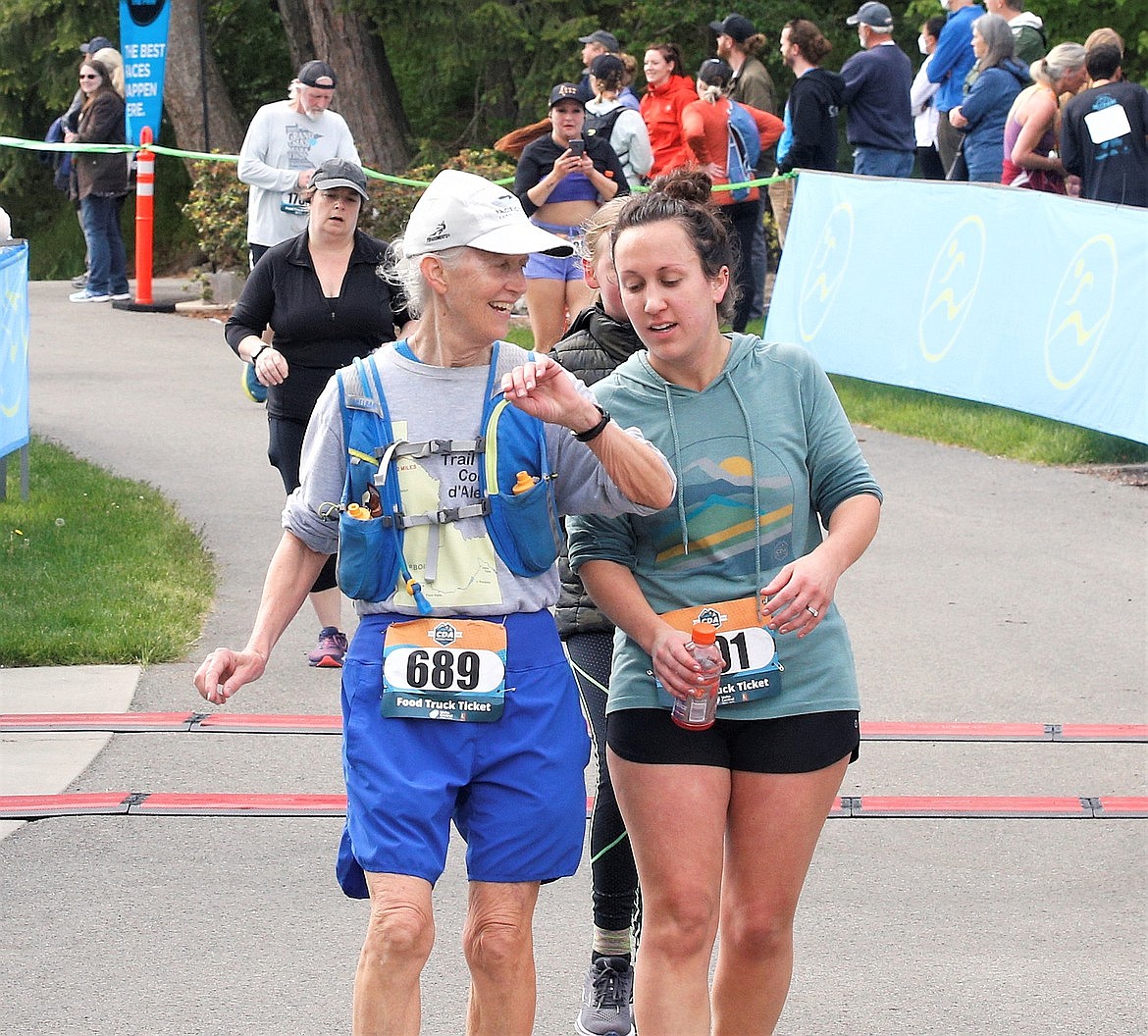 Nairn Plourde of Post Falls, left, shows her Coeur d'Alene half-marathon finishing time to Amylee Soltwisch, also of Post Falls, in 2022.
BILL BULEY/Press
by
BILL BULEY
Staff Writer
|
May 26, 2023 1:00 AM
COEUR d'ALENE — More than 2,000 runners are registered for Sunday's Coeur d'Alene Marathon, Half Marathon, 10K and 5K.
All races begin and end at McEuen Park.
"It should be a great day," said Tabitha Bonner, executive director of the North Idaho Centennial Trail Foundation and race organizer.
The course takes runners through the Sanders Beach area and on the North Idaho Centennial Trail toward Higgens Point. Roughly 350 are signed on for the full marathon, 26.2 miles. They will also take the trail toward the Kroc Center before turning back.
Bonner said participants have come from almost every state.
There are several other events Saturday at McEuen Park.
A mile race for kids is scheduled for 9:45 a.m.
From 10 a.m. to 2 p.m., athletes can take the Murph Challenge — a 1-mile run, 100 pull-ups, 200 push-ups and 300 air squats, all before another 1-mile run.
A running clinic is set for noon.
Packet pickup, vendors and food booths will also be available Saturday.
"We really want to make this a weekend event," Bonner said.
The weather looks good for running, with sunshine and clouds, highs in the 70s and lows in the 50s.
Finishers are treated to medals, shirts, refreshments and plenty of cheers.
Registration is still available online.
Marathon walkers start at 5:30 a.m. and runners go at 6:30, followed half marathoners at 7, the 10K at 8 and the 5K at 9. The course closes at 1:30 p.m.
The race has strong volunteer support and is directed by Ryan Hite.
"We couldn't have it this successful without him and his team," Bonner said of Hite's tireless efforts.
The race is a primary fundraiser for the North Idaho Centennial Trail Foundation, which supports maintenance and improvement of the trail and fosters development of new trails in Kootenai County.
Recent Headlines
---