SCSO: Make happy memories, not tragic decisions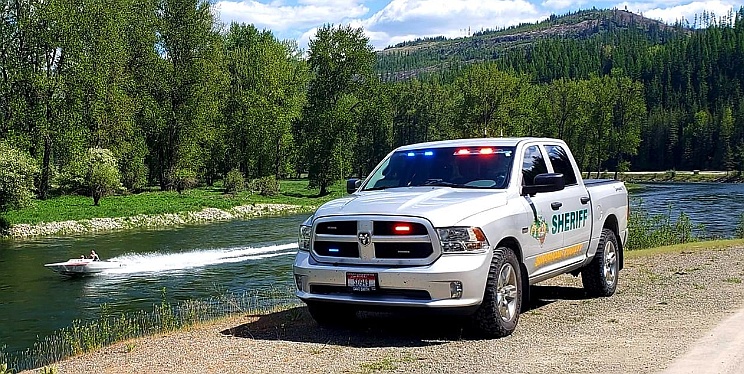 The Shoshone County Sheriff's Office will be increasing their presence on the North Fork of the Coeur d'Alene River this coming Memorial Day weekend.
Photo courtesy of SHOSHONE COUNTY SHERIFF'S OFFICE
by
JOSH McDONALD
Staff Writer
|
May 26, 2023 1:05 AM
The population of Shoshone County increases substantially over Memorial Day weekend and recent history shows that this weekend can have tragic consequences when people are not responsible during their extra days off.
As thousands of people set up campsites along the North Fork of the Coeur d'Alene River and in other remote places throughout the Silver Valley, the Shoshone County Sheriff's Office is reminding locals and vacationers alike to play it safe.
"With the Memorial Day holiday weekend quickly approaching, this time is normally when things begin to pick up for our calls for service," SCSO Captain Jeff Lee said. "Our dispatch will begin getting a lot of calls, mainly involving alcohol or drugs. The calls will come in reporting fights, traffic complaints, crashes and much more."
Recently, law enforcement agencies in the area have been putting extra emphasis on monitoring the streets and roads in all communities, watching carefully for impaired drivers.
This includes along the North Fork area, where the ability to respond to a potential accident is hampered by time and distance.
"The patrol team will be out this weekend looking for impaired drivers with an additional focus on erratic driving and speeding," Lee said. "The biggest safety reminder is to never drink and drive. If you do plan on partaking in alcohol consumption this weekend, plan a sober driver if you want to travel from campsite to campsite. Another reminder is to always wear your seatbelt when traveling in your vehicle and yes, this does include your side-by-side. If the vehicle you are operating has a safety belt, wear it and wear it properly."
SCSO is also reminding North Fork recreationists parking along Old River Road between Bumblebee Campground and Albert's Landing that vehicles parked in an area with a solid yellow line will receive a citation and could also be towed.
Memorial Day weekend falls at the same time as some Silver Valley high school graduation ceremonies, adding another element to the stark increase in visitors during the extended holiday as family members return to celebrate the milestone.
"Just like always, we want all of you who live here and vacation here to enjoy your time," Lee said. "We want families to build happy memories this weekend and throughout this 2023 summer, not tragic memories. Be safe, be smart and make good decisions."
If you witness dangerous behavior or want to report a suspected drunk driver, call SCSO at 208-556-1114 or dial 911.
Recent Headlines
---