Allan Kenneth Knight II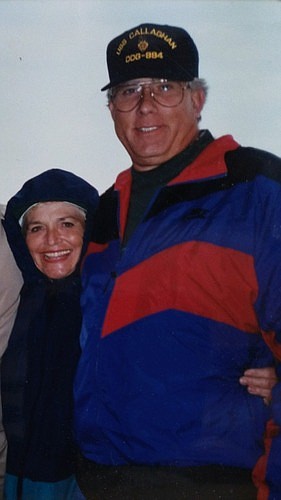 It is with great sorrow and sadness to report the death of Allan Kenneth Knight ll from lung disease R/T Agent Orange. Allan was born in Denver, Colo., to Allan Kenneth Knight I and Patricia Knight.
He was married to Ruth Ann Dixon in Santa Ana, Calif., on May 6, 1983.
After graduating from high school in 1964, Allan joined the United States Marine Corps on Jan. 31, 1964. While in the Corps, he was an AC/AAW electrical operator/radio operator. In 1968, he was released from active duty service with an honorable discharge. While serving in the Marines, Allan received the National Defense Service Medal, the Armed Forces Expeditionary Medal, The Republic of Viet Nam Campaign Medal and, upon discharge, the Good Conduct Medal.
After leaving military service, he worked in southern California for Avnet Electronics and then Sears. He soon developed a desire to sell real estate and worked for Coldwell Bankers. He continued to work for Coldwell Bankers when he moved to Post Fall, Idaho, in 2005. He had many other real estate ventures until his death.
Allan loved his Marine Corps Band of Brothers. Once settled into North Idaho life, he joined the Pappy Boyington No. 966 Marine Corps League. He was active in the League and supported Toys 4 Tots, and gun shows, was Sergeant at Arms for the League and, when asked, was always available to fill any slot to meet the needs of the League. He had a passion for the league and was available to any veteran with PTSD.
Allan was always a gentleman, a kind and helpful person and a loving husband. His humor was definitely dry, sometimes naughty and often produced a pause before the erupted laughter. His chuckle and upbeat personality were contagious and will always be remembered. Allan also had a passion for partially fixing cars, as his garage will gladly attest to. His friends and family will dearly miss the Fourth of July BBQ.
Allan is survived by his wife Ruth Ann Dixon. He was preceded in death by his parents and grandparents.
A memorial service will be held May 26, 2023, from 11 a.m. to noon with a potluck following at Real Life Ministries at 1860 N. Cecil Road, Post Falls, Idaho, 83854. There will be no graveside services at this time.
In lieu of flowers, please send donations to either the Pappy Boyington No. 966 MCL, PO Box 3107, CDA, ID 83815 OR, the North Idaho Veterans Home, 590 S. Pleasant View Road, Post Falls, ID 83854.
Recent Headlines
---