Huckleberries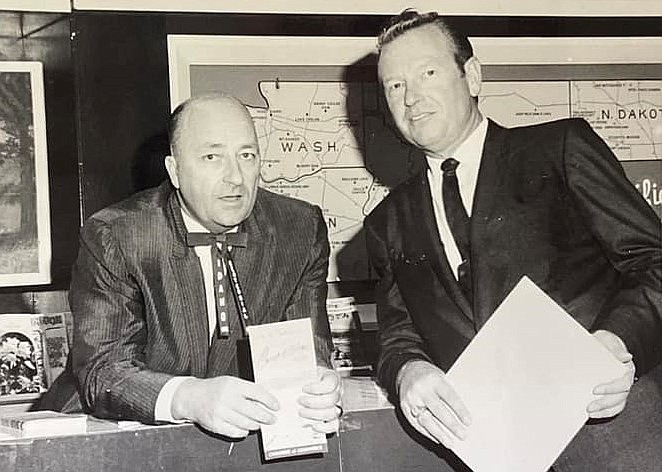 Kyle Walker, left, and singing cowboy Rex Allen at Calgary Stampede.
Photo courtesy of Dave Walker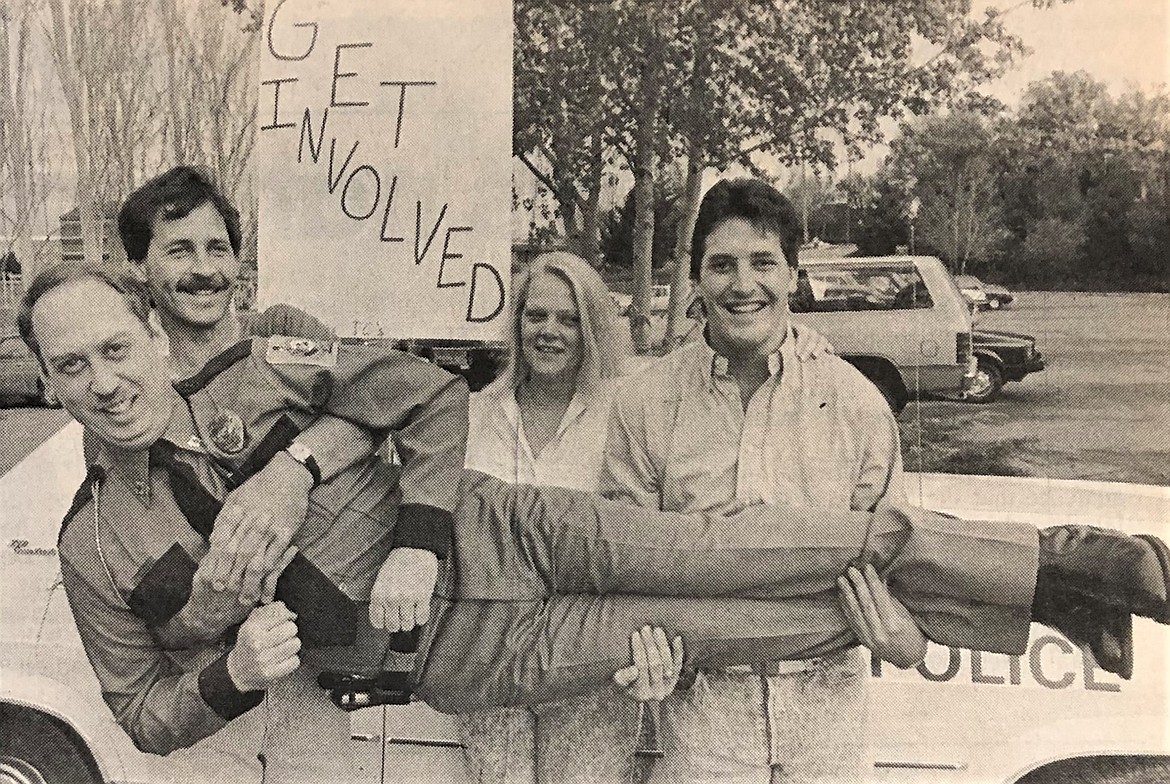 Jaycees, from left, Ken Roberge, Kelli Goodlander and Dennis Gorringe show support for local police by holding up CPD Capt. Carl Bergh.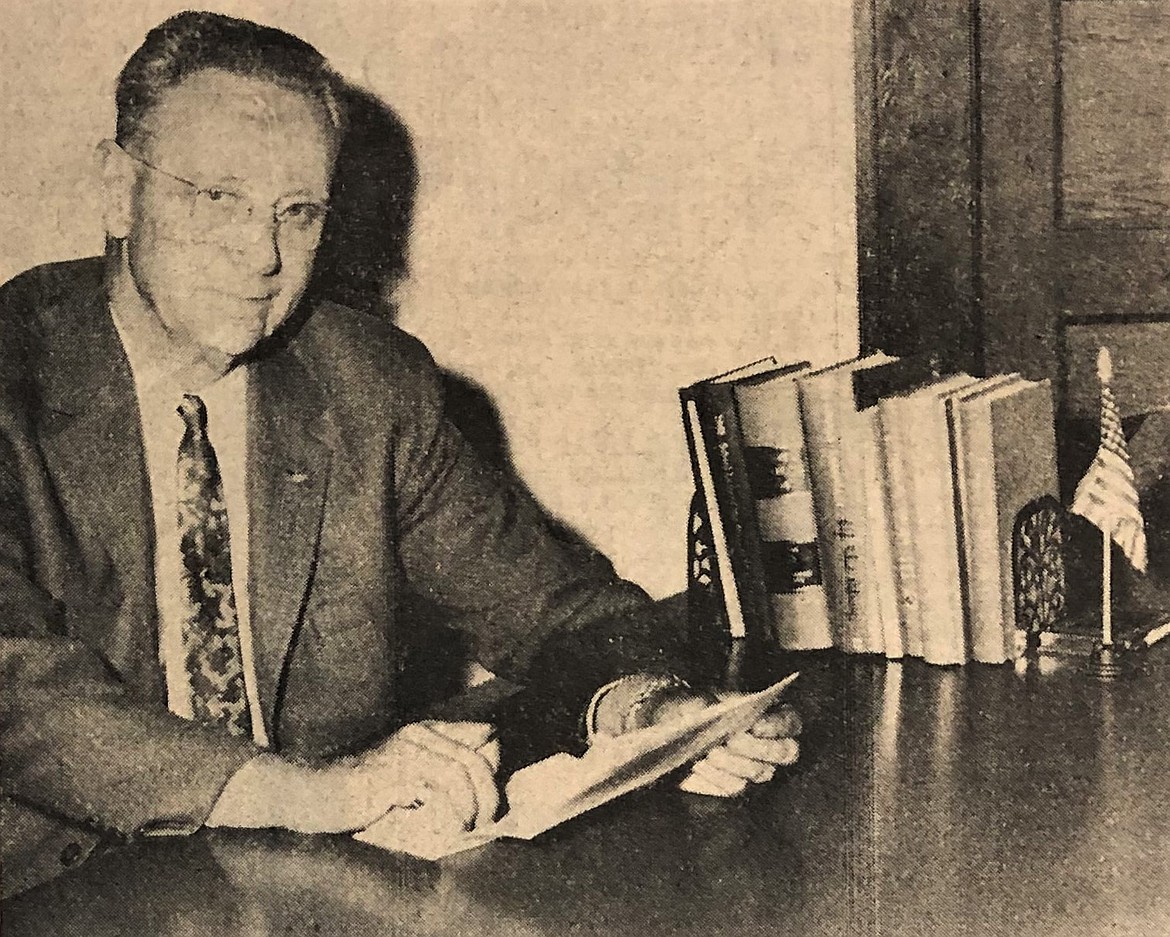 Former Superintendent Geoffrey O. Phippeny.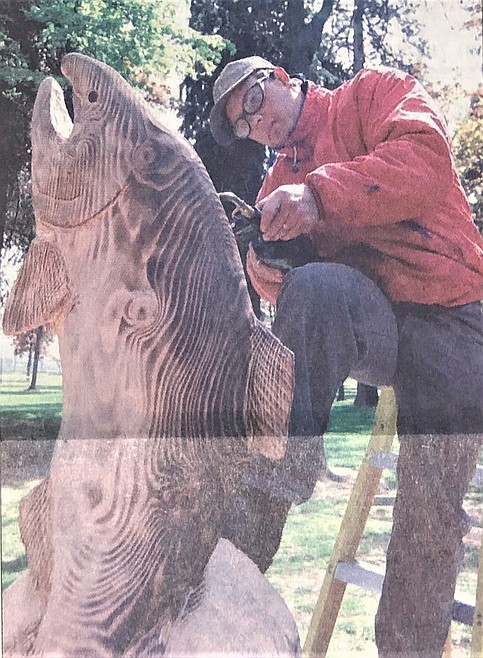 Jeff May carves jumping salmon at City Park.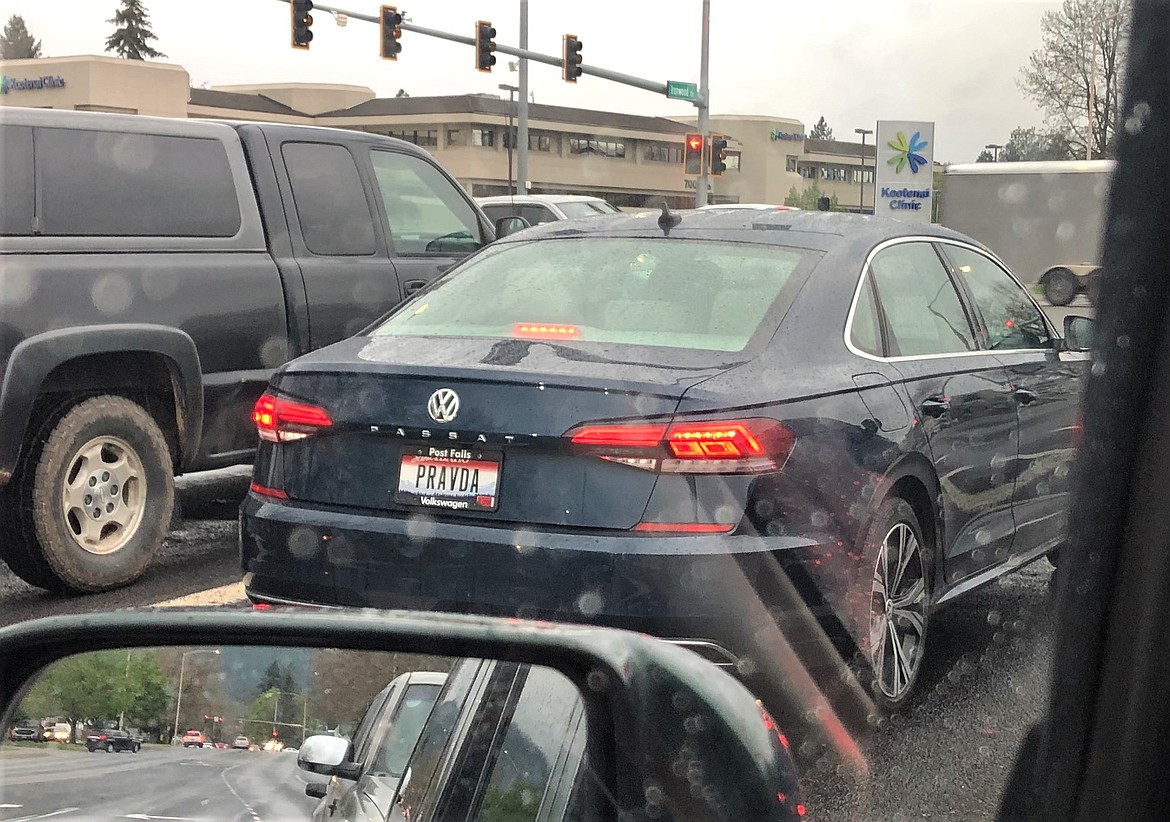 Tanya Pray and her vanity plate near Kootenai Health.
Bing Crosby, right, picks winning ticket for Kyle Walker.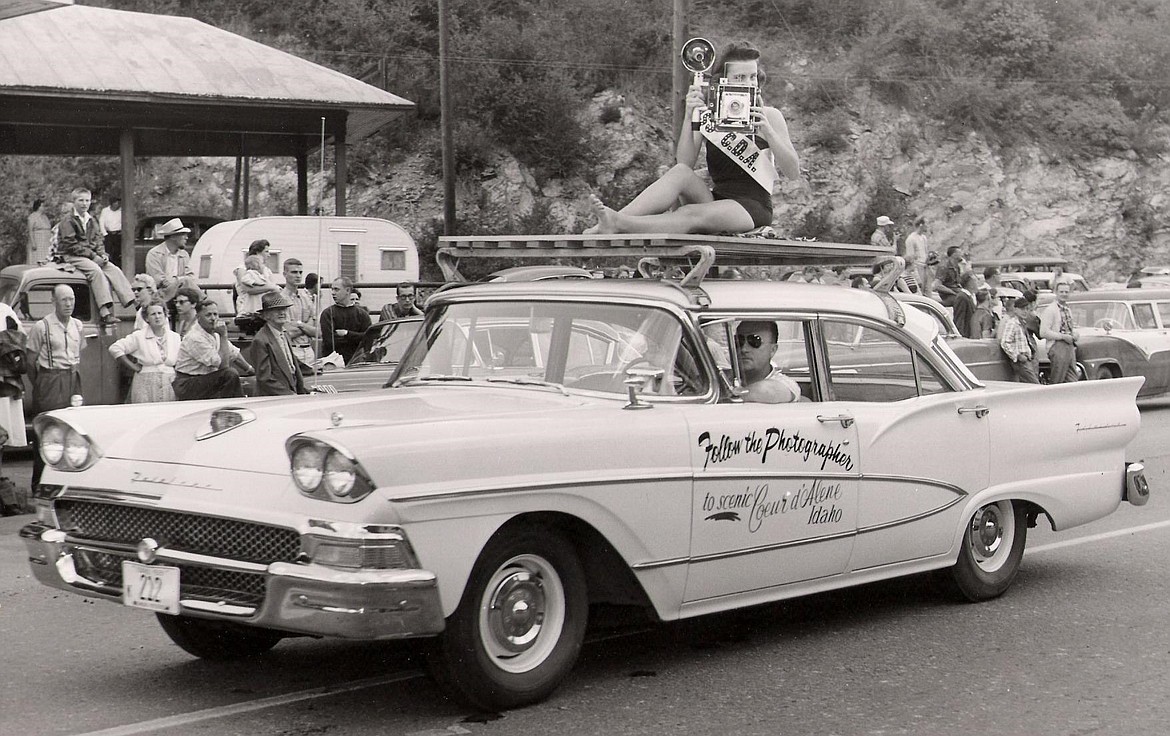 Kyle Walker and Miss CDA promote new tourism brochures.
Previous
Next
Sometimes, as he sees rapid growth destroying the area's infrastructure and culture, Dave Walker wonders if his beloved father did his job as a chamber of commerce manager too well.
Kyle Walker, who directed the chamber from 1948-71, was the quintessential promoter, a gregarious booster of all things Coeur d'Alene, a showman, a talented photographer, a friend of stars.
"That's why they called him Mr. Coeur d'Alene," Dave recalled proudly last week.
Kyle's job was to put Coeur d'Alene on the map — and he did just that.
Sixty years ago, Kyle produced a movie for the chamber that was shown to the public at North Idaho Junior College in April and then, by popular demand, again in May: "The Coeur d'Alene Country." The hourlong movie, which aired nationally and internationally and was translated into German, depicted life in Coeur d'Alene in the early '60s — water sports, forests, neighborhoods, downtown, schools, hydroplane races. Kyle's son and his Borah classmates made a brief appearance marching around their then-new school.
Kyle's photography was superb, but it was the narrator who made the movie a must-see locally: Rex Allen.
By the early 1960s, the cowboy movie star — third in earnings only to Roy Rogers and Gene Autrey from 1950-54 — was narrating animated films and Disney nature movies, with his rich, pleasant voice.
"Rex had a voice as distinctive as Morgan Freeman's today," Dave Walker said.
Known as "the Arizona Cowboy," Allen was one of the entertainment and sports stars Kyle met while manning a chamber booth annually at the Calgary Stampede in Alberta. Or through his ties to the Outdoor Writers Association of America.
The singing actor starred in 19 movies, with Buddy Ebsen or Slim Pickens as sidekicks, wrote and/or sang 250 songs and narrated dozens of movies. Among his narrations were "The Legend of Lobo" (1962), "The Incredible Journey" (1963), "Charlie the Lonesome Cougar" (1967) and "Charlotte's Web" (1973).
After meeting Kyle in Canada, the singing actor visited Coeur d'Alene regularly. Kyle's son, Dave, then 10 to 12, remembers hanging out with Pop's friend. Dave has photos of Allen making funny faces.
"I was always tagging along," Dave said, "and even going to grownup cocktail parties." That's how the youngster discovered that Allen wore mismatched socks. As the story goes, Allen accidentally put on two different socks for an important early audition, won the role and "Boom!" He wore clashing socks ever after.
Allen joined Kyle in promoting Bonanza Ranch, the real estate project east of town that helped launch Bob Templin's hospitality empire, including his North Shore Motor Hotel in Coeur d'Alene (now The Coeur d'Alene Resort). He entertained and announced at the local rodeo. And, when Kyle needed someone to narrate "The Coeur d'Alene Country," he helped.
"Dad was hired to promote Coeur d'Alene," Dave said, "And he did so spectacularly. In fact, he may have done his job too well. I bet it would break his heart to see so many people move here just to push their politics and religion."
What is truth?
Tanya Pray of Coeur d'Alene, who drives that gray VW Passat sedan with the "PRAVDA" vanity plate mentioned here last week, is a truth seeker. In the old Soviet speak, Pravda means "truth" or "justice." But the word was hijacked by the Commies as a name for their official newspaper.
For Tanya, however, the truth runs deeper than propaganda doublespeak. She's a second-generation Russian-Ukrainian, a combination that doesn't mesh today. Her Ukrainian grandfather and Russian grandmother met at a displaced persons camp outside Munich after surviving the Holocaust. They lived in the camp for five years waiting to emigrate to this country.
Tanya has had only one problem caused by the vanity plate while she has lived in blinding-red North Idaho. An old-timer in a Safeway parking lot once called her a "Commie."
With such heritage, Tanya finds "it a little cheeky" — and hilarious that some overheated conservatives denounce the Coeur d'Alene Press as "the CDA Pravda." Truth, says Tanya, "seems more poetry than proof. It's a fitting word to put out into the world."
Bing's hideaway
A fellow named Harry Willis Crosby, who's known by his nickname, Bing, listed his "cottage" for sale on Hayden Lake's shore 65 years ago (May 10, 1958) — for only $95,000. And Bing was willing to throw a motorboat into the deal for free. Of course, the $95K figure was in 1958 dollars. After originally listing the sprawling cedar cottage in the fall of 1956, following a month's vacation there, the crooner pulled it off the market in the spring of 1957. Bing told the Press: "I don't care whether the place sells. I'd just as soon keep it. Perhaps I'll use it as a summer spot when I retire, or it would be a fine place for the (four) boys."
Huckleberries
• Poet's Corner: He's all wild and woolly and rootin'-tootin,/that rash commie cowboy, Vladimir Putin,/scaring the church folk with hollerin' and hootin',/dang near as loco as Grigori Rasputin — The Bard of Sherman Avenue ("The Moscow Kid").
• Limericking: My brain I've been a wrackin'/The hockey questions are stackin'./I see playoff games,/But as to the names,/What in the world is a Kraken? — The Humble Spud ("HOCKEY").
• Zombie Salmon: Jeff May's wooden salmon at City Park was worse for wear by the 2022 tourist season. The talented Athol artist chain-sawed a 7-foot red fir stump into a lifelike jumping salmon in six hours on May 16, 2003. It joined a menagerie consisting of three other wooden animals: Eagles, bears and raccoons. All could use TLC.
• Name Game: On this day in history (May 21, 1958), local superintendent G.O. Phippeny, for whom Phippeny Park at Seventh and Montana is named, presented his final class of CHS graduates, 171 in all, to school trustees. He'd served 24 years as superintendent and signed about 3,800 graduation certificates. His retirement was effective that June 30.
• Need for Speed: Many motorists got STEPPED ON in the fall of 1987 through the spring of 1988 — that's STEP as in Selective Traffic Enforcement Program. CPD Blue cracked down on speed. Tickets went way up, crashes went way down, locals howled. Mayor Ray Stone reacted to the uproar with a Law Enforcement Awareness Day. Fifty showed up. And STEP faded away.
Parting shot
By a unanimous vote 40 years ago (May 16, 1983), the Coeur d'Alene City Council OK'd a resolution supporting secession. Councilman Ron Edinger led the charge, citing "economic differences, geographical location and political reasoning" as factors for splitting with southern Idaho. "The Legislature doesn't do a damn thing for us up here," Ron groused. He admitted the odds weren't good for a secession, possibly to nearby Washington. Today, of course, ultraconservative North Idaho would spurn "librul" Washington. Meanwhile, the huddled masses outside Oregon's metro areas would back annexation to Idaho in a blink. Times have a-changed.
• • •
D.F. (Dave) Oliveria can be contacted at dfo@cdapress.com.
Recent Headlines
---