Tiny Amerindian village in Guyana fights gold mine in key court battle over indigenous land rights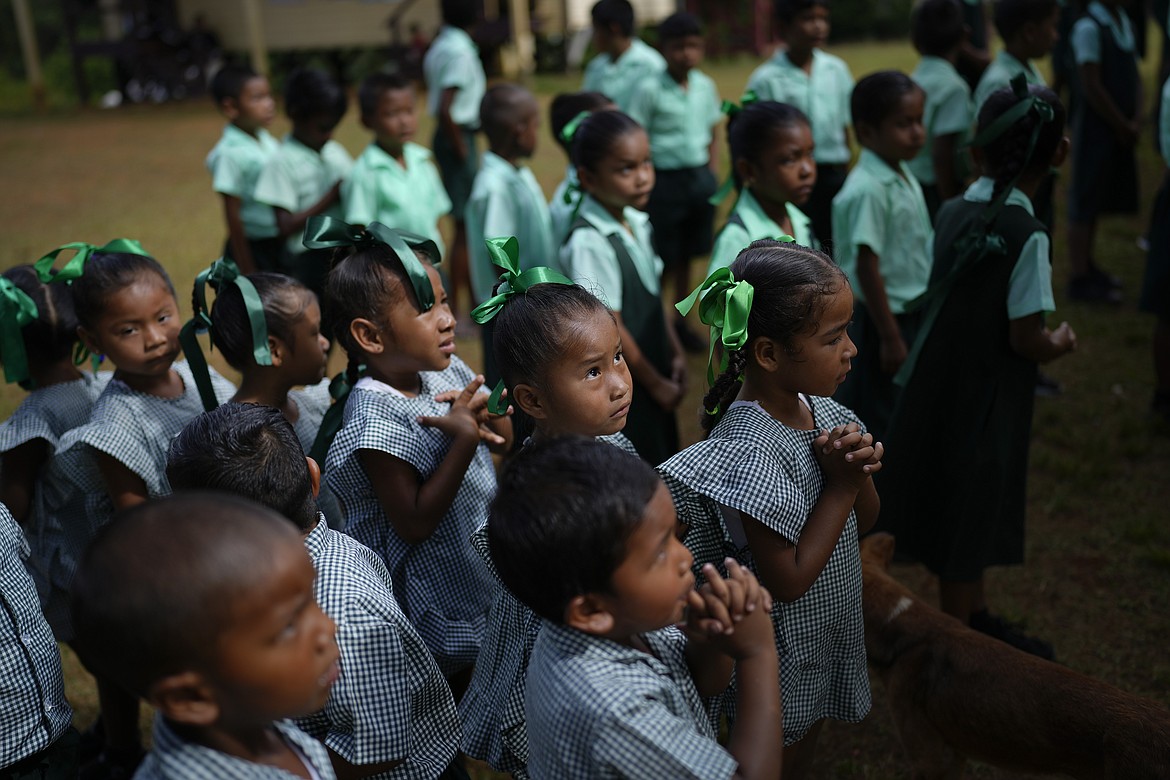 Amerindian children line up to sing their country's national anthem, in a schoolyard in Chinese Landing, Guyana, Monday, April 17, 2023. Called Chinese Landing for reasons residents no longer remember, the village is deep within lush forests of northern Guyana accessible primarily by riverboat. (AP Photo/Matias Delacroix)
By DÁNICA COTO
Associated Press
CHINESE LANDING, Guyana — One of Guyana's smallest Amerindian villages is waging a monumental battle that could decide the amount of control that thousands of indigenous people have over their land in remote parts of this South American country.
The village of 225 residents is fighting in court to regain full control over ancestral land where gold miners once were invited in to boost community development but who now are considered unwelcome interlopers who carve up lands that provide food and medicine, and block access for the villagers' own, smaller-scale mining.
"It's like a part of us has been taken away," said Orin Fernandes, the village's toshao, or indigenous leader.
Called Chinese Landing for reasons residents no longer remember, the village is deep within lush forests of northern Guyana accessible primarily by riverboat.
The villagers, descendants of Caribs, have seen their land shrink as miners scrape back layers of rock and red soil that could otherwise produce pumpkin, cucumbers and cassava. The mining operation spans 3,400 acres (1,380 hectares), splitting the village in two and contaminating water in an area known as Tassawini, which means "clear water" in the Carib language.
"What's happening in Chinese Landing now is pretty emblematic of what is happening across the country in terms of mining and violation of indigenous people's rights," said Lan Mei, a Maryland-based attorney representing the village.
Guyana has some 78,500 Amerindians who represent nearly 10% of the country's population. They live in more than 240 communities on some 6 million hectares (15 million acres) that often are home to large deposits of gold.
Gold represents roughly 15% of Guyana's economic output, and even the national flag — "the golden arrowhead" — pays homage to the precious metal.
For Guyanese officials, gold mining has taken priority over efforts of indigenous communities to solidify titles over their lands and clarify their boundaries, said Michael Mc Garrell, a map specialist with Amerindian Peoples Association.
"They see indigenous title lands as not generating any sort of revenue for the country," Mc Garrell said.
Chinese Landing secured its land title in 1976, and for a couple of decades, Amerindians mined that area with basic tools, selling small pieces of gold to feed families and build homes, complimenting earnings by hunting and growing crops
But the community entered into an agreement with a Guyana businessman seeking to set up mining operations in 1998, and ever since the deal went sour in the early 2000s, there have been legal battles over who can mine there — with Chinese Landing residents currently shut out.
"It grieves me," said Emelda Fernandes, 66, who mined at age 12 but now is forced to farm peppers and cassava to survive. Meanwhile, her son uses a metal detector in the dusty surroundings of their wooden home to search for gold or scrap metal.
Tears fell down Fernandes' face as she switched to her native Carib language: "I was living here for such a long time, and now, I cannot work. … Outsiders come and take away our rights."
The once-clear waters of the creek behind Fernandes' home now run yellowish-brown. Unable to afford bottled water, she and others drink from and bathe there, which she says gives her stomach aches and skin rashes.
"We are really suffering," she said.
Some students attend the village school in bare feet, and the community's lack of access to mining has pushed it deeper into poverty.
The village's vice toshao, Veron Millington, had to borrow $1,500 from the Amerindian council to make ends meet and so that her son could graduate high school. He loves robotics and named a dog "Hawking" after the renowned British physicist.
"I don't know how I'll pay it back," said Millington, a retired teacher, adding that she hasn't been able to pay rent since January. "I never envisioned that it would come to this. We feel like we're not even part of Guyana."
In 1998, former leaders of Chinese Landing signed an agreement with businessman Wayne Vieira that awarded him the right to mine in Tassawini after he obtained mining permits from Guyana's Geology and Mines Commission.
The deal stated Vieira would employ from 20% to 50% of unskilled laborers from the village and award it 1% commission on all gold mined. In addition, Vieira would develop education and health services in the village, according to a copy of the deal obtained by The Associated Press.
While Vieira provided a bounty of books for Chinese Landing's school, Fernandes said he only employed villagers sporadically and never shared details on gold production, so the village never knew if it was truly getting its 1% in royalties.
Jamela Ali, an attorney for Vieira, disputed the Amerindian leader's account by saying that Vieira's representatives "always offered" villagers work, and added that the businessman has repaired roads, a reservoir and an airstrip there. The attorney accused villagers of illegally mining in the area with heavy machinery.
The village scrapped the deal with Vieira in August 2004 and demanded that he remove all equipment and personnel, which didn't happen.
In 2006, the country's Amerindian Act included language saying that permission is needed from an indigenous community before small and mid-scale mining can take place on their land. And in 2010, the Geology and Mines Commission issued Vieira a cease work order for his mid-scale operation because he did not have a valid agreement with the village.
Vieira filed a lawsuit in response that went all the way to the Caribbean Court of Justice, which serves as Guyana's highest court. It ruled in 2017 that the Amerindian Act did not give any authority to the mining agency to stop work on the mining permits.
The pace of mining increased after the ruling, and attorneys representing Chinese Landing say police and guards blocked villagers from mining in or entering the area.
Complicating the picture is a Canadian company, Alerio Gold Corp., which claims to have obtained rights to mine land previously controlled by Vieira. However, Vieira's attorney disputed that, saying Vieira continues to control all four permits he originally obtained in the area, and that he has no connection to the company.
Alerio, which announced in April it found "significant" untapped reserves, did not respond to phone calls or emails seeking comment. Expanding the mine to a large-scale operation could make it more difficult for the community to halt it.
Newell Dennison, commissioner for Guyana's Geology and Mines Commission, declined to comment on the Chinese Landing case, saying it was in court.
In 2021, the village filed its own lawsuit arguing that the government never should have had the authority to issue mining permits for any of its titled land. The case is being closely watched by activists and Amerindian leaders who hope it might set a precedent for other indigenous lands.
"This case really is about how much control a village has over its titled land," said Mei, the U.S.-based attorney. "It's also about the village's right to representation and to have its case heard in court."
Not everyone in Chinese Landing holds out hope that the community's access to mining can be restored any time soon.
Selwyn Miller, 27-year-old president of the village's Parent Teacher Association, is seeking opportunity elsewhere. He somberly broke the news on a recent weekday morning before a classroom of a dozen children from third to sixth grade.
"I'm talking to you this morning because I won't be around for a period of time," he said, as the students fell silent.
"There will be no more work," he warned. "Don't think about mining. Miss Natasha talked about that. Think about something else."
In his pocket, Miller had a lump of gold about the size of a flattened grape that he hoped would finance his trip to another region of Guyana where he planned to work as a miner to care for his four children after his wife died in childbirth.
Hours later, Miller said goodbye to family and friends and departed Chinese Landing.
_ Associated Press videographer Juan Pablo Arráez contributed.
Recent Headlines
---