Huckleberries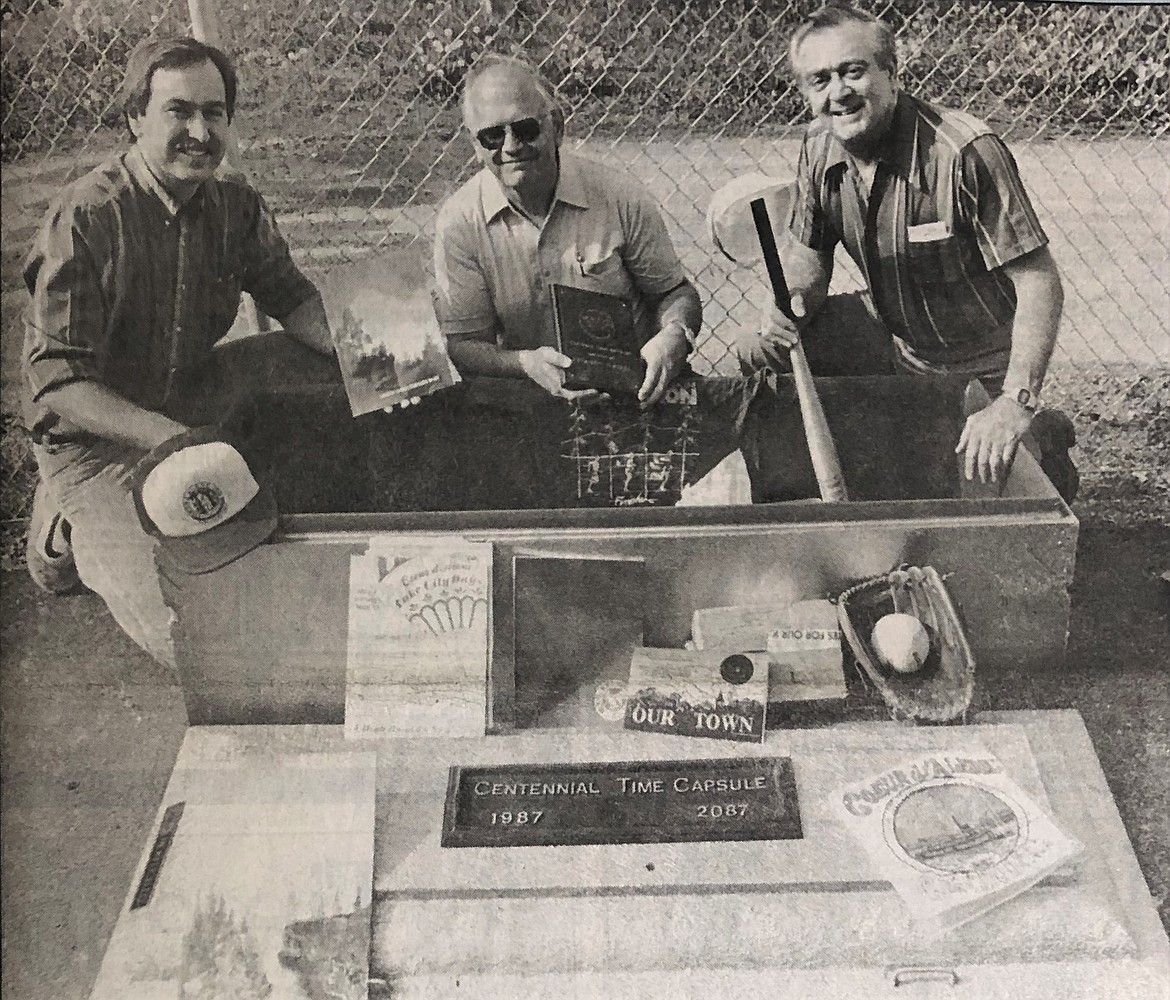 From left, Doug Eastwood, Bob Jenks and Red Halpern display items that are now in the centennial time capsule.
Photo courtesy of The Coeur d'Alene Press archives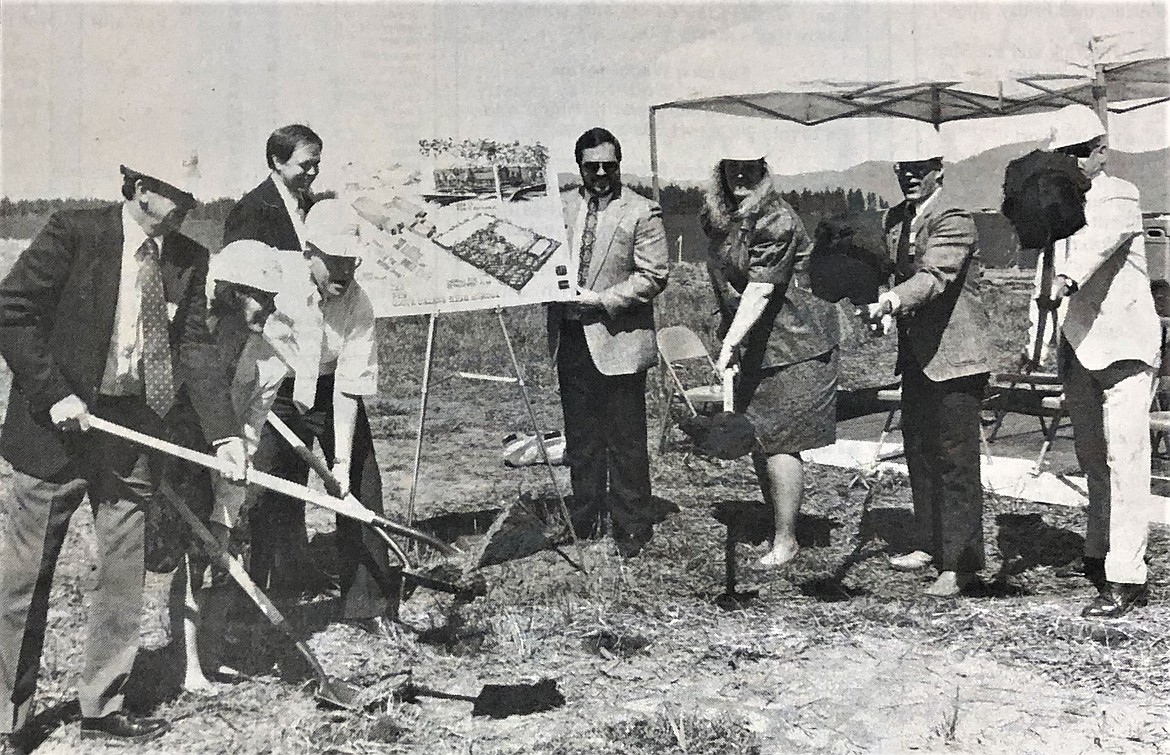 Superintendent Doug Cresswell, left, principal John Brumley, center, and the Coeur d'Alene School Board break ground on the new high school.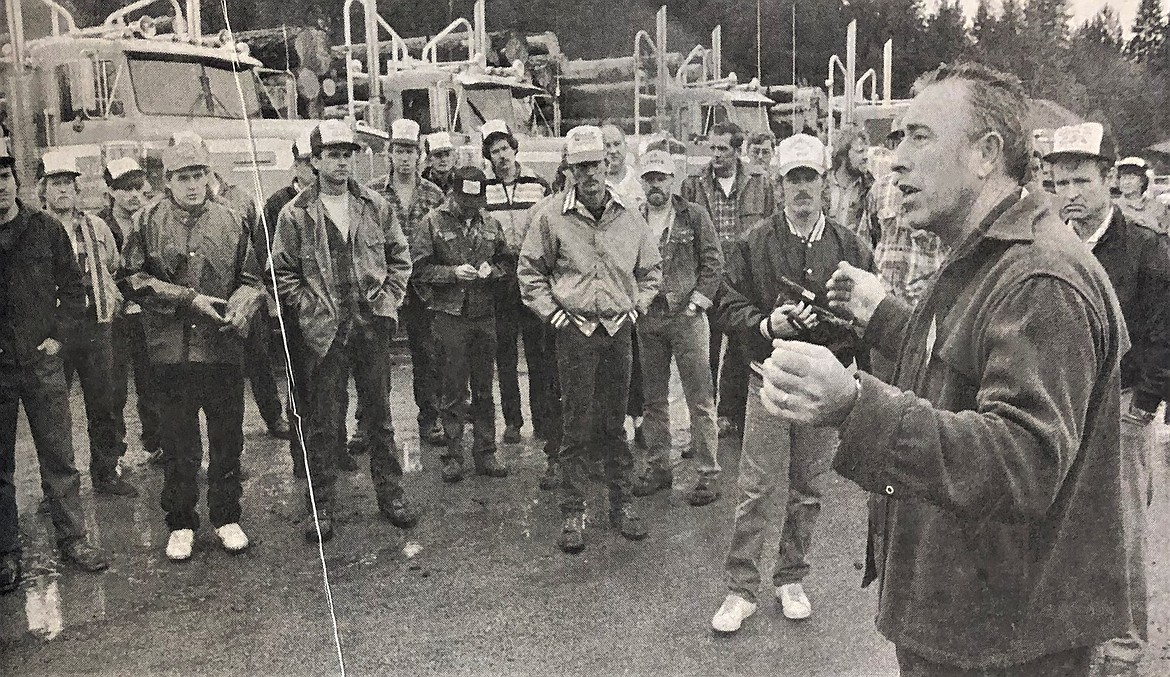 Jack Buell, of Jack Buell Trucking in St. Maries, instructs truckers prior to "The Great Northwest Log Haul."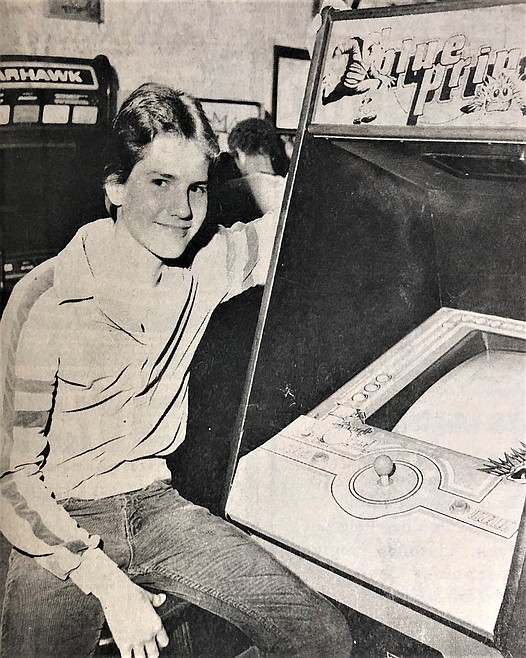 Jim O'Brien pictured with his world record-breaking Coeur d'Alene video machine.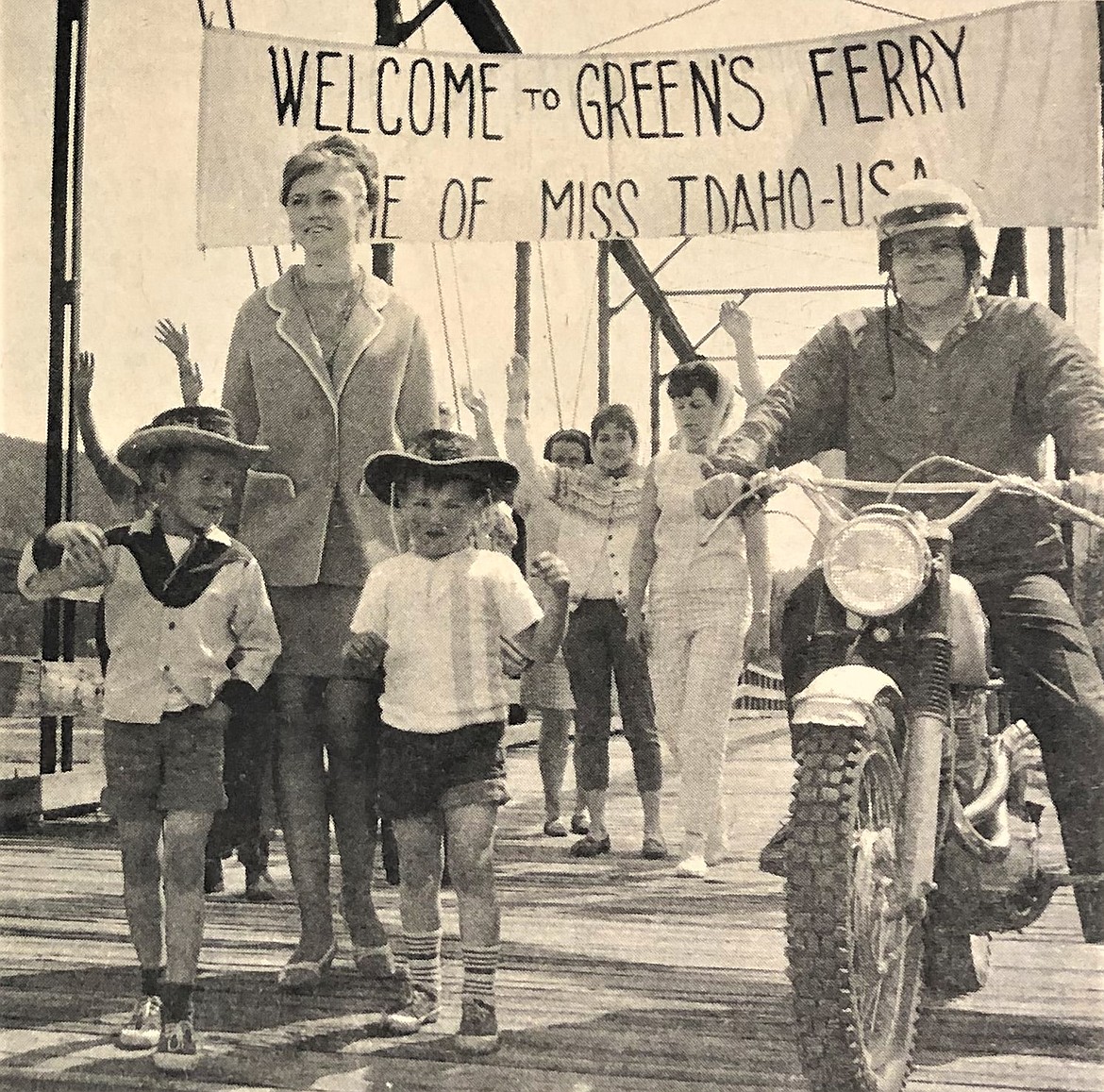 Anna Marie Evenson is escorted across the Green's Ferry bridge by her neighbors.
Previous
Next
Thirty-six years down, 64 to go, and the question remains: Did Red fill the time capsule?
Yeah, that time capsule — the one buried along the City Park promenade, between Independence Point and the Rotary bandshell. In the 48 hours before it was sealed May 14, 1988, Red Halpern was frantic. He didn't have nearly enough items to fill the capsule. He told the Coeur d'Alene Press he wanted "anything anybody might have" to pack the vault.
"It's going to look kind of pathetic if we have to bury a (mostly) empty vault," Red grumbled.
Among the objects the Coeur d'Alene Centennial Committee chairman had received already were: a baseball glove holding a girls softball, a Little League bat, ball caps, copies of the master plans for the Centennial Trail and city parks expansion, a Coeur d'Alene Press Centennial edition — and first graders' essays about Lake City.
The interment of the time capsule, in a grave vault donated by Spokane Wilbert Vault Co. and English Funeral Chapel, was Red's last official act as Centennial Committee chairman. Festivities had started 16 months before in 1987 when Coeur d'Alene reached age 100.
As a reward for his work on the centennial, and perhaps for his remarkable former career as the city's parks and recreation director, Red was named grand marshal of the fourth Lake City Days Parade that weekend. He was surprised by the honor. But he still worried about the time capsule.
Red pleaded for more artifacts "that might depict the area and time frame we live in" — clothing, sports equipment, books about North Idaho, eyeglasses, shoes, anything that was commonly used in 1987.
Jim Windisch of Coeur d'Alene and other first grade writers had done their part.
In his essay, Jim compiled a list of Coeur d'Alene features, including: "It's a Tree City USA." The youngster had noticed a Tree City sign at the city limits. But the Press reported that he'd written: "It's a Free City USA." Jim didn't mind; he figured that was true, too.
Jim and other youngsters read their papers at City Park during ceremonies for the capsule. The children each received an enamel centennial pin, depicting a sailboat and the bridge along the boardwalk.
Perhaps a centennial pin will be found among the memorabilia when the capsule is opened in 2087. We'll need a time machine to find out.
Green's Ferry Beauty
Beauty pageants are passé today. But the tiny community of Green's Ferry was gaga 55 years ago when 20-year-old Anna Marie Evenson was named Miss Idaho-USA.
South of the Spokane River, Green's Ferry was linked with Post Falls in those days by a failing bridge that collapsed in 1971.
The bridge was closed to vehicles when Anna won her crown. So on May 11, 1968, she walked across the bridge, suitcases in hand, to get into a car that drove her to the Spokane Airport and, ultimately, the national Miss USA finals at Miami. She wasn't alone. She was escorted by neighbors, two motorcyclists and two 5-year-old boys, Timmy Gravelle and Kelly Hughes. A banner over the bridge boasted: "Welcome to Green's Ferry: Home of Miss Idaho-USA."
Anna didn't win the contest. A young woman from Kirkland, Wash., did. But Anna was happy with the outcome anyway, As a consolation, she received two weeks of paid vacation from her job as an electrical switch assembler, stayed at Miami Beach — and partied with other contestants at the penthouse apartment of singer Paul Anka. Heady stuff for a young woman from Green's Ferry.
Love conquers
The rumors had swirled since January 1988 when "Father Bill" Wassmuth announced plans to resign as pastor of St. Pius X Catholic Church.
Many believed he would pursue his human rights activities. After all, he had re-established the Kootenai County Task Force on Human Relations. And he was serving as executive director of the five-state Northwest Coalition Against Malicious Harassment. But close friends knew Bill was leaving the priesthood altogether. Twenty-one years after vowing celibacy, the Catholic priest was lonely — and in love.
Press columnist Nils Rosdahl attended one of the three services May 15-16, 1988, during which Bill made his announcement. Bill said, according to Nils: "My choice is to not spend the rest of my life as a single person. In the current discipline of the Catholic Church, I cannot continue ministry as an active priest unless I remain unmarried."
Bill stayed a month longer and then left for Puget Sound to marry artist Mary Frances Dondelinger and become the first executive director of the Northwest coalition. Mary Frances and Bill lived happily until 2002 when Lou Gehrig's Disease finally claimed Bill's life.
Huckleberries
• Poet's Corner: On weekends I ride at/the head of the pack/on my big black Hog with/a chick on the back;/I'm bad to the bone so/don't get in my way,/I'm wild as they come/for a CPA – The Bard of Sherman Avenue ("Part-time Outlaw")
• Limericking: The national news is the pits/With politicos all throwing fits/But here in our city/It's so perfectly pretty/'Til the tourists turn things into … money – The Humble Spud ("TOURISTS").
• Bumpersnicker: A vanity plate on a gray VW Passat at Lincoln Way and Ironwood last week raised more questions than it answered: "PRAVDA."
• Factoid: Coeur d'Alene once was home to a Video Wizard who set a world record on the "Blue Print" game at the old 10-cent Arcade. On May 5, 1983, Jim O'Brien, 15, scored 74,450 points on the 6-month-old game, a record verified by its manufacturer. Jim honed his video skills by practicing five days per week. His reward? He was featured in the Press a week later. And now.
• On This Day: Nearly 50 loaded logging trucks from Coeur d'Alene pulled into Darby, Mont., on May 14, 1983, to jump-start a faltering mill. The Darby Lumber Co. had laid off 75 workers because it couldn't get logs. The mill operator blamed environmentalists. "The Great Northwest Log Haul" rolled from the old Rutledge Mill (now the Coeur d'Alene golf course), which would close within five years.
• Time Flies: Yes, it has been 30 years (May 11, 1993) since Coeur d'Alene school officials broke ground for a $15.5 million new high school on Ramsey Road. On that day, no one knew that "Timberwolves" and the colors Navy blue and teal would become as popular as "Vikings" and the colors blue and white in Coeur d'Alene. Viva la difference.
Parting shot
Even a straight shooter like late governor Phil Batt fibbed occasionally. On May 11, 1978, while running for lieutenant governor, Phil said he wasn't interested in being governor because he didn't like "full-time politics." But that didn't stop the Republican from running for governor and losing to Democrat John Evans in 1982. Nor did it stop him from running for governor again in 1994 and beating Democrat Larry EchoHawk. Nor did it stop him from becoming a full-time human-rights leader and champion of farm workers during his one term. Phil, the state's 29th governor, died March 4, leaving behind a political legacy matched by few in Idaho. And that's no lie.
• • •
You can contact D.F. (Dave) Oliveria at dfo@cdapress.com.
Recent Headlines
---