Detective Keller is on the case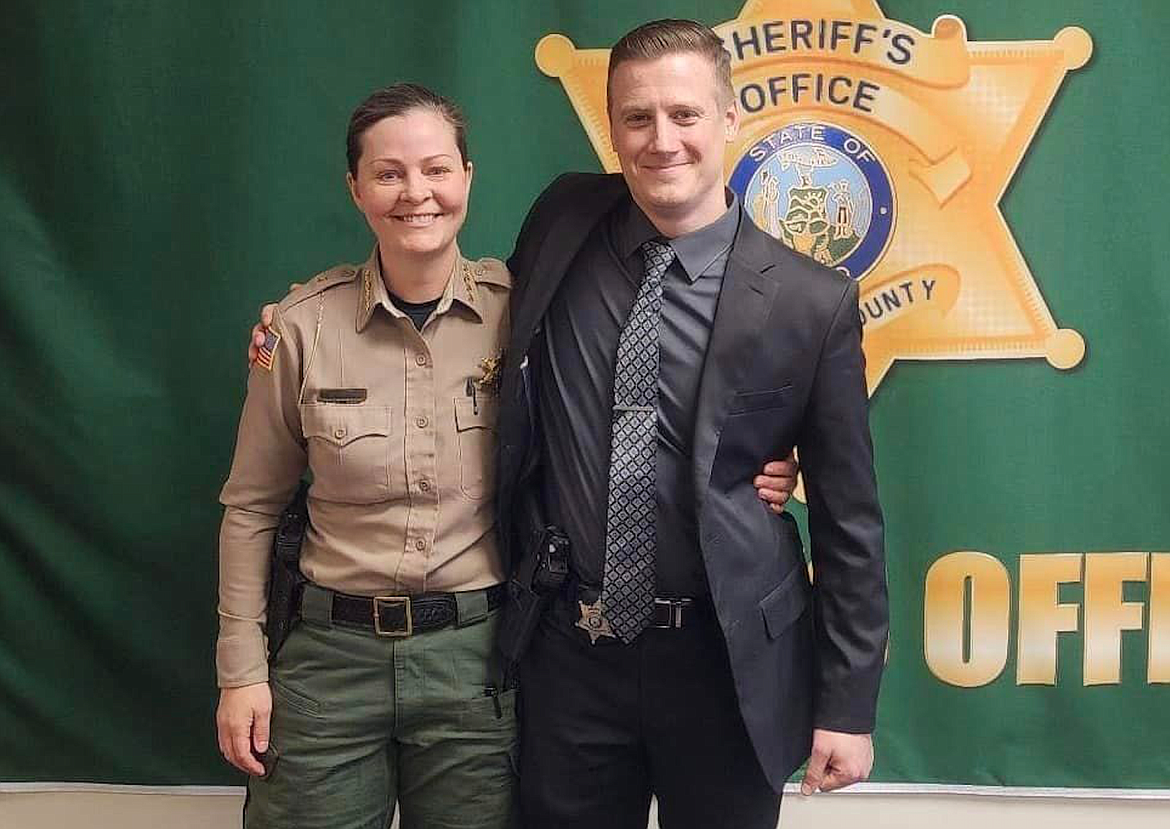 Shoshone County Sheriff Holly Lindsey stands alongside newly minted detective William Keller. Keller has been with the department for nine years as a deputy and will now be tasked with handling the county's major crimes cases.
Courtesy of the SCSO
WALLACE — Last week the Shoshone County Sheriff's Office announced the appointment of Will Keller to the position of detective.
In his new role, Keller will be tasked with working and closing the department's major crime cases.
Keller, 31, is a Silver Valley native and has been with the Shoshone County Sheriff's Office for nearly a decade. In that time he has risen through the ranks as a deputy, but a scary situation last year nearly derailed his career in law enforcement.
While responding to a routine domestic call in a remote area of Shoshone County in August 2022, Keller had two suspects in handcuffs when one of them kicked him in the knee. Immobilized, he was unable to get to his vehicle's radio to call for help. Due to the nature of the call, he had a social worker with him who was able to get to the radio and call for help.
Despite all of this, Keller was able to regain control of the situation by the time backup arrived. He did this while using very minimal force and some quick thinking.
"I knew the situation wasn't good, but I knew I still had control," Keller recalled. "My knee was broken, but I knew that help was coming and that they were both detained and not getting out of the handcuffs."
His injuries put him on the shelf for six months — time he spent primarily with his young daughter, which put a lot of things into perspective for him.
"I wasn't sure I was gonna come back. I mean, just like that, bad things can happen, and I have a 2-year-old," Keller said. "Once I got over that mindset, I started thinking that it was time that I start pursuing what I want to do in law enforcement — and that is the investigations."
In the early 2000s, Shoshone County had two detectives — one for drug-related crimes and one for major crimes. Keller's appointment marks the first time the department has had a detective since 2018, when Jeff Lee held the distinction until his appointment to SCSO captain.
Shoshone County Sheriff Holly Lindsey discussed how the position is vital to law enforcement in the county —largely because it helps ease the burden on the rest of the deputies.
"On a daily basis, these guys go out there and they are hammered with the calls," Lindsey said. "It's everything from a dog at large to a felony domestic call to a rape — they just never know. They're trying to take all of the calls and they're trying to investigate these calls and it just doesn't go well together."
Lindsey said that when a deputy is spending time handling a larger investigation, their ability to patrol the streets of Shoshone County and remain visible throughout the community suffers.
"Not having a detective is not doing any justice to the victims of these major crimes," Lindsey said. "I'm not sure people understand the time it takes to investigate a major crime. That's any type of violent crime, child abuse, family crime, sexual crimes, elderly abuse and drug investigations. These things take days and even weeks sometimes to investigate thoroughly."
This is where Keller's attention to detail and propensity for getting folks to communicate with him becomes an invaluable skill.
Keller is a throwback in the purest sense, everything from the way he dresses to the way he handles his business harkens back to the bygone eras where detectives were the heroes of dime store novels and comic books.
And a lot of that stems from the way he approaches each case.
"Since I became a deputy, I was always geared toward major crimes," Keller said. "Over the years it's been in the back of my mind (becoming a detective), but I didn't feel like I was ready."
He boils it down to simplicity, something he says a lot of people struggle with, but something we are all taught at an early age.
"The who, what, when, where, why and how ... A lot of investigations are just the basics that we get taught, but over the years guys tend to forget or feel like maybe they don't have time," Keller said. "But it's also about thinking outside of the box. As a deputy, we have to think, 'How long do we pursue this investigation until we submit charges to the prosecutor with what we have?' As detective, I can go down all of the rabbit holes and see how many players there are in every case."
Keller is filling a major need for the county, while also pursuing his passion.
"Will is really good at what he does. People trust him, so he has that connection to the community," Lindsey said. "He's never been the type that thinks he's all that, which I think is what makes him all that."
Recent Headlines
---