Democratic Washington Gov. Jay Inslee won't seek 4th term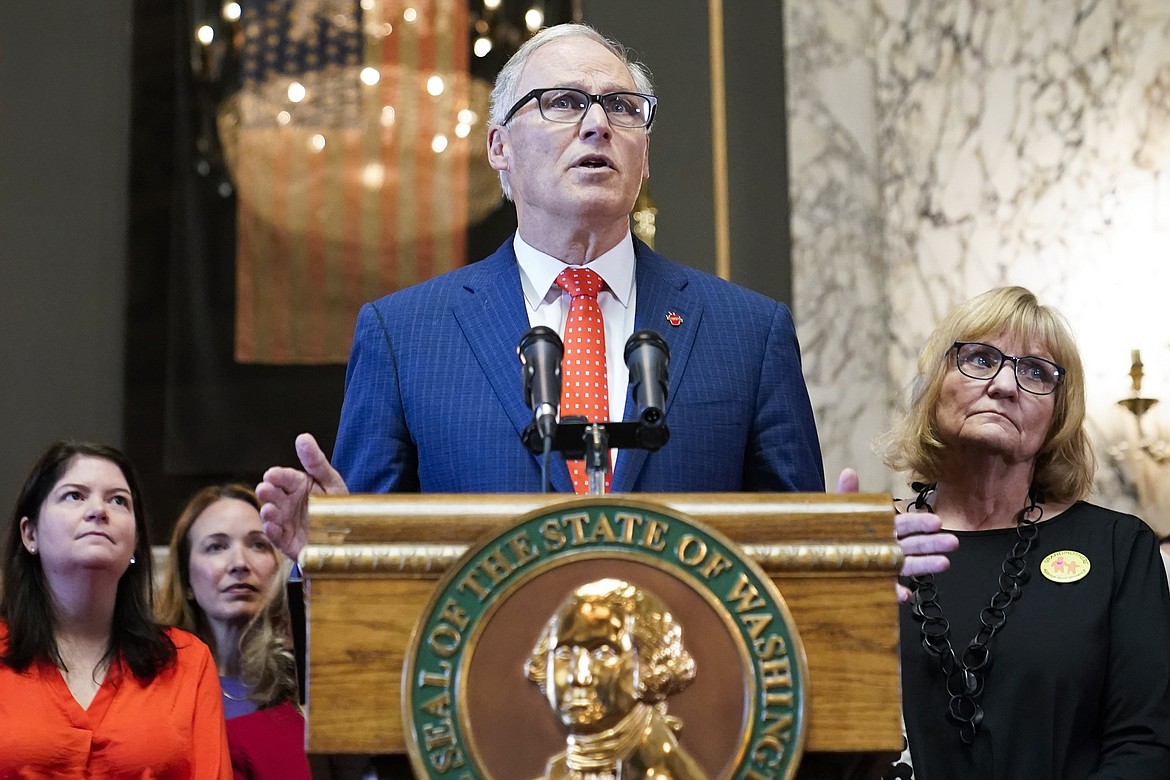 Washington Gov. Jay Inslee speaks before signing multiple bills meant to prevent gun violence, Tuesday, April 25, 2023, at the Capitol in Olympia, Wash. On Monday, May 1, 2023, Inslee announced he does not plan to seek a fourth term. He was most recently re-elected in 2020, making him only the second Washington state governor to serve three consecutive terms. (AP Photo/Lindsey Wasson, File)
By GENE JOHNSON and ED KOMENDA A
Associated Press
SEATTLE — Washington Gov. Jay Inlsee, a Democrat who has sought to make the state a leader on progressive policies from climate change to gun violence prevention, said Monday he will not seek a fourth term in office.
The 72-year-old's announcement clears the way for younger members of the party to run. Attorney General Bob Ferguson, who gained a national profile by challenging the travel ban and other policies of former President Donald Trump, and state Public Lands Commissioner Hilary Franz have expressed interest.
"As governor, I have seen my role as inspiring our state ever forward and ever higher," Inslee said. "I'm gratified to be able to say that this approach has worked to improve Washingtonians lives in many ways and many places."
Inslee, who is the longest-serving governor in office in the U.S., was first elected in 2012 and became only the second Washington governor elected to three consecutive terms. Washington does not have term limits.
He made a bid for the Democratic presidential nomination in 2020 on an environmental platform, but struggled to gain traction in a crowded Democratic field and had trouble meeting the requirements needed to appear on two high-profile stages: the third Democratic National Committee debate in Houston and a CNN town hall focused on climate change.
Among his accomplishments he lists a cap-and-trade system for carbon emissions in the state and a trio of gun violence prevention measures that he signed into law last month, including a ban on semi-automatic assault rifles that is already being challenged in court by gun rights advocates.
Early this year the state Supreme Court upheld a capital gains tax Inslee promoted as a way to address what was considered the nation's most regressive tax system.
He also vowed to protect gay rights and abortion access as conservative states constrained them, and he bought the state a three-year stockpile of a popular abortion drug in anticipation of court rulings that could limit its availability.
Inslee said he still has work to do before his exit, including collaborating with legislators and community leaders to address Washington's homelessness crisis and speeding efforts to broaden behavioral health services.
Inslee served eight terms in the U.S. House before narrowly beating Republican Rob McKenna, then the state attorney general, to become governor. He won his most recent reelection, against Republican Loren Culp, by more than 13 percentage points.
His liberal politics made him a boogeyman to critics on the right, who argued that he infringed on individual liberties. Soon after Washington suffered the first known COVID-19 outbreak in the nation, he issued emergency orders mandating mask wearing and requiring that state employees and health workers be vaccinated.
Washington's death rate from the pandemic was among the nation's lowest; Inslee said in congressional testimony last year that his measures helped prevent roughly 17,000 deaths in the state. But the mandates were relentlessly criticized and challenged in court, including in an unsuccessful lawsuit by state troopers and other state employees.
"He kept us safe and secure through the coronavirus pandemic, and delivered transformational policies on climate change, economic justice, and gun violence prevention," Shasti Conrad, chair of the state Democratic Party, said in a statement.
The Washington State Republican Party said the governor's tenure has been marked by missteps and poor decisions.
"It's time to turn the page on the disastrous Inslee era in Washington State," WSRP Chairman Caleb Heimlich said in a statement. "His decision to not seek a fourth term presents an opportunity to elect a Republican governor who will put Washingtonians first and prioritize the needs of our communities."
Story Details
Recent Headlines
---