Mervin Paul 'Bud' and Mary Ellen (Witham) Hermle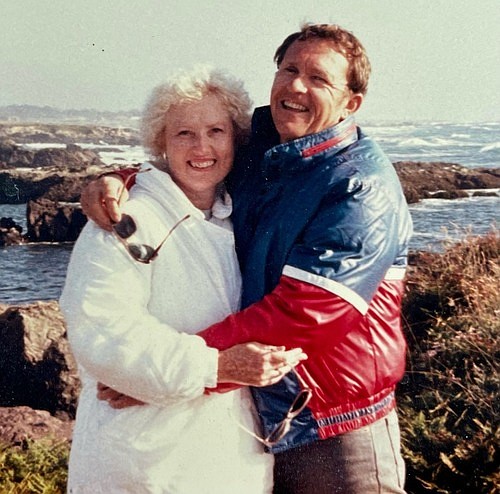 Mom and Dad married April 7, 1956. Mervin Paul "Bud" Hermle died June 18, 2022, and Mary Ellen (Witham) Hermle died March 12, 2023. They both lived good, long lives. Dad was born Feb. 14, 1929, and Mom Nov. 23, 1933, both in Woodland, Calif. They both grew up on farms in Northern California. Dad's parents were Carl and Tillie Hermle, with an older brother, Daryl. Mom was the oldest. Her parents were EJ and Betty Witham, with four younger siblings, Ed, Richard, Linda and Elizabeth.
Dad was a great example to everyone of being faithful to Jesus Christ, no matter what. He served God, his family and his country well. He was in the Korean War for two years serving in Hawaii. He drove truck for a living his entire life. He prayed for hundreds of people over the decades. He was an awesome dad who loved us deeply and had a mischievous sense of humor. When Dad died, Mom held his hand at his bedside until the very end.
Mary Ellen grew up on a dairy farm and then almond orchards. She loved Jesus all her life, no matter how difficult the situation. She sacrificed for her family and was friendly and hospitable to everyone she met. She always forgave those who hurt her. She also prayed for hundreds of people over the years. She was a fabulous mom and loved her family so very much. She liked to sing and whistle around the house, and loved to be silly and laugh.
Their deaths leave behind their (very sad) daughter and son-in-law, Stephanie and Jerry Belden, and their son and daughter-in-law, Eric and Dani Hermle, and extended family.
A memorial service for them both will be Thursday, March 23, 2023, at 11 a.m. at Fort Sherman Chapel, 332 Hubbard St., Coeur d'Alene.
Recent Headlines
---