Huckleberries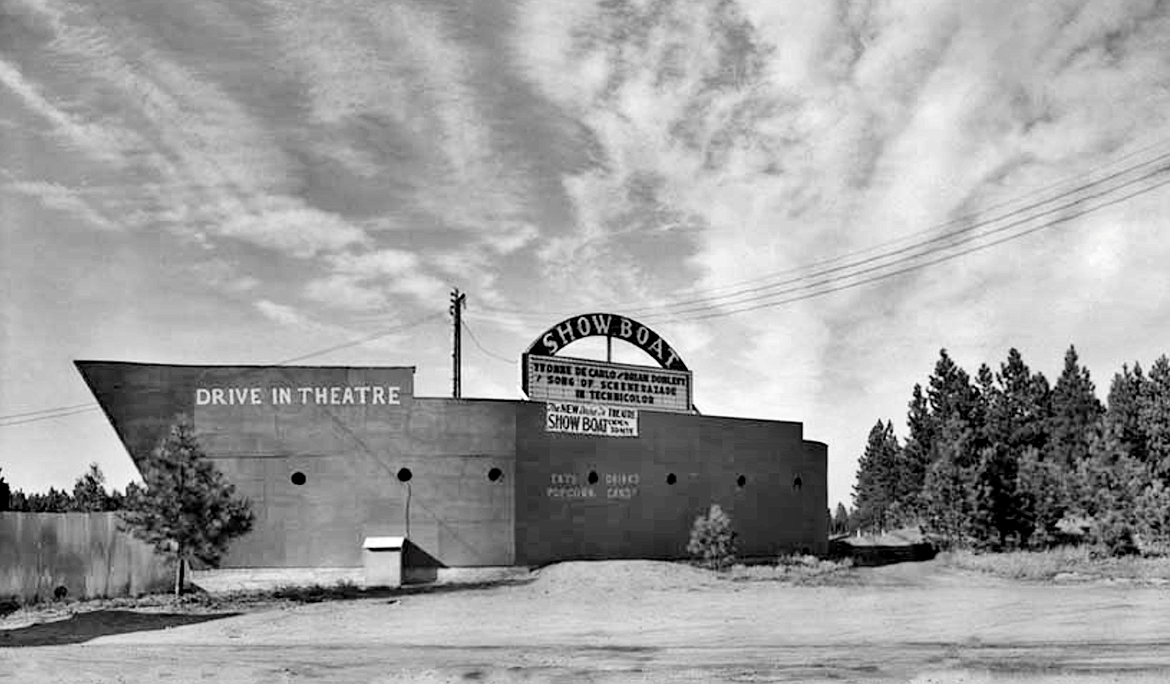 Orrin Lee's Showboat Drive-In.
Museum of North Idaho photo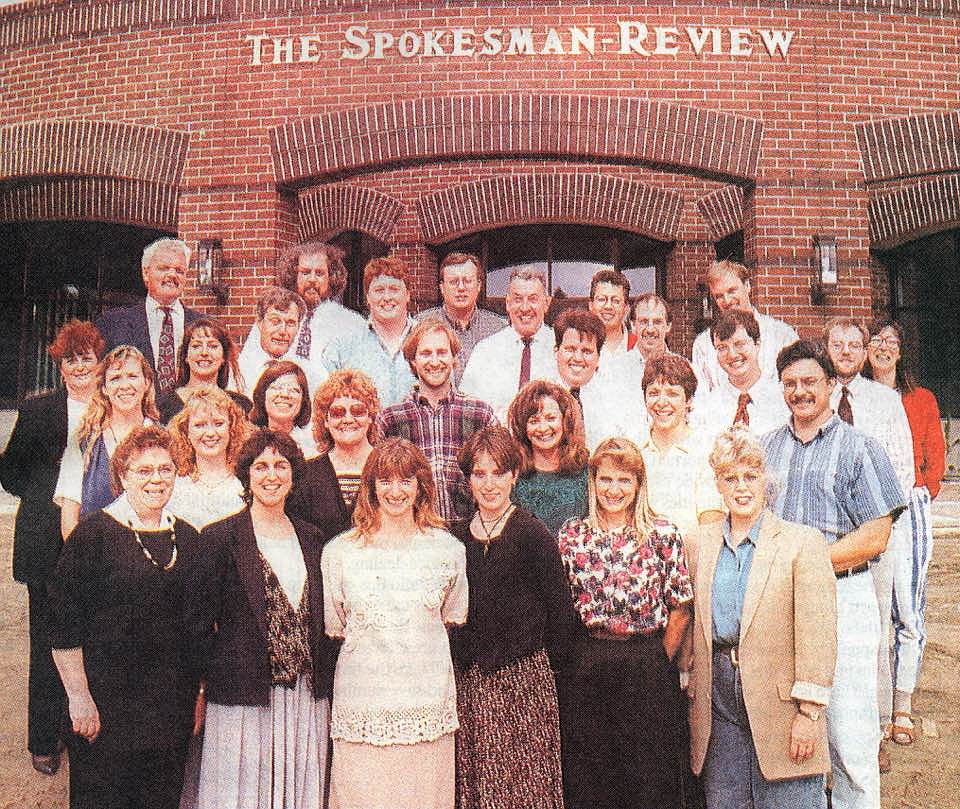 Employees of Spokesman-Review in mid-1990s after the new Coeur d'Alene office opens.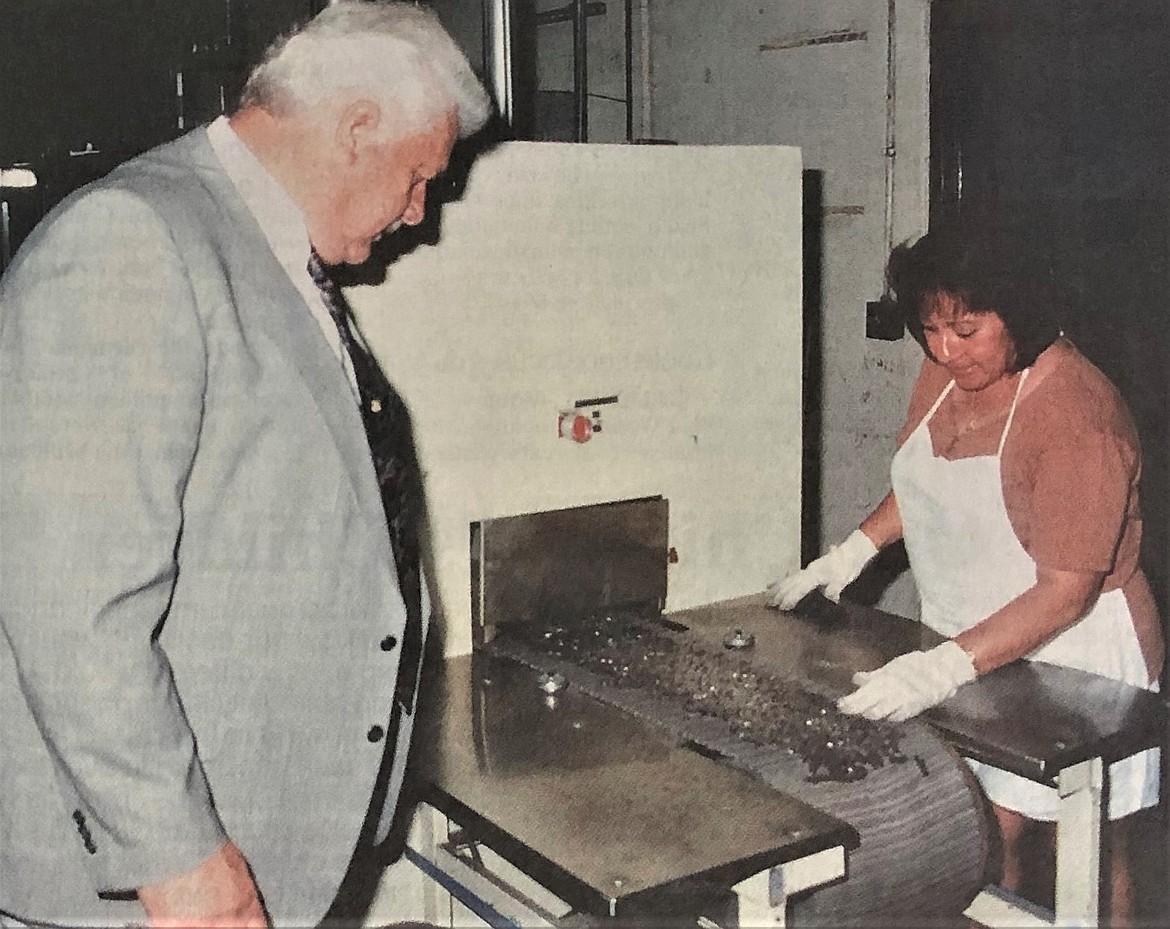 Buck Knives Chairman Chuck Buck inspects knives.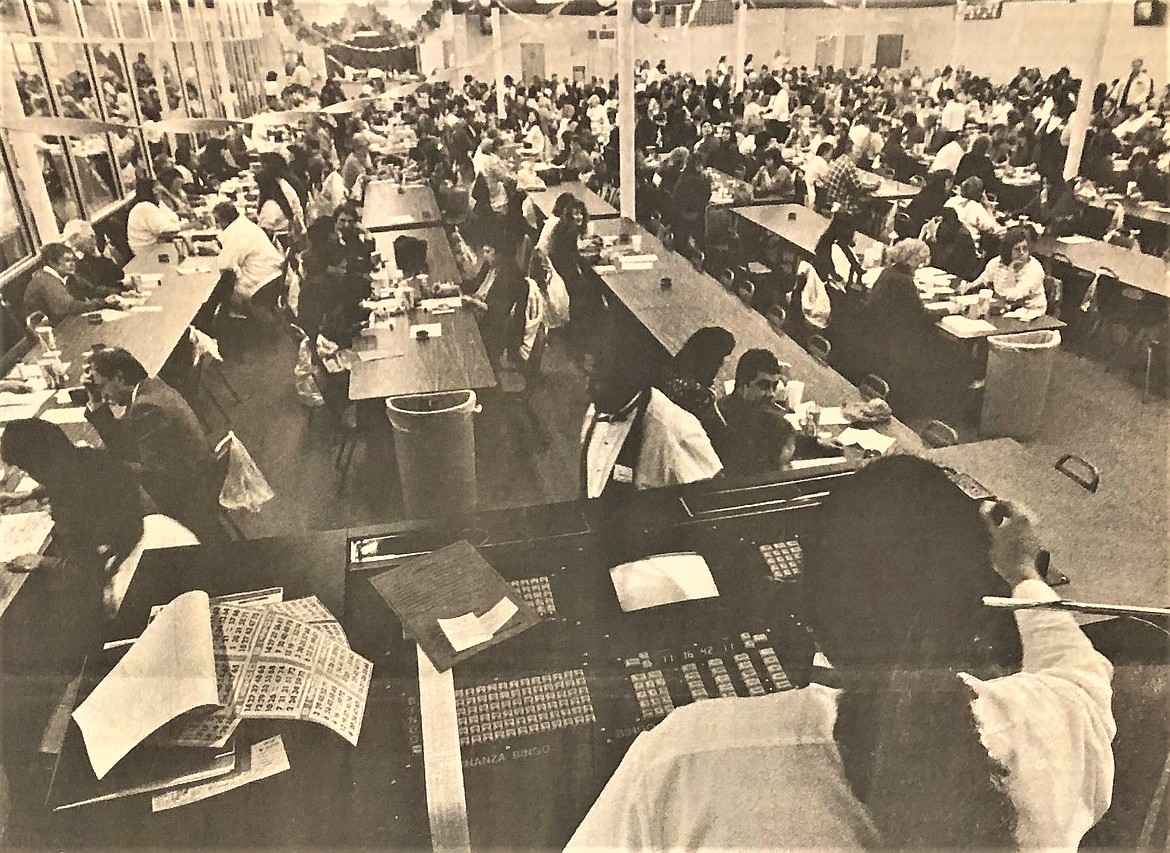 Coeur d'Alene Bingo Casino opening night attracted 1,000.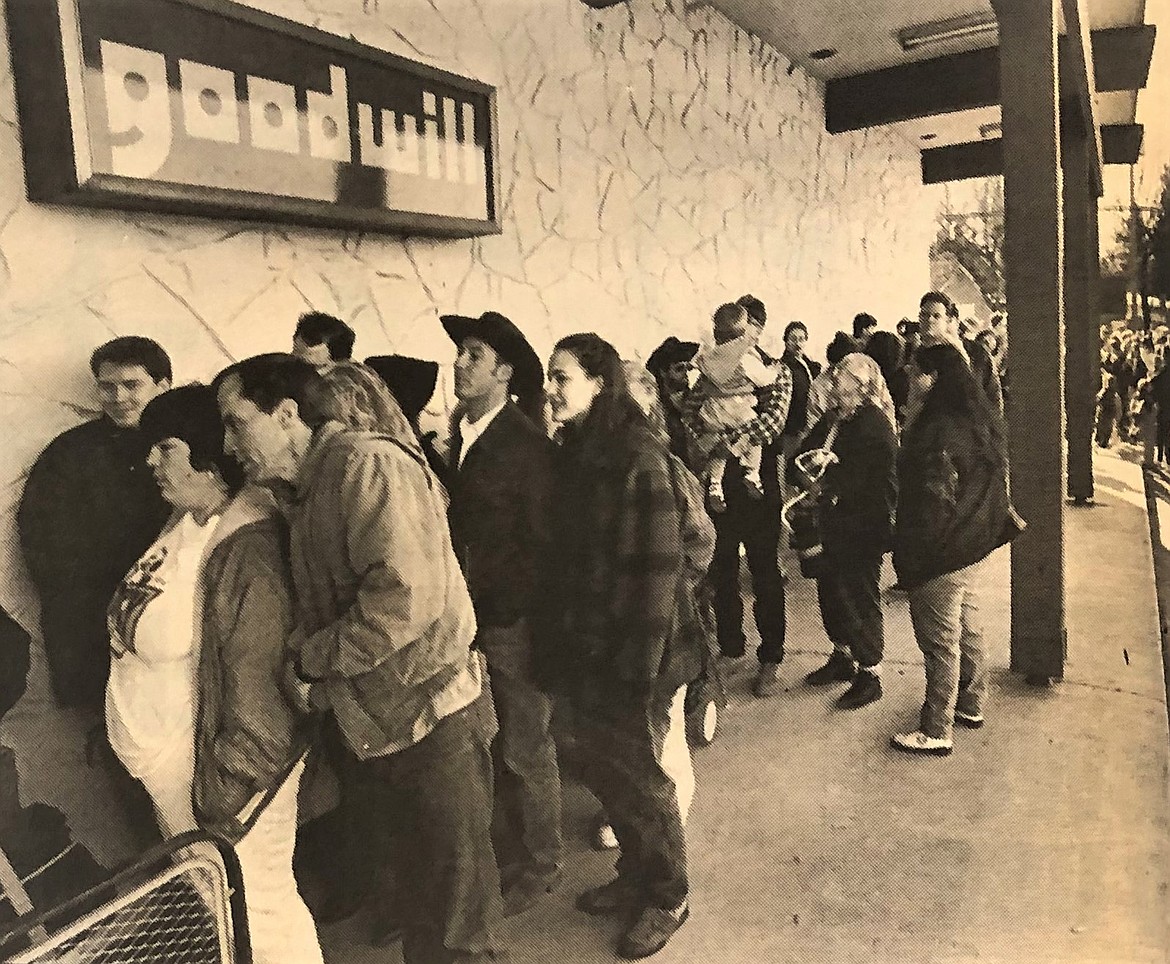 Crowds line up at March 1993 opening of Goodwill in the old Midtown Albertsons.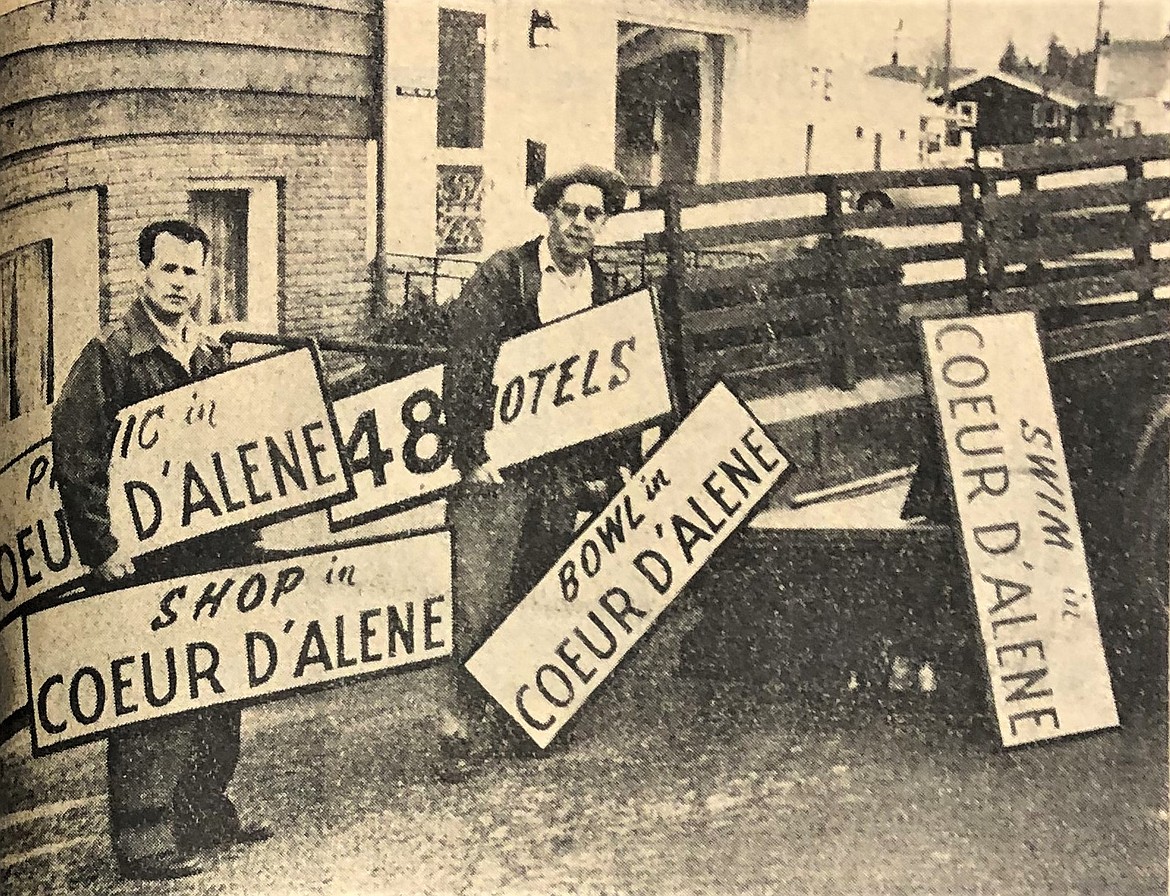 Lyle McDonald, left, and Harold Lines of the Coeur d'Alene Motel Association prepare to take Coeur d'Alene tourism signs to Cheney, Wash.
Previous
Next
According to a local legend, a mighty wind blew down the Coeur d'Alene Drive-in screen while "The Exorcist" was showing.
Or Mother Nature used lightning to cause the damage. Or perhaps the screen that toppled was at Orrin Lee's Showboat Drive-In. Or maybe it was a combination of the above. Confusing?
After talking with the former projectionists of those long-ago drive-ins, I believe there were two separate incidents involving the weather and those screens. And both drive-ins shut forever afterward.
I can hazard guesses about the dates of the destruction and hope that my research at the Coeur d'Alene Library provides solid answers in the future.
But I do know this. By spring 1953, there were three local drive-ins: The Showboat and Starlite, owned by Lee on his 30 acres, northwest of what is now the Interstate 90/Ramsey Road interchange, and the Coeur d'Alene Drive-In, off Government Way, operated by Willard and Maxine Seale.
Now, fast forward to about 1977.
Dwight Finney, an inventor and mine preservationist who splits his year between here and Pahrump, Nev., was a teenage projectionist on a dark and blustery night at the Coeur d'Alene Drive-In when lightning struck. Dwight said he had just changed over to the second reel of "The Exorcist" when a bolt hit the upper righthand corner of the screen and burned down a rod into the ground.
The former Coeur d'Alene High student said he had his back turned to the screen at the time.
"I heard a big crack and turned around just in time to see the screen come down and Linda Blair's head spin around and vomit pea soup," Dwight said by phone.
Dwight can't recall when the event occurred. But he remembers hustling to find another job to fill out the remainder of the drive-in season. Said he: "When you're poor in Idaho, you have to do a lot of things."
Meanwhile, Richard Lee, a projectionist at his father Orrin's drive-ins, remembers wind blowing down the western part of the Showboat screen. The front structure of the Showboat was a Coeur d'Alene landmark, shaped like a ship or a boat.
Television, Richard says, had killed the drive-in business. After the windstorm, his father decided not to rebuild. Richard guesses the incident occurred in the early 1970s. But he's not sure.
One thing he does know about this story: "People always get it wrong."
Handled
On St. Patrick's Day, 40 years ago, The Spokesman-Review punctuated its full-scale advance into North Idaho by launching The Handle. A weekly tabloid with an original staff of five reporters and one photographer, The Handle was inserted into the SR's old North Idaho edition.
That first issue filled 24 pages and included stories about Duane Hagadone's battle with Coeur d'Alene's shoreline ordinance, the successful North Idaho College wrestling team, and a centerfold spread on Coeur d'Alene tugboat captain Fred Murphy.
The Handle grew, along with the SR's Coeur d'Alene bureau, to twice weekly and eventually was folded into the North Idaho section daily.
Meanwhile, the staffers of the SR and The Press battled tooth-and-nail through the 1980s and 1990s, trying to outdo one another. I joined the fray on the SR side Sept. 9, 1984.
By 1994, the Cd'A bureau had expanded enough to occupy the whole second floor when the Cowles family opened its four-story, brick building on Northwest Boulevard, adjacent to Paul Bunyan's.
During the 2000s, the SR reduced its footprint in North Idaho, as newspapers everywhere struggled to survive.
By late summer 2017, I was the only staffer in a first-floor, 10-room suite, writing this column and compiling the Huckleberries Online blog. On Sept. 1, 2017, after 33 years of newspapering here, I literally turned the lights off in the Coeur d'Alene office.
It was a good run.
St. Paddy's Lake
Some of you may wonder why one of the 10 chain lakes of the Coeur d'Alene River basin is named Killarney. After all, other lakes in the boater's paradise have mundane names, like Black, Blue, Cave, Swan and Rose. On St. Patrick's Day 1953, "Old Hank" Metz, then 88, had the answer. "Old Hank" told The Press that the lake was named Killarney and inhabited by Irish immigrants in 1886, when he arrived there. Said he: "I have always given (them) credit for naming the lake. They must have been homesick." Sometimes, the obvious answer is the right one.
Huckleberries
• Poet's Corner: Once he felt quite indecisive/so that fault he tried to cure/once he felt quite indecisive,/but these days he's not so sure — Bard of Sherman Avenue ("Self-Improvement").
• Limericking: The voting on schools came and went,/So'd the Oscars, that splashy event./For "Most Blatant Lie Spinner"/There's a clear repeat winner,/A community wrecker named Brent — The Humble Spud ("WINNER").
• On this Day: Twenty years ago (March 19, 2003), The Press published a full-page feature about the life and Christian faith of Chuck Buck. Earlier that week, the Buck Knives chairman announced that his 101-year-old company was moving from El Cajon, Calif., to Post Falls, touting Idaho's business climate, livability and conservative legislature.
• Humble Start: Today, it's a destination casino, golf course and more. But on St. Patrick's Day 1993, the Coeur d'Alene Casino opened as a humble bingo hall that could seat 1,200. Opening night attracted more than 1,000 well-wishers, prompting Press newsman David Bond to say prophetically: "They're going to need a bigger parking lot."
• Grocery Wars: In February and March 1988, three grocery chains announced plans to open "super stores" here — Albertsons, Tidyman's and Safeway. Albertsons would convert the Idaho Transportation Department site into Ironwood Square. Super 1 owner Ron McIntire predicted the local grocery market could become too crowded. It didn't.
Parting shot
Local tourism promoters managed things differently 65 years ago, before the Coeur d'Alene Resort or I-90 existed. They would, for example, pack custom-made signs onto a trailer and head for Cheney, Wash., 65 miles away. That's what Lyle McDonald and Harold Lines of the Coeur d'Alene Motel Association did March 18, 1958. Among other things, the signs, 15 inches tall and 4 feet wide, read (a la those old Burma Shave ones): "Picnic in Coeur d'Alene," "Swim in Coeur d'Alene," "Shop in Coeur d'Alene" and even "Bowl in Coeur d'Alene." The two boosters left town intending to plant the signs along Eastern Washington roadways. The signs may have worked too well. Today, tourism is thriving. And the locals grouse about crowds.
• • •
D.F. "Dave" Oliveria can be contacted at dfo@cdapress.com.
Recent Headlines
---