Pribble named Idaho basketball coach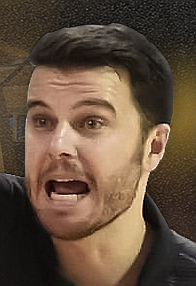 From news services
MOSCOW — Seattle University associate head coach Alex Pribble was named the 31st head men's basketball coach in University of Idaho history, Idaho athletic director Terry Gawlik announced Thursday.
"I am thrilled to name Coach Pribble as our next head men's basketball coach," Gawlik said in a university news release. "Alex is a proven program-builder, and as our search progressed, it became clear that he was the right person to lead our program into the future. His energy and commitment to building a championship culture and sustainable success are in perfect alignment with my goals for our men's basketball program."
Pribble, 37, replaces Zac Claus, who went 28-88 in four seasons as Idaho coach, before being fired following the Vandals' regular season finale this year, with a record this year of 10-21. Claus was a Vandal assistant for four seasons before taking over as head coach.
An introductory press conference for Pribble is scheduled for Monday at 3 p.m. at the ICCU Arena Alumni Club Room. The event will be streamed live on ESPN+.
Pribble joins the Vandals after serving as an associate head coach for four seasons at Seattle U, where he helped lead the Redhawks to back-to-back 20-win seasons for the first time since the 1960s and the programs' first Western Athletic Conference regular season title.
"We are committed to elevating all of our programs at the University of Idaho," Gawlik said. "Alex's ability to build relationships with our student-athletes, recruits, the Pacific Northwest basketball community, as well as our Vandal alumni and community members, will make a tremendous impact not only in the immediate future, but for sustained long-term success."
During the 2022-23 season, Pribble helped guide the Redhawks to their second consecutive 20-win season and a 7-0 start in WAC play. Seattle U's hot start in conference action received national attention as the Redhawks were among the top teams in the nation to receive votes in the USA Today Sports Coaches Poll.
In 2021-22, the Redhawks finished 23-9 overall, 14-4 in the WAC, earning a regular season conference championship. Seattle U started WAC play 8-0 for the first time in 10 years and saw the program reach 23 wins for the first time since 1957-58.
"I am truly honored to be the next head coach at the University of Idaho," Pribble said. "Thank you to President Scott Green and Terry Gawlik for giving me the opportunity to lead this program and be a part of this terrific university. My wife and I are excited to get to Moscow and meet the rest of the Vandal family.
"We are focused on developing a championship culture, with young men who will achieve excellence on the court, in the classroom, and as leaders in the community," Pribble added. "We hope that the Vandal fans will be excited about the brand of basketball being played in the ICCU. You will see a fast pace, a physical defense, and intensity on both ends of the court. We can't wait to get the journey started."
Prior to his time with the Redhawks, Pribble spent four years as the head men's basketball coach at NCAA Division II Saint Martin's University in Lacey, Wash. He took over a program that went 6-22 overall in the year before Pribble's arrival to quickly rebuild a program that put together four straight winning seasons, two consecutive trips to the NCAA Tournament, the program's first Sweet 16 berth and achieve the school's highest national ranking (No. 8) in program history.
In the 2018-19 season, Pribble led the Saints to a school record 26 wins and the school's first Great Northwest Athletic Conference regular-season championship. Pribble was named GNAC Coach of the Year.
Before his tenure at Saint Martin's, Pribble spent two seasons as an assistant coach at Eastern Washington from 2013 to 2015. During the 2014-15 season, Pribble helped the Eagles finish 26-9 overall and 14-4 in the Big Sky Conference to clinch a share of the regular-season title and garner the school's second NCAA Tournament appearance in school history.
"Alex is a west coast guy through and through," said Shantay Legans, former EWU assistant and head coach, now head coach at Portland. "He can recruit and run an offense with the best coaches in the country. He has been successful at every program he's been a part of and I have no doubt that he will continue that at Idaho. He simply knows how to win."
Prior to arriving at Eastern Washington, Pribble was the top assistant for two seasons at San Francisco State. He began his collegiate coaching career as a graduate assistant at California under then-head coach Ben Braun.
Pribble graduated with a bachelor of science degree in sociology in 2007 and a master's degree in education in 2008 from California. A walk-on at Cal before receiving a scholarship after his sophomore season, Pribble played in 76 games for the Bears under Braun during his four-year collegiate career.

Pribble will announce his entire basketball staff at a later date.
Recent Headlines
---