Logan Knight, 54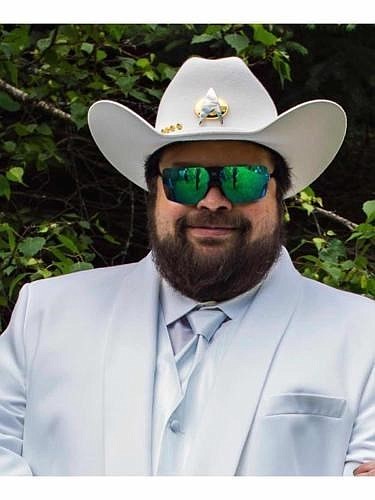 "Logan Montgomery Knight (the Man, the Myth, the Legend), born Richard Leslie Bowen, 54. Rathdrum, Idaho. Died Tuesday, May 30.
"Richie" was born June 13, 1968, in San Jose, Calif., to Richard Foy Bowen and Mary Beth Briggs Bowen.
He married Amy Marie Carpenter on Dec. 17, 1994. They were blessed to have 28 years together raising their five children.
Logan was an accomplished salesman and entrepreneur. He started several Comic book and game shops for and with his kids. He blessed many members of the community with his Christlike business ownership. Logan had many hobbies throughout his life. In his younger days, he played football, but he spent much of his time at the arcade playing video games or at home playing Dungeons and Dragons and the like. He enjoyed both sailing and scuba diving. He enjoyed playing board games and even creating and publishing several of his own tabletop games including The Red Dragon's Lair.
The most important thing in Logan's life was his love and dedication to his Lord and Savior Jesus Christ. Logan walked with Jesus in a way that inspired other people and brought comfort and joy to anyone he came across. It was his most important goal to lead his family to Jesus. At the time of his passing, his wife and all of his children have a strong relationship with his Savior.
Survived by his mother, Mary Beth Briggs Bowen, his wife, Amy Carpenter Knight, his children, Kirk Stiefer, Luke William, Leia Michelle, Trinity Ann and Katrina Grace, his grandchildren, Colt Walter, and Henry Montgomery, his sisters, Terry, Becky, Christina and Kacey, his nephew, Daniel Jacob, and his niece, Amanda Elizabeth and many other family members he loved. He was preceded in death by Richard Foy Bowen.
The Knight family would like to invite anyone who knew Logan to come to celebrate his life this Saturday, June 3, at 11 a.m. at Transform Ministries, 424 E. Wallace Ave., Coeur d'Alene, ID 83814
To honor Logan, the family has requested for those attending to wear a comic or "Star Wars" shirt.
In lieu of flowers, donations can be sent to Transform Ministries Coeur d'Alene in his honor.
"The Force will be with you, always." Logan Knight, 54
Published by Legacy Remembers from Jun. 1 to Jun. 9, 2023.
Recent Headlines
---