PREP GIRLS BASKETBALL: MacArthur doesn't miss in second half of Timberlake rivalry romp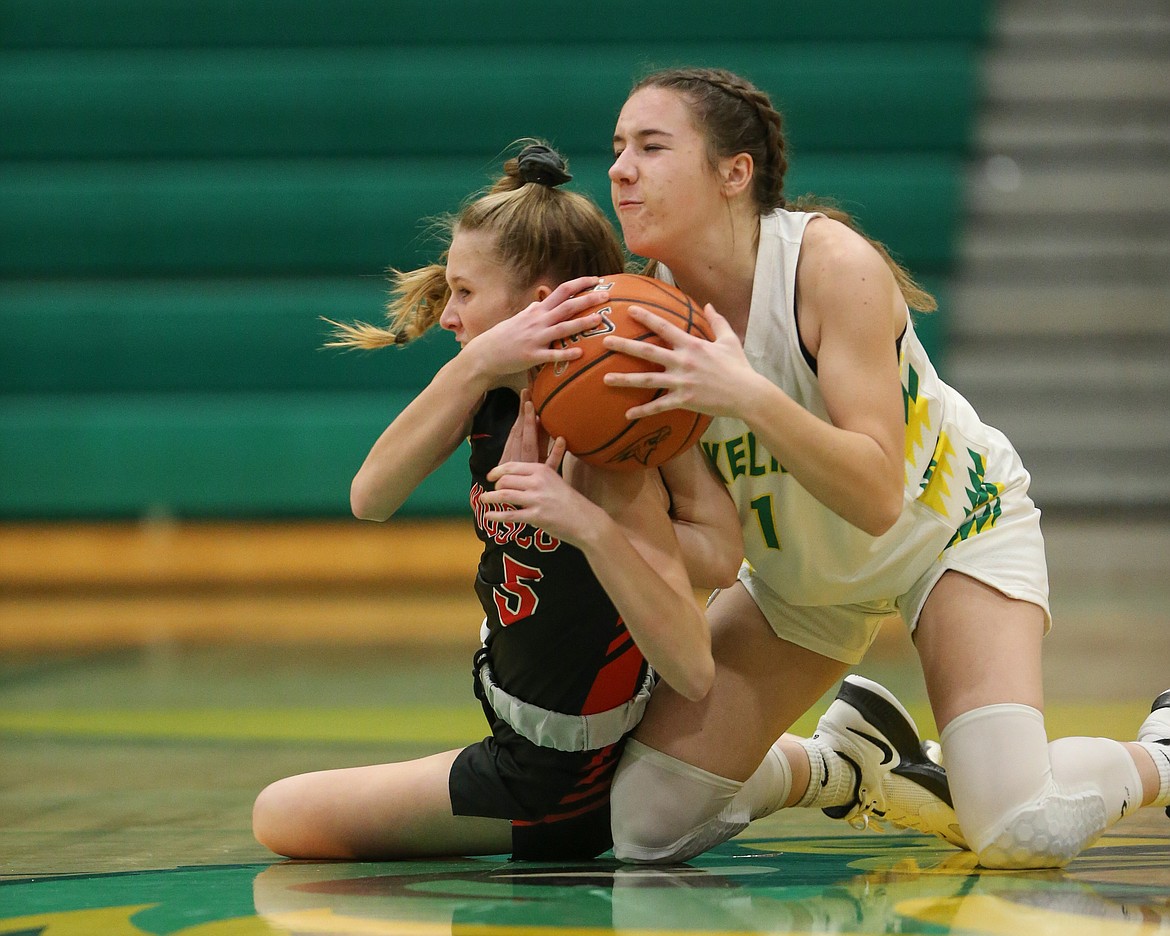 JASON DUCHOW PHOTOGRAPHY Kolbi Kiblen (5) of Moscow and Karstyn Kiefer (1) of Lakeland wrestle for the ball Friday night at Hawk Court in Rathdrum.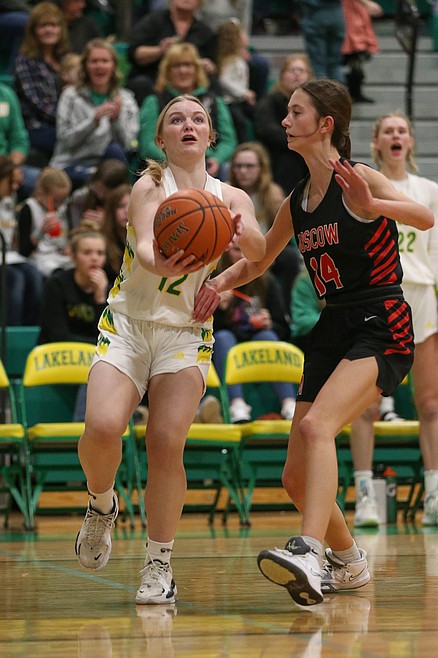 JASON DUCHOW PHOTOGRAPHY Emily Knowles (12) of Lakeland puts up a scoop shot as Taylor McLuen (14) of Moscow defends Friday night at Hawk Court in Rathdrum.
Previous
Next
|
January 28, 2023 1:14 AM
SPIRIT LAKE — Timberlake sophomore Jozee MacArthur scored 13 of her game-high 18 points in the third quarter, going 4 for 4 from the 3-point line and 2 for 2 on two-point attempts, lifting the Tigers past the Bonners Ferry Badgers 65-36 in the Backwoods Brawl spirit game at Timberlake High on Friday.
"She just absolutely exploded," Timberlake coach Matt Miller said. "It wasn't that she was taking bad shots (in the first half). But they were just going in (in the second half)."
Timberlake (16-2, 2-0 IML) led 29-18 at halftime, then outscored Bonners Ferry (10-9, 0-2) 23-6 in the third quarter to pull away. Following the game, Timberlake claimed the Backwoods Brawl trophy, which is two boxing gloves painted in each school's colors.
Timberlake clinched the top seed to the 3A District 1 tournament, where it will face Bonners Ferry in a best-of-3 series for the district's lone berth to state.
"We were able to get into some rhythm in the third quarter and just made some shots," Miller said. "We missed 19 3-pointers in the first half. They were good shots, but we just didn't make them. We got similar shots in the second half, and the math started working itself out."
Junior Asha Abubakari scored 17 for Bonners Ferry, which hosts Stillwater Christian of Kalispell, Mont., today.
Freshman Malia Miller scored 12 points for Timberlake, which hosts Clark Fork on Monday.
Bonners Ferry 13 5 6 12 — 36
Timberlake 10 19 23 13 — 65
BONNERS FERRY — Petesch 0, Kimball 0, Pluid 4, Blackmore 4, Abubakari 17, Baisden 2, Bayer 6, Sumpter 5.
TIMBERLAKE — C. Soumas 6, Dickinson 8, Young 12, Nelson 3, MacArthur 18, Needs 3, Miller 12, Chase 3.
Lakeland 55
Moscow 38
RATHDRUM — Junior Payton Sterling hit three 3-pointers and scored 13 points and the Hawks wrapped up the No. 2 seed to the 4A Region 1 tournament with the Inland Empire League victory over the Bears at Hawk Court.
"Payton has been shooting really well," Lakeland coach Tyrel Derrick said. "She's our leading 3-point shooter, and we really aren't the same team without her.
"And Ziya Munyer (a sophomore who added seven points) does a lot of the dirty work for us. And she's pretty mature in how she handles that role — she sets tough screens and often guards the other team's best interior player."
Landree Simon added 12 points for Lakeland (10-7, 2-6 IEL), which won 42-36 at Moscow two weeks ago. The Hawks held Moscow to three points in the second quarter — those points coming late in the quarter — in opening up a 31-12 halftime lead.
"I think we made up for some inadequacies (offensively) with our effort defensively," Derrick said. "We pushed hard all game to create uncomfortable situations for Moscow."
Maya Anderson scored 13 points for Moscow (5-14, 0-7).
Lakeland plays host to Timberlake next Thursday for senior night.
Moscow 9 3 12 14 — 38
Lakeland 17 14 14 10 — 55
MOSCOW — Knott 0, Kiblen 0, Parsons 5, Anderson 13, Thompson 6, McLuen 5, Leituala 1, Johns 8, Becker 0.
LAKELAND — L. Simon 12, K. Kiefer 5, Munyer 7, Knowles 0, Gallus 0, Holte 4, K. Simon 7, L. Kiefer 7, Sterling 13.
N.I. Christian 40
Spokane Athletic 26
SPOKANE — Chelsey Cate had 13 points and 11 rebounds for the Royals in a nonleague win over the Spokane Athletic Co-op at Spokane Fitness Club.
Danica Kelly had 11 points, eight assists and five steals, Rylee Overturf eight points, six rebounds and two blocked shots and Symone Pilgrim six points and eight rebounds for North Idaho Christian (28-2), which travels to Christian Heritage of Edwall, Wash., on Tuesday.
Hanna Vermeer scored 13 points for Spokane Athletic.
N.I. Christian 14 9 11 6 — 40
Spokane Ath. 10 5 3 8 — 26
NORTH IDAHO CHRISTIAN — Cate 13, Salaiz 0, Kelly 11, Overturf 8, Pilgrim 6, Sandwald 2.
SPOKANE ATHLETIC CO-OP — H. Vermeer 13, Ed. Smawley 3, Parris 2, A. Vermeer 2, A. Smawley 6.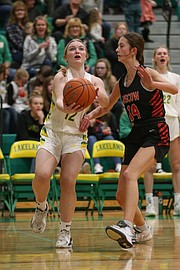 Recent Headlines
---