Young artist earns scholarship, recognition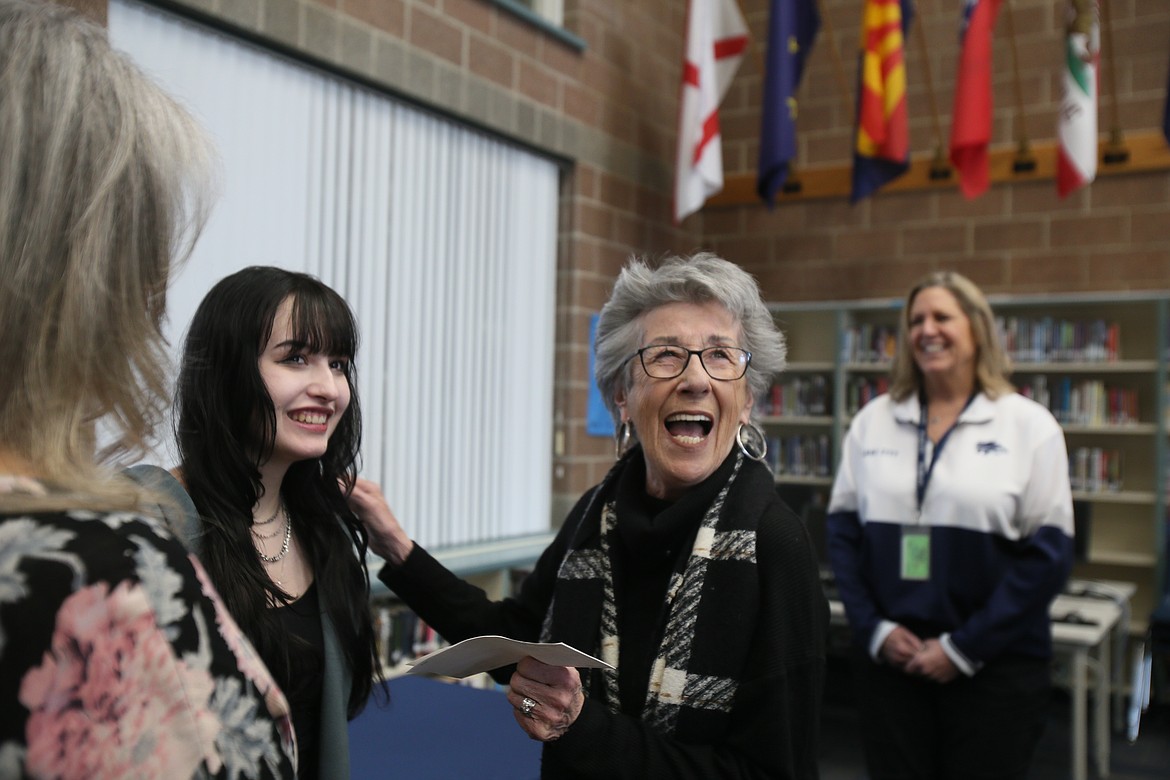 A joyful Ellen Travolta presents Lake City High School senior Jos Benak with a $500 check from the Jack Bannon Memorial Scholarship Fund during a small ceremony Monday in the school library. Jos plans to use the money to host a regional student art show this spring.
DEVIN WEEKS/Press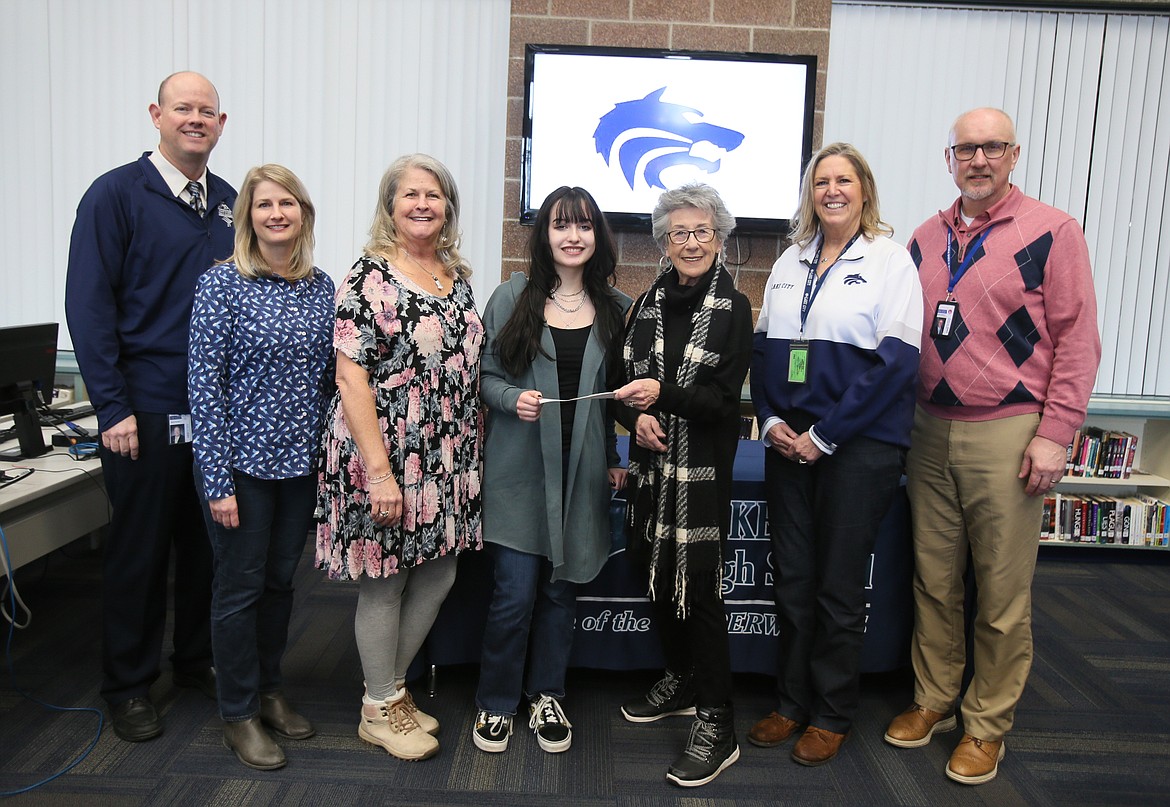 A small ceremony was held Monday to celebrate Lake City High senior and honors art student Jos Benak, who received a $500 Jack Bannon Memorial Scholarship to continue her work in the arts. From left: Coeur d'Alene Superintendent Shon Hocker, art teacher Cynthia Chapman, Coeur d'Alene Arts and Culture Alliance Executive Director Ali Shute, Jos, Jack Bannon Memorial Scholarship founder and actress Ellen Travolta, LCHS Principal Deanne Clifford and Assistant Superintendent Trent Derrick.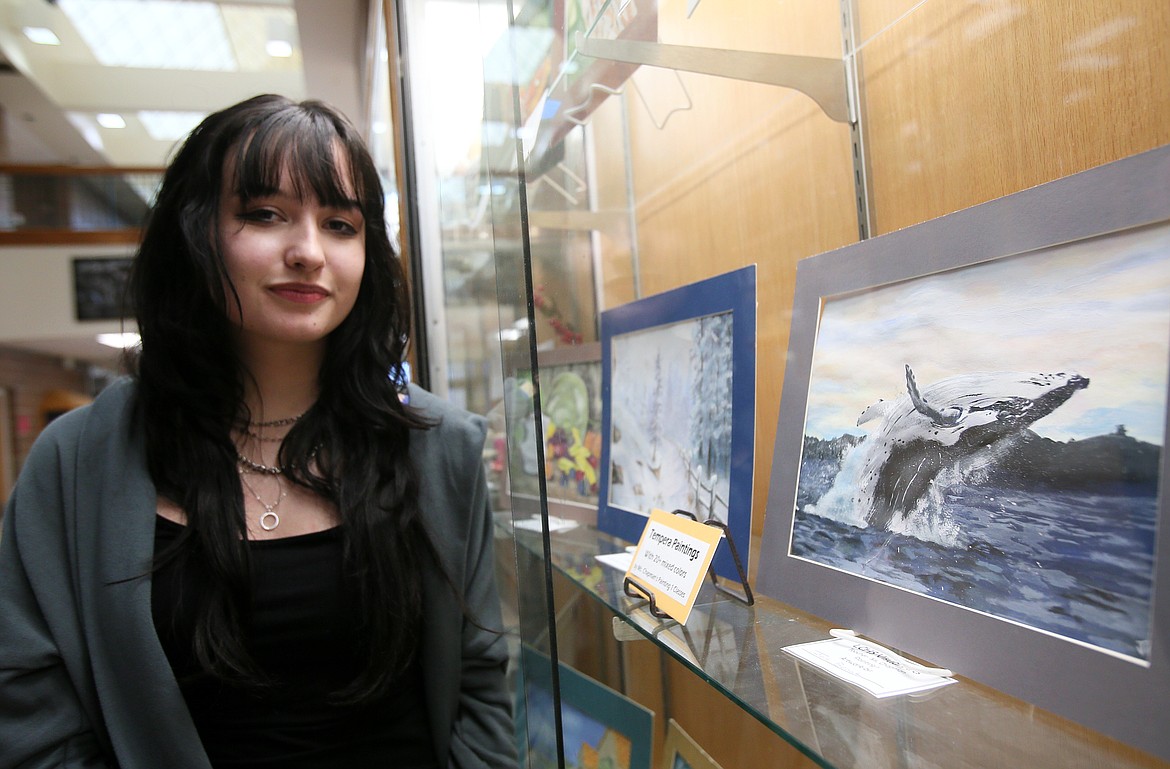 Lake City High School senior Jos Benak on Monday stands next to her tempera painting of a breaching whale on display in a hallway outside the school library. The young artist received $500 from the Jack Bannon Memorial Scholarship Fund and is in the process of planning a regional art show.
Previous
Next
by
DEVIN WEEKS
Staff Writer
|
January 25, 2023 1:00 AM
A Lake City High School senior is already creating a scene of beauty and art advocacy on her life's canvas.
Jos Benak is the recipient of a $500 scholarship from the Coeur d'Alene Arts and Culture Alliance as part of the Jack Bannon Memorial Scholarship Fund. She was presented the funds Monday afternoon during a small ceremony in the school's library.
She won't be keeping the money to herself. It will be used to help fund a student art show she is working to produce this spring, which will be part of her senior project.
"I just really like art," Jos said. "I don't think very much of my own art is going to be in the show, but I'm excited to work with other artists that I go to school with and that I know from other schools. Especially performers, like everybody in band.
"I also thought it would be a good way to end my senior year."
She plans to reach across district lines and invite students from around the region to participate in the show. She is especially looking forward to working with the Coeur d'Alene Tribe and students who live on the Coeur d'Alene Reservation. Although she said she is not enrolled in tribal membership, her family is from the Standing Rock Sioux Reservation in South Dakota and she has great love for the Coeur d'Alene people.
"I very much identify with my indigenous culture," Jos said. "I kind of wanted to share that, especially with kids on the reservation. I spent a lot of time there. I never went to school there, but my family is from there. I feel like it could be almost like a bubble sometimes."
Jos also plans to recruit student musicians and to invite fancy powwow dancers to perform at her show.
"I wanted to find a venue somewhere in Coeur d'Alene to have this showing for a weekend," she said. "I'm surprised how easy it was to organize something like this, I always thought it would be hard. I thought it was something adults could really do. I'm excited."
"You're a producer," a smiling Ellen Travolta said to her during the ceremony.
Travolta created the Jack Bannon Scholarship to honor her husband, Jack Bannon, who passed away four years ago, and his wishes to encourage, support and reward worthy students in their quests to further their creative artistic passions.
"The thing that makes you so unique is you're a student doing this," Travolta said to Jos. "Usually the older people, or the more mature I'd rather say, get involved in these kinds of things and fundraising."
"I'm excited," Jos said. "I'm also a little nervous, but I'm more excited than anything."
Also in attendance were Coeur d'Alene Superintendent Shon Hocker, Assistant Superintendent Trent Derrick, Lake City Principal Deanne Clifford and Jos' honors art teacher, Cynthia Chapman.
Hocker commended Jos on including this work in her senior project.
"This is awesome," he said. "The timing is impeccable, quite frankly. We obviously love the arts as well, and we're doing everything we can to make sure they stick around for a long time. We have a huge levy vote in our community coming up in just over a month. Without those funds, things like this art program are in jeopardy of not being around. So, good for you — keep spreading that message out there and telling people how important art is and the great things it can do in the community. That will keep those kinds of things happening."
Chapman said Jos is an amazingly talented artist.
"She's crazy creative," Chapman said. "She will layer materials and cut stencils, she'll put things together you wouldn't expect artistically that a student would put together."
Jos said it's because of Chapman's art class that she was introduced to mixed media, which she really enjoys.
"Before that, I really wouldn't have gone outside of ink," Jos said. "I was always interested in art as a toddler. Going into school, it was really cool when I got to take art classes. It kind of just pushed me forward from there. And my dad's an artist, and my mom's always been supportive of it. My whole family has, so I'm lucky for that."
Travolta said she was impressed with Jos for thinking of showcasing the talents of her friends and peers through this project. She said arts programming is so important for young people because it takes them to places of creativity, happiness and community.
"We need things for children — paths, choices," the actress said. "You're taking a ridiculous amount of choices away from young people when you cut arts programs. Theater is a community; it's a family. Same with any of the arts. You meet people, you have a shared reality. It's healthy."
Jack Bannon Scholarship info: www.artsandculturecda.org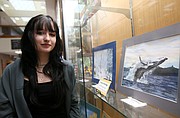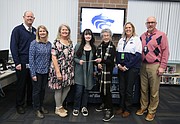 Recent Headlines
---