Little: 'Great shape here in Idaho'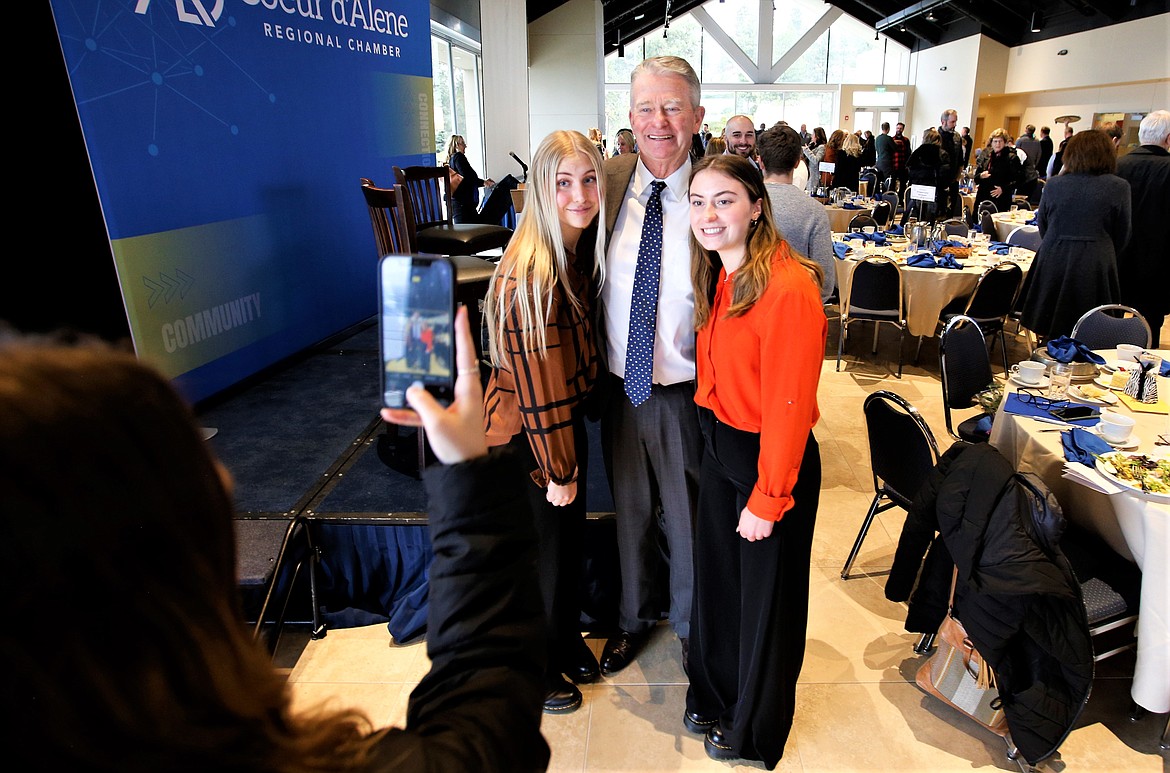 Gov. Brad Little poses for a picture with Lake City High School students Ariana Aalto, left, and Piper Stephens following his talk before the Coeur d'Alene Regional Chamber at the Hagadone Event Center on Tuesday.
BILL BULEY/Press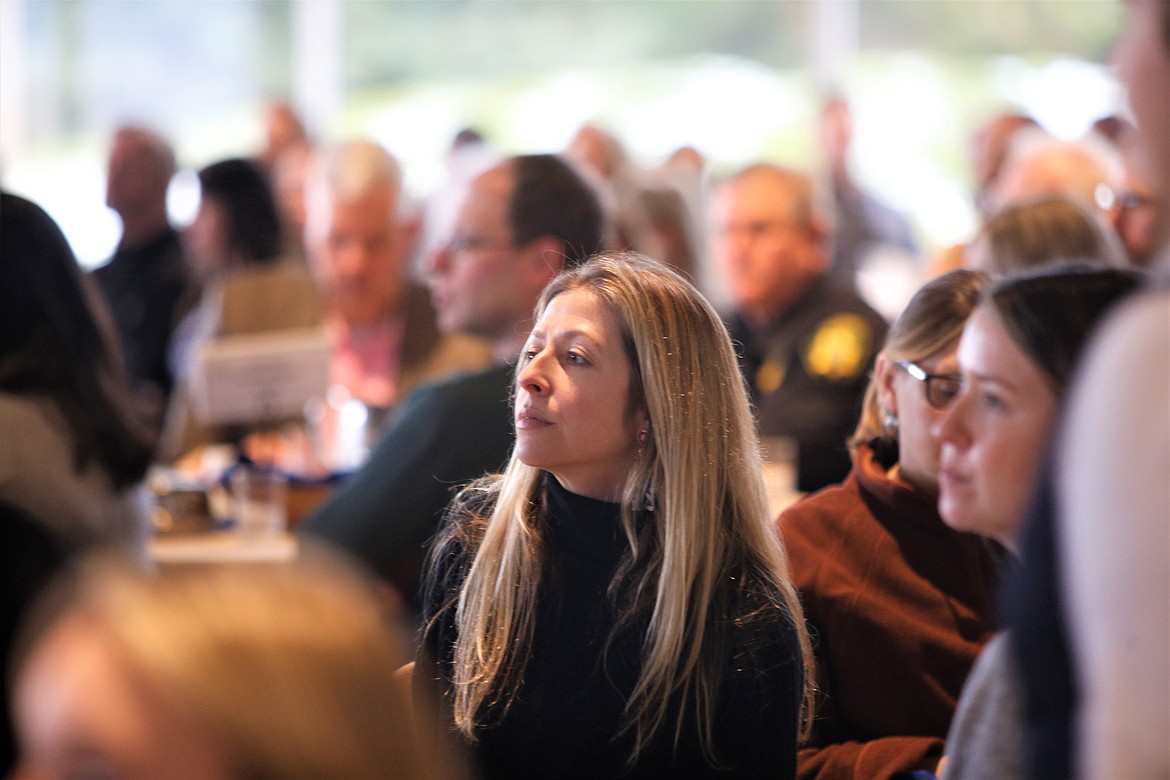 About 350 people attended the Coeur d'Alene Regional Chamber luncheon at the Hagadone Event Center to hear from Gov. Brad Little on Tuesday.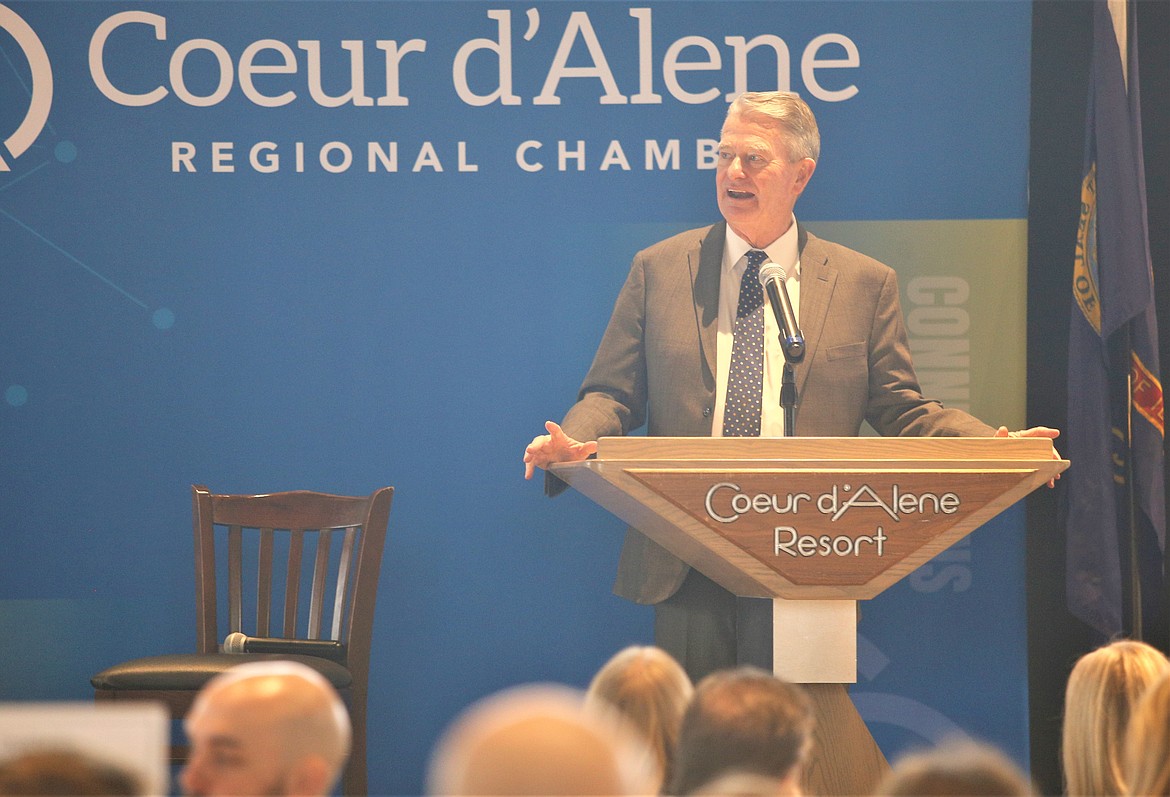 Gov. Brad Little speaks before the Coeur d'Alene Regional Chamber at the Hagadone Event Center on Tuesday.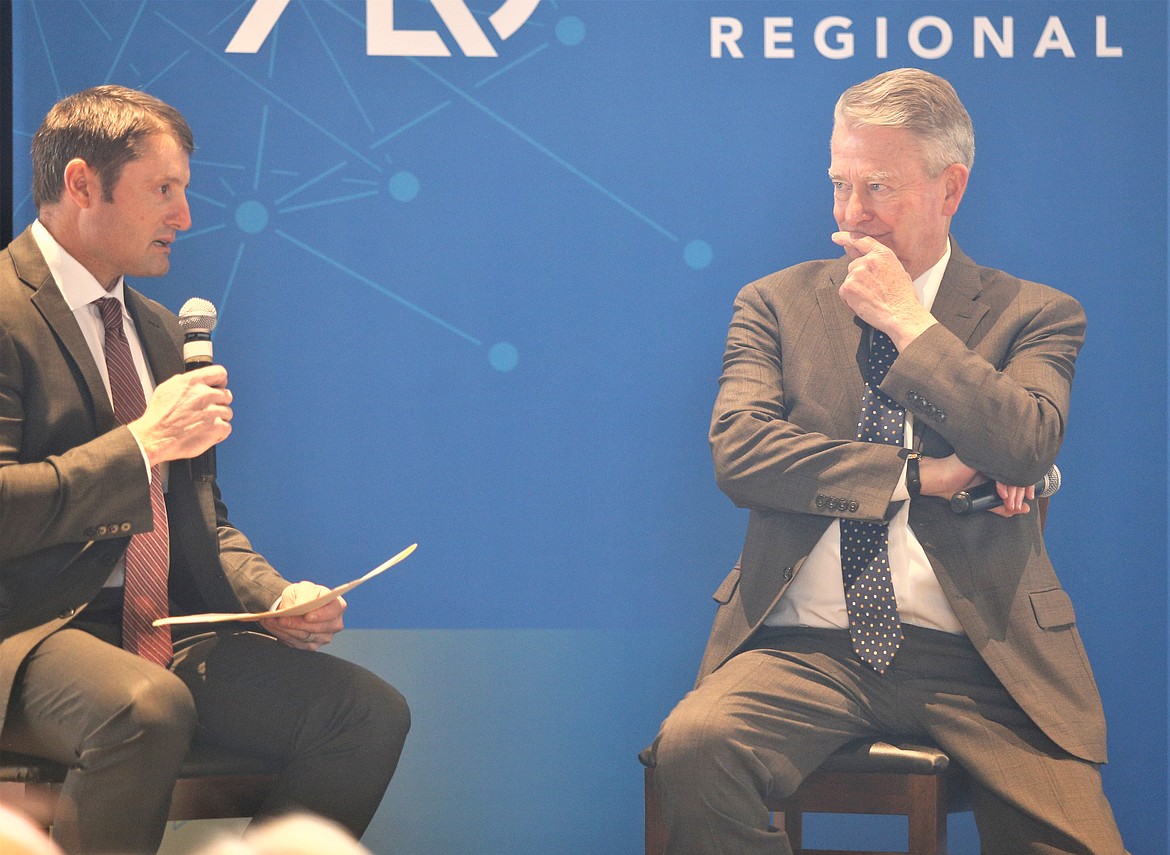 Gov. Brad Little, right, listens to Tyrel Stevenson ask a question at the Hagadone Event Center on Tuesday.
Previous
Next
by
BILL BULEY
Staff Writer
|
January 25, 2023 1:08 AM
COEUR d'ALENE — When Gov. Brad Little gave his State of the State address earlier this month, he said he was feeling "fairly unhinged about where we are right now."
On Tuesday, he was overflowing with confidence.
"Where we are today is just almost incredible," he said to about 350 people during a Coeur d'Alene Regional Chamber luncheon at the Hagadone Event Center.
Little, re-elected in November, cited a litany of good news regarding the state's economic growth, unemployment rate and credit rating.
The state is projected to have a $200 million surplus each year for the next five years, Little said.
"We're going to be in great shape here in Idaho," he said.
He was critical of the federal government for printing and borrowing money to make infrastructure improvements.
Idaho, Little said, is doing it right when it comes to improving roads, bridges and buildings.
His budget calls for investing $96.8 million in transportation; $200 million to improve local bridges; $35 million to improve airports and $10 million for pedestrian and safety projects.
Little's spending plan also reserves $100 million "for economically significant local transportation projects that are otherwise beyond the reach of local government finances."
"We're doing it with cash. We're not increasing fees. We've not increasing taxes. We've got cash flow," Little said.
The governor, who received a standing ovation, was in good spirits and cracked a few jokes that went over well.
When asked what more could be done to improve connectivity between Boise and North Idaho, he smiled and said, "I don't think you want to be that close."
When talks turned to the influx of people moving to Coeur d'Alene from California and western Washington, Little said the two best real estate agents might be California Gov. Gavin Newsom and Washington Gov. Jay Inslee, a dig at their policies that are driving people away.
"It's a horserace between who is Realtor of the Year in Coeur d'Alene. Both of them kind of held the job," Little said, as the crowd laughed.
But he said he couldn't blame people for moving to North Idaho.
"Everybody wants to live here. Who wouldn't?" he said.
Little said he often receives calls from officials in other states asking what Idaho is doing differently to be so fiscally sound.
He said the state has a light hand when it comes to regulating businesses. It has cut taxes under his watch and provided tax rebates.
Little and the Legislature have returned $2.7 billion to Idahoans over the past four years, with relief on income taxes, property taxes and an expanded grocery tax credit, according to the governor's 2023-24 budget highlights.
"We don't want to be a state where there's regulation that causes friction," Little said.
He said his budget plan sets aside an additional $120 million of state funding for ongoing tax relief to be directed to local government property tax mitigation.
Property taxes are "always tricky" and different everywhere, Little said.
He said when the state provides funds for water, sewer, road and bridges, that's property tax relief.
"The solution to one area's property tax problem is different than it is in other places. That's why the Legislature always talks about doing something on property taxes and they have a hard time doing it," he said.
Little wants to expand the Idaho Launch program and invest $80 million to provide $8,500 for qualifying high school graduates to use at any Idaho university, community college, career technical program or workforce training provider.
"I'll need everybody's help in the room to be successful," he said.
Little briefly addressed accreditation concerns and the recent controversy with trustees at North Idaho College.
He praised the mission and purpose of community colleges to provide affordable education and create a skilled workforce.
"Elections have consequences. That's just the way it is," he said.
Linda Coppess, Cd'A chamber president and CEO, called on members to support Little's agenda and upcoming school levies.
"We're not in a world right now where you can sit on the sideline and say, 'I don't have time to vote,'" Coppess continued.
She said Idahoans never lose sight of what is most important: opportunity, faith, family and freedom.
"That spirit of service is alive and well here in Kootenai County," she said.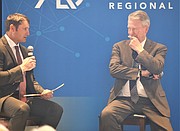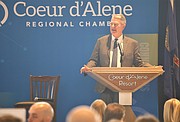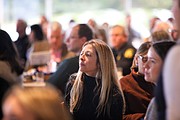 Recent Headlines
---