THE CHEAP SEATS with STEVE CAMERON: But first, we HAVE to talk about football — and football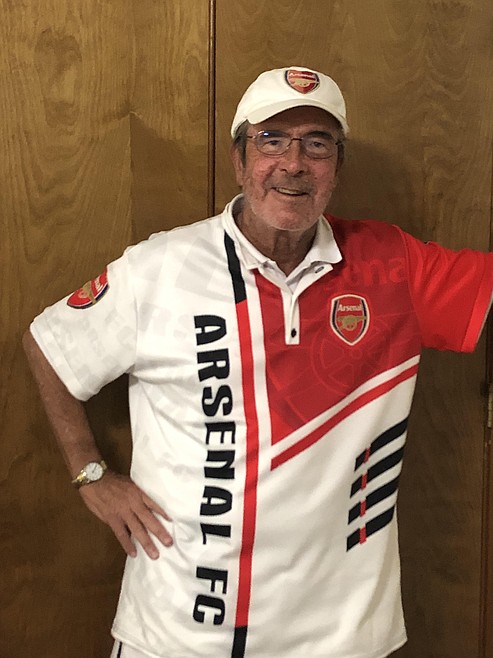 |
January 24, 2023 1:15 AM
Yes, yes, I have all your questions, comments and threats to hurl yourselves into the Spokane River over the suddenly ordinary Zags.
We're going to dig into the subject on Wednesday, and address the puzzle at the heart of it all …
Will this team be a genuine factor come tournament time in March?
Or is Gonzaga, this year at least, just another team that would be gobbled up by the big boys?
But that's for another day.
At the moment, we HAVE to talk about football — both the kind that millions pledge their heart and soul here in the States, but also the one actually played with feet in England.
You must have noticed, somewhere along the line here, that I am a diehard Arsenal fan.
Surely, you know that's the footy club in North London that — ahem! — is top of the table as the Gunners hit the Premier League halfway mark (19 games).
As a Gooner for life and beyond, there's no way I'm writing a column today without mentioning Sunday's 3-2 triumph over the old rival Manchester United.
I mean, seriously?
Let's see now, when did we get the winning goal in that thriller?
I'll get back to you on that in a minute.
MEANTIME …
Back here at home, the NFL conference division games gave us some drama, and also some comedy that might never be surpassed.
Anyone who has ever played a snap in pro football can sleep soundly this week, knowing that however silly, stupid, ill-conceived or hilarious a blunder in which they participated …
It has been topped.
And I'm guessing the backyard goofball antics of the once-proud Dallas Cowboys will stand the test of time as the dumbest bit of clowning we'll ever see, let alone in a playoff game.
If you haven't already watched the 'Boys' goofiness by now, Google it immediately.
I can't possibly describe what happened any better than the nameless scribe who was writing for the Stadium web site.
Here you go …
"Now, we all know that the key to a good joke isn't just a punch line — you've got to have a good setup, too.
"Let's start by making RB Ezekiel Elliott the center on this play. He'll be an ineligible receiver, of course.
"Then, let's stick a hodgepodge of receivers and offensive linemen outside each of the hash marks.
"What this does is create not only a sense of confusion, not only a fear that Mike McCarthy, of all people, is playing four-dimensional chess, but it also takes a really long time for everyone to figure out what the hell is going on.
"If you were watching at home at this point, you wondered: Are we about to witness a modern-day Music City Miracle?
"Do the Cowboys have a brilliant play call lined up that even the 49ers aren't capable of stopping? Am I about to witness history?
"And then, in a span of like two seconds, the incredible play unfolded.
"The Cowboys, in need of 76 yards to reach the end zone and give kicker Brett Maher a chance to blow the game himself, throw the ball 8 yards to KaVontae Turpin who, in the words of play-by-play announcer Kevin Burkhardt, 'gets smoked right away.'"
Thanks for the lovely play-by-play, gang, but you missed one giggle — Elliott, as the center, got absolutely blown up at the snap, and almost landed in Dak Prescott's lap.
Man, you've gotta love the Cowboys.
Not only underachieving again, those lads, but giving us comedy that should have been on Saturday Night Live.
ON THE serious side, we now have four teams left in the Super Bowl chase — and one frightened fan base.
Chiefs quarterback Patrick Mahomes almost certainly will play this weekend when Kansas City hosts the sizzling Bengals in the AFC title game.
However, MVP front-runner Mahomes will be hobbling after suffering a high ankle sprain.
My stepson is a Chiefs fan from birth, and actually risked pneumonia to sit in the cold and light snow at Arrowhead last Saturday as his heroes dispatched Jacksonville.
He's already called in sick from work this week, planning to light candles as a full-time job.
Cincinnati has beaten the Chiefs three straight times, and that was with Mahomes healthy.
Seeing the Bengals manhandle Buffalo in a snowstorm suggests that the Chiefs will need some big-time limping and major-league throws from Mahomes to avoid another loss to the guys in stripes.
More candles, son!
As for the NFC, the 49ers proved against Dallas that they have a beast of a defense — which we know from first-hand experience — and it will have to come up big if the Niners are going to win in Philly.
The Eagles are rugged on both sides of the ball, and with all due respect to Brock Purdy, the boy is not Jalen Hurts (former college powerlifter).
These two teams have stars everywhere, but the QB matchup is just too obvious to ignore, so …
Purdy will probably throw for 500 yards.
(Just kidding!)
AH, YES…
At last, as promised, some gloating and smugness from your hometown Gooner.
I didn't tell you how that game against Man United ended, did I?
OK, since you asked …
The match was poised at 2-2 (despite Arsenal outshooting United 25-6), but despite what TV play-by-play man Martin Tyler called "a siege" on goal by the Gunners over the final 15 minutes, we couldn't break through.
Finally, as the clock hit 90 minutes and the game headed to stoppage time, newcomer Leandro Trossard (signed on Wednesday, registered on Friday) made a nice run toward the box on the left side.
Trossard pulled defenders toward him, setting up a slick pass to Oleksandr Zinchenko near the corner.
I could see that Zinchenko had an open lane to play the ball into the box, and dove on to the living room carpet.
The pass ricocheted off Martin Odegaard, floated up near the net, and …
Striker Eddie Nketiah twisted his body, got a boot high enough, and gently poked the ball past United keeper David De Gea.
The crowd went nuts. I went nuts.
But wait …
There was a hint of offside, either by Zinchenko or Nketiah.
So, we had to sweat out a review.
It lasted about three hours, in mental agony time.
Finally, Tyler shouted: "GOAL!"
(I believe that's what he said, but I had fainted.)
Arsenal, the youngest team in the Prem, are now 16-2-1 and lead reigning champs Man City by five points, with a game in hand.
Me?
Honestly, I knew there was no offside. I've watched the entire game recording 16 times, and I'm sure of it.
Let me just close by repeating a phrase referring to Manchester United that I learned first in 1998, the year I fell in love with Arsenal …
Uh, maybe not.
I love my job, too.
Email: scameron@cdapress.com
Steve Cameron's "Cheap Seats" columns appear in The Press four times each week, normally Tuesday through Friday unless, you know, stuff happens.
Special treat today: A guest appearance from iconic Argentinian football announcer Andres Cantor …
"GOOOOOOOOOOOOOOOOOAAALLLL!!!"
Steve suggests you take his opinions in the spirit of a Jimmy Buffett song: "Breathe In, Breathe Out, Move On."
Recent Headlines
---