Movers & Shakers
|
January 19, 2023 1:00 AM
Murphy to retire from STRATA Inc., Anderson named new CEO
STRATA announced that James (Jim) Murphy, the firm's president and CEO, retired effective Dec. 31, 2022. Paxton Anderson, P.E., currently serving as COO, has been named as the new president and CEO of the company upon Murphy's retirement.
Murphy has served in his current role as CEO since March 2017. Prior to this, he served for five years as chief operating officer, where he oversaw the company's operations.
During Murphy's tenure as CEO, he played a critical role in leading and reshaping the firm with changes in strategy and leadership with a particular emphasis on instilling our Core Values of Safety, Integrity, Teamwork, Professionalism, Accountability and Respect.
"Jim has been a mentor to many, and his leadership has made an indelible impact on the future of the firm. I want to thank Jim for his guidance, support and cultural legacy that will last well beyond his retirement," Anderson said.
Anderson has been with STRATA for 16 years.
"I am pleased with the success we've achieved these past several years, and I am excited to see where the team at STRATA takes the company in the coming years. The cultural transformation we completed launched a new and vigorous approach to success by focusing on people. The team is poised to achieve new heights in both internal and external client success," Murphy said.
STRATA was established in 1974 and originated from an engineering and materials testing partnership to provide comprehensive and complete service within our profession. Today, STRATA provides geotechnical engineering consulting and construction and materials testing, offers three AASHTO-accredited laboratories, has a fleet of mobile laboratories, and is comprised of more than 100 team members within six offices throughout the Intermountain Northwest.
• • •
If you have a new, relocated or expanded business, or announcement of events, promotions or awards, The Press wants to let our readers know. Email the details to hmain@cdapress.com.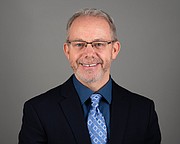 Recent Headlines
---