There's no place like home for nonagenarian
|
January 18, 2023 1:00 AM
One of my favorite people whom I've never met is Jim Carkhuff. I've come to "know" Jim through his son, Jay, with his funny and poignant Facebook posts about life with his dad. Jim turned 96 on Sunday, enjoying an angel food cake with strawberries and whipped cream.
I've been touched by the fact that due to being blessed with good health and the care provided by Jay and son-in-law Jake Kline, Jim is living his best independent life at the Cougar Gulch home where he and his wife, Beulah, settled in 1970 with their four children. After 69 years of marriage, Beulah passed away in 2019.
Now, Jay and Jake live in the Depression-era milk house that's been remodeled into a separate dwelling next to the main house. Although Jim's mobile, thanks to a cane and a walker, and still quite able to climb the stairs to his second-floor bedroom, it's wonderful that he has the company and regular meals prepared.
"Although Dad is forgetful, he's generally happy and finds life interesting," said Jay. "The thing he asks most is, 'How old am I?' and sometimes thinks he's late for work."
Speaking of work, Jim's life was filled with most interesting experiences. Born in 1927 and a child of the Depression, he attended college, earning a master's in vocal performance. His wife was a skilled pianist, so they did much traveling in the first two decades of marriage and performing. After settling in Cougar Gulch, Jim, who was also a skilled carpenter, worked in construction including as foreman for the construction of the Nazarene Church on Fourth Street in Coeur d'Alene, and the Osprey Restaurant before joining the crew that converted Henley Aerodrome into Silverwood Theme Park. Jim's skills and artistry on the first phase of the park was utilized in the elegant and detailed carpentry techniques as are found at Lindy's Restaurant, the Victorian house, mercantile, saloon and theater.
As construction of the first phase of Silverwood came to an end, most of the carpenters were released, but Jim stayed on full-time running the woodshop. He remained at Silverwood through the construction and development of the carnival and roller coaster section of the park, retiring in his 70s.
But wait, there's more; Jim pursued oil painting and sculpture. His home is filled with paintings of scenes from the Old West and memories of his childhood in Colorado. There's currently a large display of his paintings and sculptures at Cisco's Gallery on Fourth Street. ciscosgallery.com/collections/jim-carkhuff
I'll continue to enjoy Jay's Facebook posts about his dad, even more now that I know that the nonagenarian who still finds life interesting continues to lead a most-interesting life!
•••
The moral of the story for the younger generations is that every old person you might see who's walking slow or sipping coffee at the local café hasn't always been old. There are so many interesting stories and lives lived, with each wrinkle and gray hair a badge of honor.
•••
Happy Birthday today to Beatrice (Bea) Fisher (100)! Bea graduated Coeur d'Alene High School in 1941 and still walks 2 miles a day! Also celebrating another year today are Kenna Scott, Travis Chaney, Peg Suenkel, Aubrey Davis, Mike Webb, BJ Holinka, Suzanne Courtney, Amanda Kralicek, Kristy Walsh, Mike Taylor and Nina Tikalsky. Tomorrow Austin Isakson, Wade McLean, Roy Carlson (60!), Gavin Krieg and Terry Drapeau take another trip around the sun. On Friday Bob Short, Mary Spridgeon and Larry Sackett celebrate birthdays. Ryan Davis, Chelsea Camarata, Nicole Jones, Carrie Beals and Mary Crosby blow out the candles Jan. 21. Eric English, Analisa Raynor, Nora Horn, Larry Spencer, Angie Phillips, Glen Abbott and Peggy Brothers put on their party hats on Sunday. Come Monday Al Holm, Chelsea Dickinson, Sadie Lynn Fisher, Daryl Gankema, Joy Lynch, Paul Lash and Jamie Crawford have their cake and eat it, too. Sue Myers, Marion Richardson (70!), Tina Nowoj, Kylie Frank, Josh Adams, Cindy Shepperd, May Lynn Hammon, Ed Santos, Danelle Reagan, Jillian-Kate Scott and Acaja-Lyn Scott celebrate Jan. 24.
•••
Kerri Rankin Thoreson is a member of the National Society of Newspaper Columnists and the former publisher of the Post Falls Tribune. Main Street appears every Wednesday in The Press and Kerri can be contacted on Facebook or via email mainstreet@cdapress.com. Follow her on Twitter @kerrithoreson.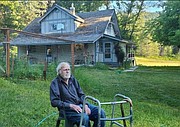 Recent Headlines
---