Bruchi's opens in Post Falls
by
NILS ROSDAHL/Business Bits
|
January 1, 2023 1:06 AM
The quick-service restaurant Bruchi's opened this past week at 1040 N. Highway 41 (northeast of the Mullan Avenue interchange) in Post Falls.
The menu includes signature cheesesteaks and chicken subs on fresh rolls, gourmet cold subs, salads, fries and burgers with dine-in for 40 guests, a drive-through, take-out and third-party delivery and 31-stall car park.
Hours are 10:30 a.m. to 9 p.m. daily. Based in Spokane, Bruchi's started in 1990 and has 17 locations in the Northwest. Check www.bruchis.com.
Offices available in SCS Post Falls
Individual offices and opportunities for multiple office spaces are available on the second floor of the new SCS (Specialty Construction Services) building at 991 Innovation Way on the southwest side of Post Falls.
Shared common areas include a conference room, kitchenette and restrooms with access close to the freeway on Pleasantview. For details contact Joe Rosen of Keller Williams Realty CdA at 208-660-2515. Check www.soldincda.com.
Now the Tidbits
• With a grand opening planned for today, Berry Bay Smoothies has in-store and outdoor seating and a drive-through at 8160 N. Cornerstone Drive in Hayden.
• What has been Asian Twist in Ironwood Square (behind Albertson's) will be Our Thai House with major changes. Details here soon.
• A two-story, 26,000-square-foot building for Hayden Surgery Center is under construction at 8552 Government Way. The main floor will include Orthopedic Urgent Care, an orthopedic clinic and a physical therapy office. The second floor will have a state-of-the-art outpatient surgery center with four operating rooms and a procedure room. The basement will have storage, mechanical and electrical spaces.
• The large new building at 5711 Government Way will open in March as a new place for Schaffer's Towing.
• A Beau Monde Exchange will be at 9428 Government Way.
• Spoon Junkie or Rogue Carnivor evidently will be a new place at 400 N. Fourth St.
• Phase I of the new Kinder Prep Learning Center is under construction at 1847 W. Prairie Ave. The curriculum promotes hands-on, sensory and play-based learning experiences for ages 18 months to 5 years old in an environment that is nature themed and community driven. For information on pre-enrollment, check www.kinderpreplearningcenter.com. Phone 208-916-0265.
• A sign says a bookstore and bistro will be built at Fourth and Idaho Street in Post Falls.
• A Hawaiian-style menu will be featured at Konala, a new restaurant under construction at 107 E. Seventh St. (behind the Bunker Bar on Spokane Street) in Post Falls. Owners Trace and Jammie Miller (also owners of The Bunker Bar and Burger Bunker) plan to open in March. The website will be www.konala.com.
• A 20,000-square-foot structure called Prairie Professional is under construction on the north side of the intersection of Prairie Avenue and Ramsey Road. The office building to be complete in December 2023 will have suite sizes from 2,200 to 10,000 square feet available. A main tenant will be Riverstone Dental Care. For information on the space available, contact Rob Kannapien of Coldwell Banker Commercial Schneidmiller Realty at 208-704-3832 or E-Fax 208-515-2385.
• Planning to break ground soon, Golden Rule Brake is coming to 3826 E. Seltice Way (near the intersection of Highway 41 and Interstate 90) in Post Falls.
• Coeur Climbing Gym is leasing a large warehouse space at 764 S. Clearwater in Riverbend Commerce Park in Post Falls to open in early 2023.
• The fourth Kootenai County location of Dutch Bros Coffee will be built soon at 6299 W. Pointe Parkway (next to Panda Express near Cabela's and Walmart) west of Post Falls.
• A new building for Anthem Pacific Homes is being constructed at Highway 41 and 16th in Post Falls. Three of the four suites 1,800 to 2,000 square feet are available for office warehouse flex lease through owner Jeremy Voeller at www.anthempacific.com. Phone 208-981-0448.
• A large new building with River City Urology to be on the second floor is under construction at Spokane Street and Third in Post Falls. The urology business is expanding from Ironwood in Coeur d'Alene. With completion planned by Feb. 1, the first floor will have a chiropractor and 3,500 square feet of space available through Realtor Josh Beebe of Coldwell Banker Schneidmiller Realty at 208-699-7980.
• The former Wells Fargo building at Sherman Avenue and Third Street will have an art gallery and office for owner Pepper Smock's Windermere-Coeur d'Alene Realty.
• Watch for the opening for new buildings called the Appleway Quarter at 271 and 291 E. Appleway (between Baskin-Robbins and Verizon). The 271 building will contain The Wellness Bar and has a 1,200-square-foot commercial space available. The 291 building will have Hometown Chiropractic and Chip Cookie.
• Watch for Prime IV Hydration & Wellness to be in Ironwood Square.
• A large building is under construction at 9046 W. Prairie Ave. (near Greensferry) for Mountain View Business Center. Contact Royce Johnston at 208-691-3054 for team rental information. For lease information, contact Logan Rude at 208-651-8825.
• Burke's Restoration is building a new place at 3801 W. Riverbend Ave. in Post Falls. Details soon.
• The Thomas George building planned for the corner of Third Street and Front Avenue will be 18 stories mixed with commercial places on the first floor and 60 condominiums above.
• Watch for details on new buildings under construction for corporate offices for Roger's Burgers on Government Way.
• Watch for commercial construction west of Highway 41 between 16th and Horsehaven avenues in Post Falls.
• Many of 16 commercial spaces are available in the planned Prairie Crossing Shopping Center in the northeast corner of Highway 41 and Prairie Avenue.
• A new building for Etco Services is under construction off Huetter north of Seltice and I-90.
• The PACR office building is under construction at 1857 W. Hayden Ave.
• A new Pizza Hut will be in Hayden.
• The Mill will be a four-story mixed-use building at Government Way and Mill Avenue with businesses (including Ten/6 Restaurant) on the ground level and 43 apartments above.
• Orthopedic Physical Therapy Institute (OPTI) is constructing a new building in Hayden.
• Cornerstone, a four-story commercial and residential building, is under construction in Riverstone.
• An automotive service center will be built at 185 W. Clayton Ave.
• A Metro Express sign is at Highway 95 and Hayden Avenue.
• Gentlemen Sausages will be in the former Abi's Ice Cream location at 112 Fourth St.
• TownePlace Suites by Marriott Hotel is being built where the Outback Steakhouse was in the southeast corner of I-90 and Northwest Boulevard.
• Watch for an Indigo Urgent Care building under construction next to Starbucks in the Crossroads Center off Ramsey Road.
• A new commercial and residential building, Midtown Centre, is being built at 821 N. Fourth St.
• A spy says a restaurant will be built where Atlas Road meets the Spokane River.
• Happy New Year to The Press staff (always helpful to me). Wow, Rosdahls are in their 43rd year here.
• • •
Contact Nils Rosdahl at nrosdahl@cdapress.com.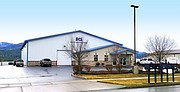 Recent Headlines
---