Demographic discussion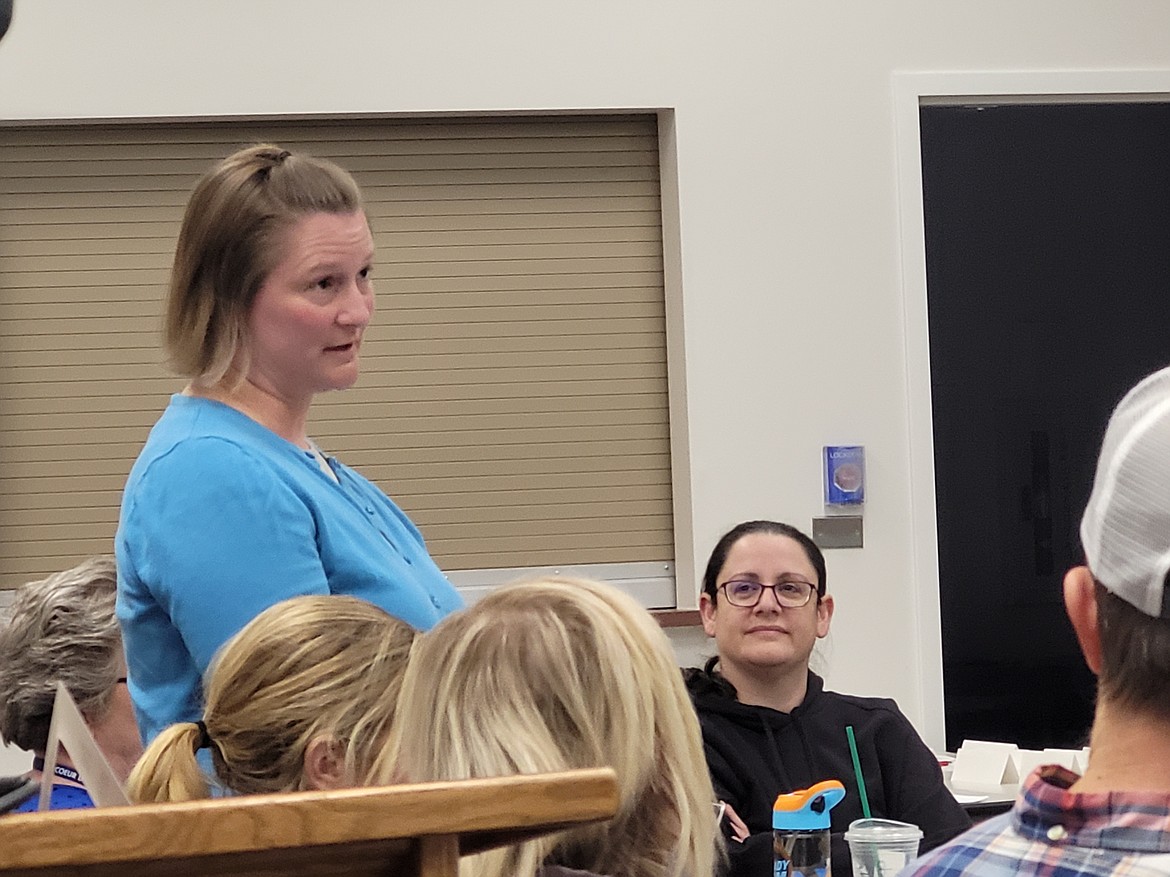 Coeur d'Alene School Board Trustee Heather Tenbrink speaks Monday evening during a meeting of the district's long-range planning committee.
DEVIN WEEKS/Press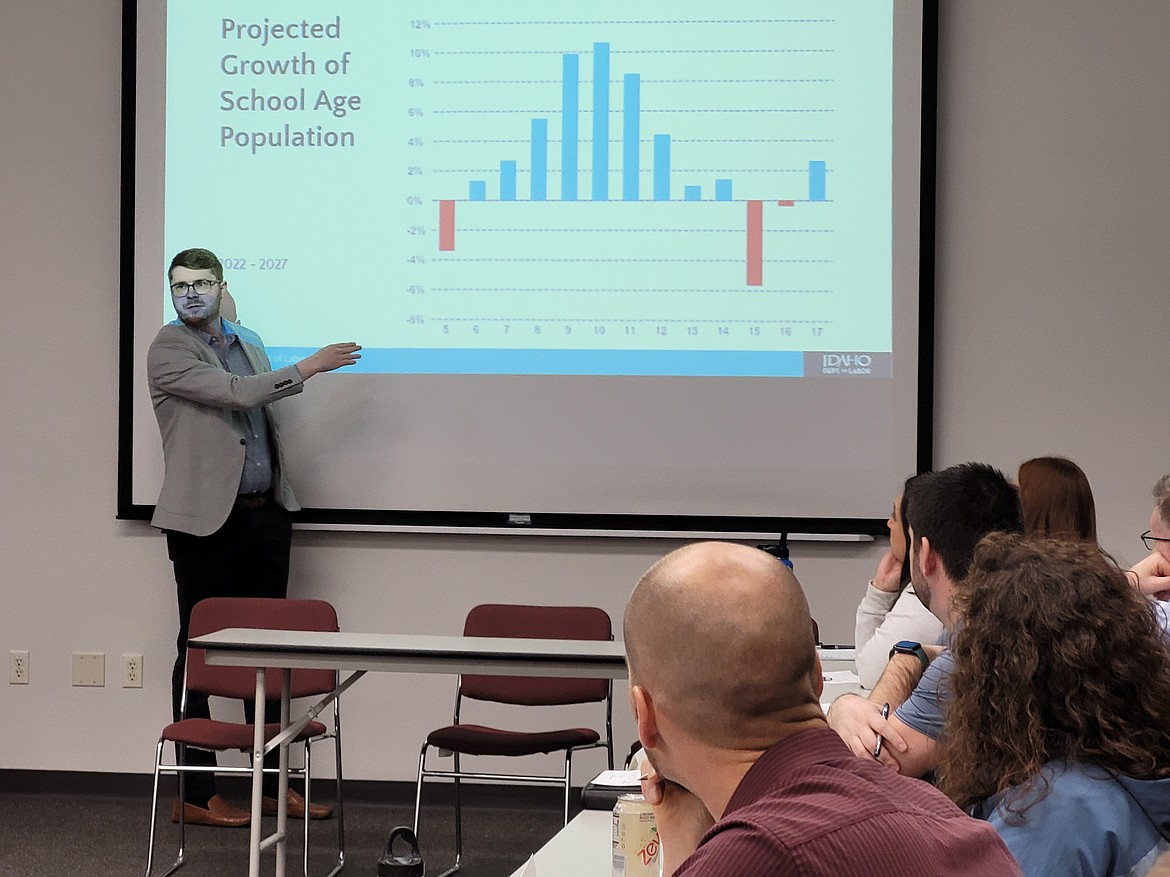 Samuel Wolkenhauer, economist for the Idaho Department of Labor, discusses demographic shifts and economic challenges in North Idaho as he speaks Monday evening during a meeting of the Coeur d'Alene School District Long Range Planning Committee.
Previous
Next
by
DEVIN WEEKS
Staff Writer
|
February 28, 2023 1:09 AM
COEUR d'ALENE — Historically, those who graduate from high school in Kootenai County and go out into the world to pursue higher education and careers often find themselves returning to their hometowns to raise families in North Idaho.
With the way the economy and demographic shifts are going, that may not be the case anymore.
"It's good and bad, depending on how you want to look at it," Sam Wolkenhauer, economist with the Idaho Department of Labor, said Monday while speaking at a meeting of the Coeur d'Alene School District Long Range Planning Committee.
Many millennials — now in their late 20s and 30s — left to other states, but have not yet fully returned.
"We're light on millennials, but we ended up heavier on Gen X because they moved to Idaho to raise their families," Wolkenhauer said. "It's good that this is a state people want to raise families in, but we would like to have not lost the millennials at the same time."
An interesting phenomenon happening is the reliance on people moving back to Idaho and starting families to maintain a demographic balance, Wolkenhauer said. However, millennials are having babies later, if at all, citing high housing costs, high interest rates and high student loan debt as obstacles to moving into that next phase.
"It's a little bit spooky for us because it means we're dependent on people moving back," Wolkenhauer said. "By extension, the health of our demographics and the size of the school-age population is very strongly linked to people moving to Idaho, the health of the housing market and the job market, and being a destination state."
If Idaho suddenly halted growth and no new families moved in, the elementary-age population would rapidly decline, Wolkenhauer said.
"The birth rate here is too low to support any kind of growth," he said.
Families are being priced out of North Idaho, which means a population with more people who are 65 and older and less who have school-age children.
"For Kootenai County, it's going to be important to see whether high interest rates crush the level of in-migration for families and people with kids," Wolkenhauer said.
Millennials' financial stability, or lack thereof, also impacts their ability to move.
"We might see millennials are kind of stuck where they are, because they can't afford homes," he said.
For those who were hoping to come back to Idaho, will economic factors allow them to return?
"We need to understand that the last 10 years, which is the pattern we're going on, were very conducive to people moving to Idaho," Wolkenhauer said.
But rates are not what they were 10 years ago.
"We are probably right to worry that millennials that moved away are going to be unable to come back home, financially, and we're going to miss our growth projection, and we could have a stagnant or declining school-age population," Wolkenhauer said.
Future demographics aside, the Coeur d'Alene School District is presently working to manage the present population growth, which has classrooms bursting at the seams, while preparing to put two levies on the ballot March 14 — a $25 million per-year supplemental levy, in perpetuity; and a $5 million-per year for five years safety and maintenance levy.
The supplemental levy, if approved by over 50% of voters, will replace the existing $20 million, two-year supplemental levy that expires June 30 and currently costs $76.17 per $100,000 of taxable assessed value. If the proposed supplemental levy is approved, the tax is expected to increase by $19.04 per $100,000 of taxable assessed value for the first year, or $.19 per $1,000.
The estimated average annual cost to the property taxpayer would be $19.04 per $100,000 of taxable assessed value, per year, based on current conditions, if the safety and maintenance levy passes with 55% of the vote. This is also about $.19 cents per $1,000.
"Our community has funded this levy for a really long time," Trustee Heather Tenbrink said of the supplemental levy. "We have programs in our schools that our community wants that are funded by this levy."
She said more people are understanding that Coeur d'Alene schools have school resource officers, art and music programming because the community has chosen to fund this levy. Supplemental levy funds pay for a quarter of the district's operating budget, which does not cover the aforementioned programming and personnel needs and more. Not knowing what a quarter of the budget will be every two years is not ideal.
Long Range Planning Committee member Mike Lindquist said he thinks it makes sense to have the supplemental levy in perpetuity.
"We're relying on immigration right now for growth, and people are coming in from states that don't understand how public schools in Idaho are funded, because it's done differently in other states," he said. "Relying on passing something every two years when our demographic is drastically changing is dangerous."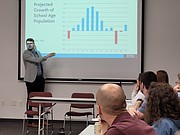 Recent Headlines
---