Huckleberries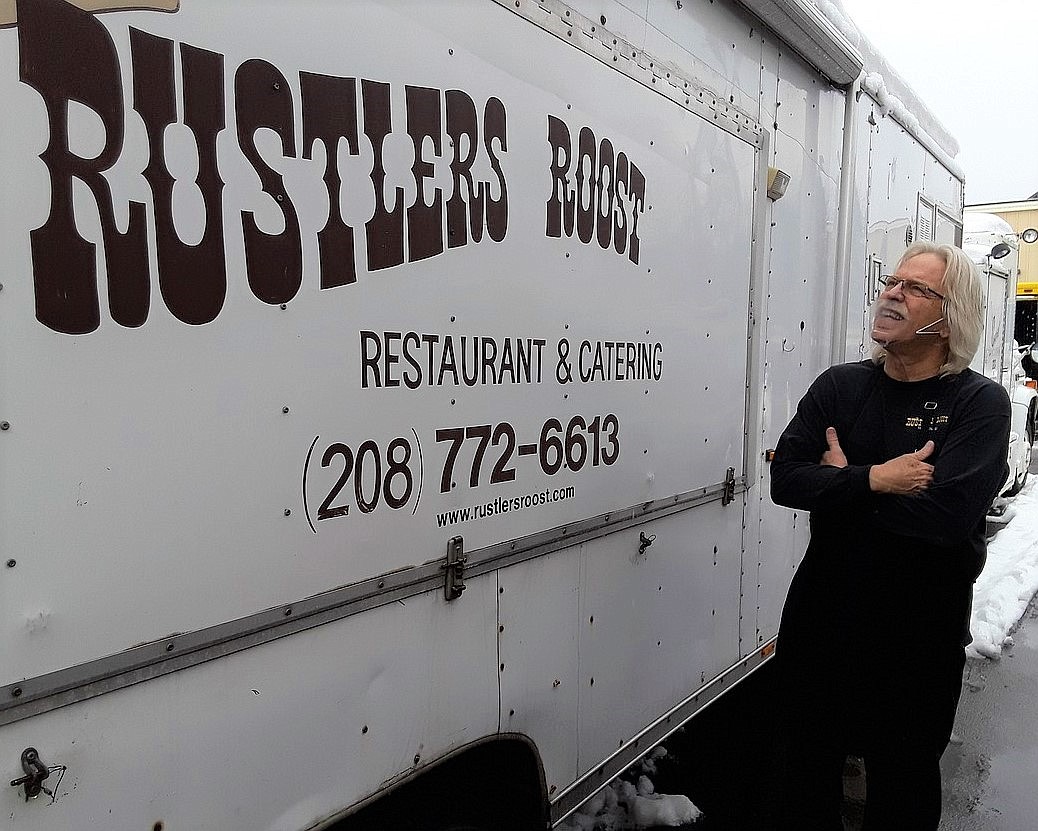 Woody McEvers and his catering van.
Courtesy photo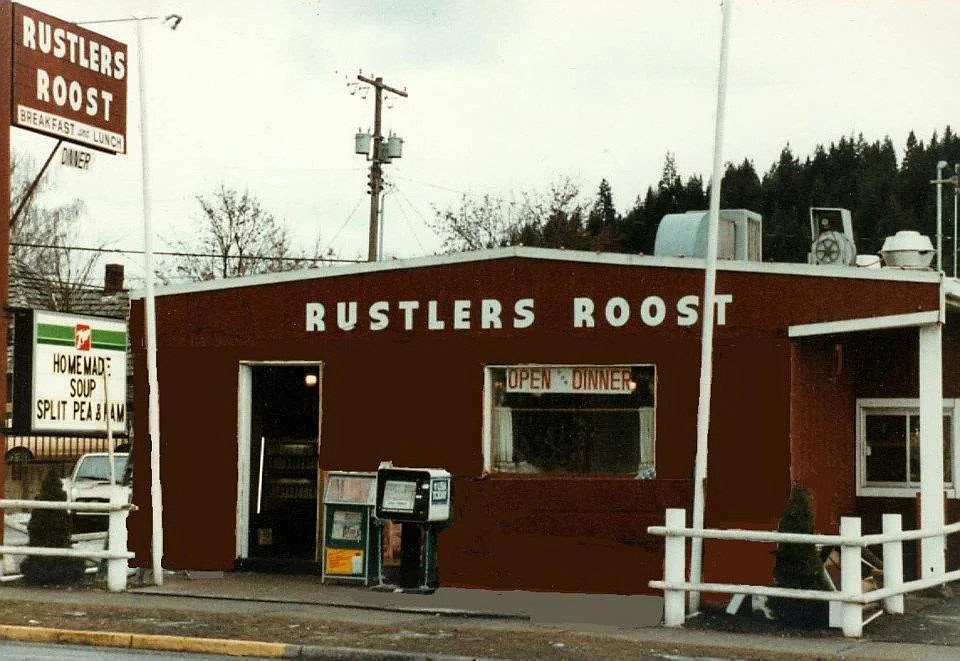 First Rustlers Roost in downtown Coeur d'Alene.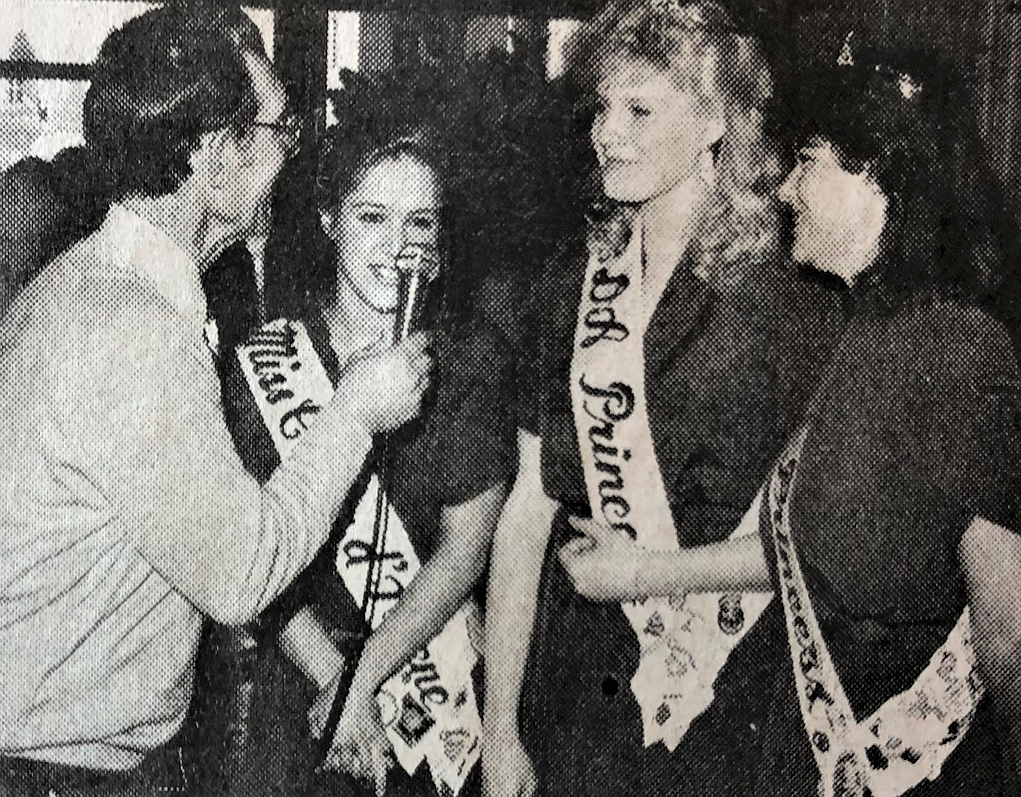 Bob Hough interviewing Miss Coeur d'Alene and her court at the opening of the Coeur d'Alene Resort in spring 1986.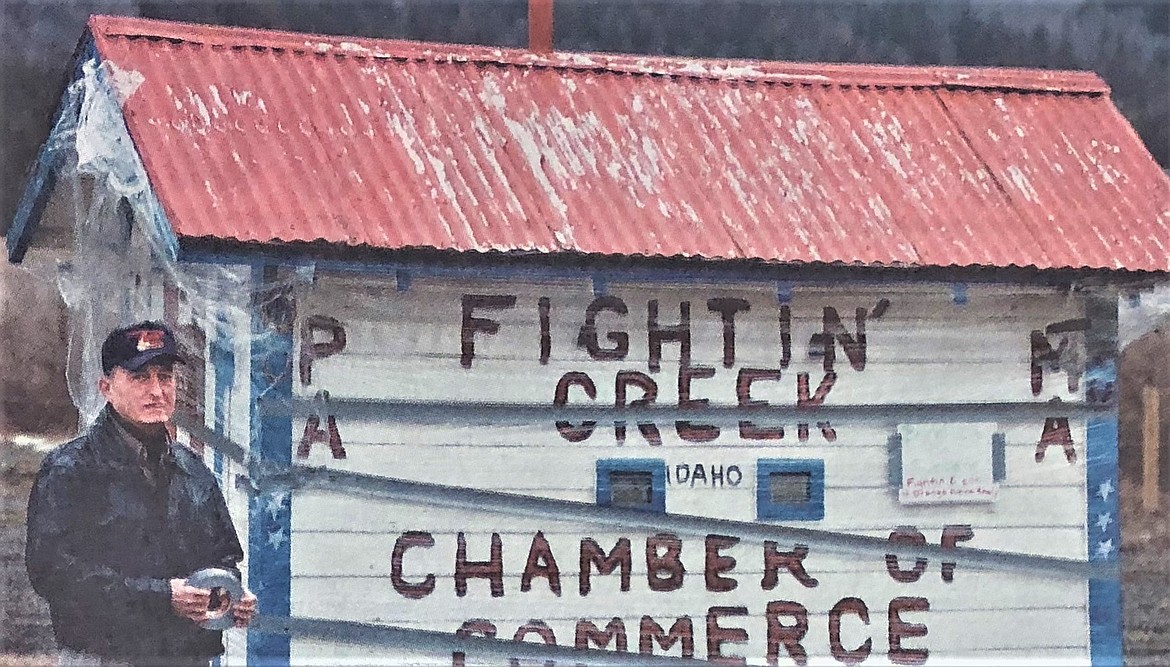 Former "Mayor" Dick Wandrocke surveys the secured Fightin' Creek "Chamber of Commerce."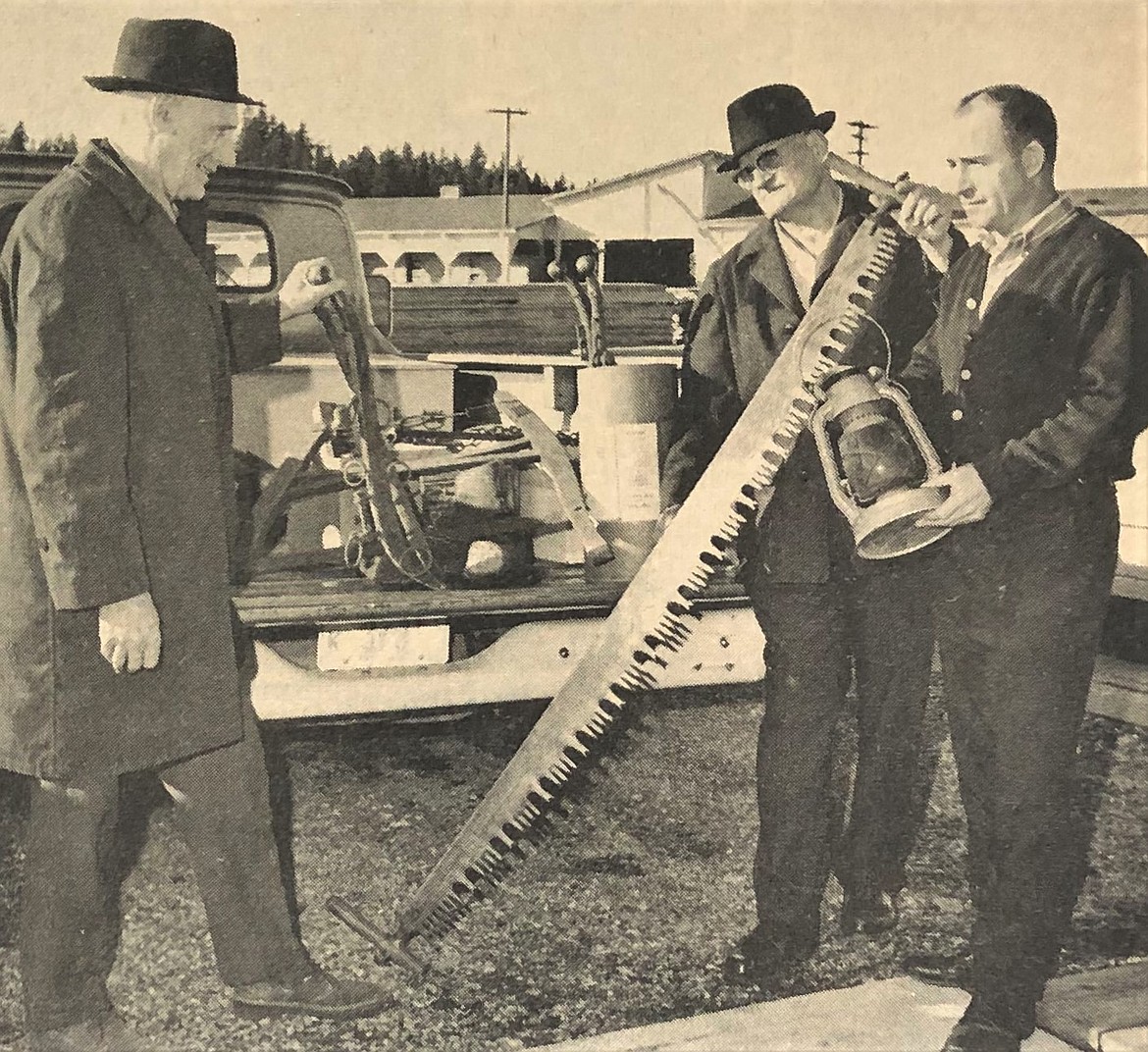 Selman Froisness, center, gives vintage lumbering equipment to Carl Kreuger, left, and Gardner Teall of the North Idaho Hoo Hoo Club.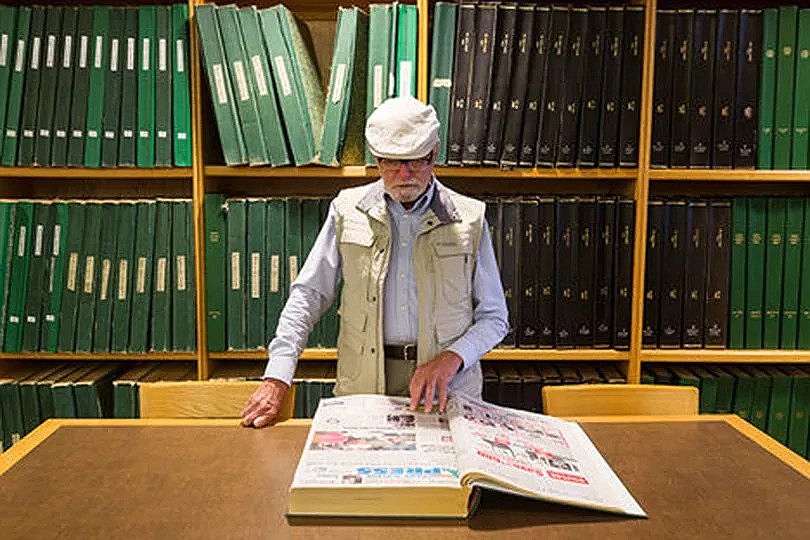 Local historian Robert Singletary perusing old copies of the Coeur d'Alene Press.
Previous
Next
|
February 19, 2023 1:00 AM
In an imaginary world, Woody McEvers and Ron Swanson would be great friends.
"There's never been a sadness that can't be cured with breakfast food," once opined Swanson, the fictional parks director of the old "Parks and Recreation" sitcom.
And Woody has chased that sadness away for four decades, first in Coeur d'Alene and now in Hayden.
On Valentine's Day, he and his brother, Daren, celebrated their 40th anniversary as co-owners of one of the region's most popular restaurants, Rustler's Roost.
"I've been in the business here long enough that I've seen kids of my original customers bringing in their own kids," said Woody, now 74, a restaurateur by day and a Coeur d'Alene councilman in the off hours.
On Feb. 14, 1983, Woody and Daren bought the original Rustler's Roost from Jack LaRoach, grubstaked by their parents, Joan and Dean McEvers. Woody refers to his first building as the "Red Box," a cramped 35-seater located in the 600 block of Sherman Avenue.
In 1978, Woody moved to Coeur d'Alene from southern California, after picking up trash from beaches, surfing, bartending and managing restaurants. In Lake City, he worked for several restaurants, including the late Tom Robb's Iron Horse, Intrepid and Sourdough before buying Rustler's Roost.
The Roost, under Woody and Daren, was always known for its biscuits and gravy, home-fried potatoes, and Pike Street tea. But the story of the renowned diner took off in 1989, when the brothers moved three blocks east to the 100-seat former Sambo's restaurant at 819 Sherman Ave.
As the menu expanded to include wood-fired barbecue for dinner, Rustler's Roost became a community hangout, famous for its large portions at reasonable prices. Patrick Jacobs, the late blogger and restaurant critic, raved about the eatery's fare:
"Portions are humongous, and most breakfasts come spread delightfully across two or three separate plates. The hotcakes are bigger than the platter they come on, and the hot cinnamon roll automatically comes with a to-go box since no one can finish a whole one without croaking."
In 1993, the McEvers brothers opened a second Rustler's Roost in the vacant Great American Restaurant building, U.S. 95 and Hayden Avenue. And then, in 2008, moved to their current location behind that site (now occupied by a Maverik gas station). In 1999, the stress of owning two restaurants and increasing rent prompted them to close the downtown location.
In a 2008 post in his Get Out North Idaho blog, Jacobs recalls vividly "the shock and horror" that greeted the decision by the McEverses to shut the downtown location: "The closure of the mega-popular gathering spot caused the demise of countless subcultures and created a hole in the fabric of downtown life that dozens of uppity cafes and wine bars still can't replace."
Jacobs, who died at 42 in fall 2014, lived to see the Rustler's Roost prosper in its current location.
The menu remains basically the same, although the Roost no longer serves waffles, liver and onions or meat loaf. The servers are still what they were in Patrick's day — "incredibly down to Earth, fast as heck and charming even in foul moods, yours or theirs."
As for the McEvers brothers, Woody handles customers, wide smile in place. Daren takes care of the books. And appreciative customers waddle out the door, a little chubbier, a lot happier.
Walking with Bob
On his 36th birthday, Feb. 16, 1963, Bob "Bubblehead" Hough walked 53 miles from Bob's home at 707 N. Fourth St., to Cheney, Wash. He and Coeur d'Alene High student Gary Murphy, 15, completed their trek in 16 hours and 51 minutes.
Bob, then a Spokane disc jockey, had gotten caught up in JFK's 50-mile walk frenzy. And had urged listeners to join him at his home in Coeur d'Alene's midtown at 4 a.m. that Saturday to begin the mega-hike.
Glen Armstrong, a sophomore at Eastern Washington College, won the "Hough and Pough" trophy for the fastest time — 11 hours and 45 minutes. Bob's young sons did well, too — Terry, 11, lasted 35 miles, while Bruce, 8, tapped out at 18 miles. (Bruce, as some of you know, would later become the father of Derek and Julianne Hough of "Dancing with the Stars" fame.)
Bob, a fun-loving guy prone to goofy stunts, commuted for 35 years to Spokane, where he helped introduce rock 'n roll to the Inland Northwest. Then, he became KVNI's "Voice of North Idaho, a main source of local news and sports info for his "Bunny Slipper Mamas" and legions of devoted fans.
High alert
In the good old days, when we were more concerned with terrorists than COVID bugs, few were better prepared than the zany boozers of the old Fightin' Creek Tavern, south of Coeur d'Alene.
Fueled by one very Happy Hour, the barflies sprang into action in February 2003 after the country was warned of an imminent terrorist attack.
First, they secured their "government building," the two-hole outhouse that doubled as their chamber of commerce. Within 40 minutes, they had covered the latrine with plastic, secured by duct tape. And then they added a sign on the side with the defiant warning: "Bring it on, Suddam (sic). Fightin' Creek is Orange Alert ready!"
Once the emergency work was complete, "Mayor" Bruce Burk declared the outhouse to be safe, adding: "The only thing we're worrying about now is the methane gas trapped in the building. If there's a spark, we could have a problem."
Huckleberries
• Poet's Corner — The rain will splash,/the snow will fall,/and thick black clouds/cast winter's pall;/but then one day/a pleasant shock —/it's staying light/'til five o'clock — The Bard of Sherman Avenue ("Over the Hump").
• We were as unsettled about high gas prices 20 years ago (Feb. 13, 2003) as we are now. "It's insane," Numerica teller Elizabeth Williams of Coeur d'Alene said at the time. "It's ridiculous for young couples trying to make it." The average gas price at Lake City then was a penny lower than the national average: $1.61 per gallon for unleaded regular.
• Sixty years ago (Feb. 2, 1963), Charlie Nipp scored 25 points to lead Coeur d'Alene High to a 71-62 win over Wallace and the Viks' second straight Panhandle Conference cage title. And the Press article offered one side note about the future Lake City entrepreneur — a nickname. In his Glory Days, the prep basketballer was known as "Gipper."
• Factoid: The first artifacts donated to the Museum of North Idaho, before it even opened, were given in February 1968 by Selman Froisness. The retired logger/postal worker presented the North Idaho Hoo Hoo Club with several items from the early days of lumbering, including an Atkins cross saw. The timber industry fraternity was spearheading plans to create a museum.
Parting Shot
Twenty-five years ago (Feb. 16, 1998), Robert Singletary was beginning the fifth year of his weekly Kootenai Chronicles in the Coeur d'Alene Press. At that point, Bob's articles had contained more than 95,000 words, used over 1,000 photographs (mostly courtesy of the Museum of North Idaho), and included untold hours of research and preparation. Bob's Chronicles (some of which are compiled in tabloid form at the Coeur d'Alene Library), contained histories of each town in Kootenai County. And they explored such subjects as Fort Sherman, steamboats, railroads, farming, saloons and churches. Why am I telling you all this? Bob is a local treasure. And we who love this place are indebted to his passion for our history.
• • •
D.F. (Dave) Oliveria can be contacted at dfo@cdapress.com.
Recent Headlines
---